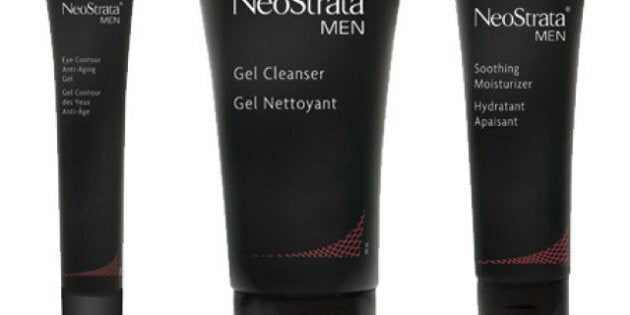 File it under FOMO (fear of missing out), but I require a steady stream of "newness" on a daily basis -- an anti-routine of sorts. I don't see movies more than once, I need a weekly supply of fresh pop music. Choosing a bottle of wine I've already sampled makes me feel like I'm wasting an opportunity to try something different. (This all may be genetic.)
So when I decided to ONLY use the new NeoStrata MEN skincare line for an entire month and nothing else, I thought it would last a week. Luckily, I held out, because I looked so "refreshed" people (more than one!) accused me of flirting with Botox. And everything fit on my swath of the bathroom cabinet quite handily because the tubes are all skinny (my travel kit stays skinny, too).
-- NeoStrata MEN Gel Cleanser ($27) cleans without drying, removes dead-cell buildup, minimizes ingrown hairs, preps skin for shaving. Key ingredients include 4% glycolic acid, the AHA of choice, PLUS a plant-derived anti-bacterial ingredient.
-- NeoStrata MEN Soothing Moisturizer ($29) smoothes and hydrates after shaving; anti-redness and anti-sting. Key ingredients include a botanical complex that decreases skin sensitivity and a peptide that promotes skin repair and healing.
-- NeoStrata MEN Eye Contour Anti-Aging Gel ($32) reduces fine lines and adds a little firmness to skin. Key ingredients include elasticity-promoting peptides, strong antioxidants and vitamin A.
-- NeoStrata MEN Anti-Aging Cream ($47) reduces lines, promotes firmness, improves tone and texture. Key ingredients include age-reversing and collagen-boosting peptides, vitamin A.