 A day before wrapping up his second official visit to China, Prime Minister Stephen Harper said raising the issue of human rights with China is "paying dividends" but warns the Chinese and "other governments" need to help shape a positive future for Syria.
In an exclusive interview airing Saturday on CBC Radio's The House, Harper tells national reporter Susan Lunn his government has taken a "different approach" to relations with China and "will not refuse to talk about our democratic values, human rights issues, particular difficult consular cases."
"It was not an approach the Chinese were used to from Canada, but I think it's an approach that is paying dividends for both of us," said Harper.
When asked whether China's responsiveness on the issue of human rights was connected to their growing interest in our natural resources, Harper said raising the issue of human rights "won't jeopardize our trade."
"I think they are sensitive to growing demands from their people that economic growth be accompanied by some social and political progress."
And despite "the slow progress", Harper said he remained "optimistic."
"As I talk to leaders here, particularly the next generation of leader[s], I think they have a good understanding that in the future progress is going to have to be more balanced," Harper said.
The crisis in Syria
Although Harper would not get into the details of his discussions with the Chinese on the crisis in Syria, he also made no effort to conceal their differences on the subject.
"We have a pretty profound difference of opinion with the Chinese government on the Syrian question," said Harper.
Harper's decision to raise the crisis in Syria with the Chinese was precipitated last weekend by a double veto from Russia and China on a UN Security Council resolution calling on Syrian President Bashar al-Assad to step down.
Canada was quick to make its disappointment known, saying the UN Security Council's failure was "a free pass" for the illegitimate regime and those backing it.
In light of the continued violence since the Security Council's "failure to act," Harper said he hoped it would cause "Chinese and other governments to think twice about the course they're on."
The crackdown on civilians by Assad's regime has killed over 5,400 people since the uprising began in March, according to UN estimates.
"It's only a matter of time" before things change, said Harper, warning "the Chinese and everybody would be well-advised to recognize those realities and try and positively shape the future there."
Trade with China
During his week-long trip to China, Harper signed what he called the first "comprehensive economic agreement", namely the foreign investment promotion and protection agreement (FIPA), and more than 20 commercial deals valued at $3 billion.
When asked if a free trade agreement with China was in Canada's future, Harper said although it was "many steps" away, his government's agenda is to "diversify trade."
"My view is we get as many irons in the fire as we can and we see how far we can take it," Harper said.
However, Harper conceded "there would be a significant number of economic and other questions that would have to be answered."
Addressing the growing investment by state-owned Chinese companies in Canada's natural resources, particularly the oilsands, Harper said precautions are taken to ensure "there's not broader objectives that might undermine Canadian security."
Nevertheless, Harper was quick to point out that Canada is selling 99 per cent of its energy to the United States and that penetrating the Asian markets was a priority for his government.
For CBC Radio's The House full interview with Prime Minister Stephen Harper tune in Saturday at 7 a.m. on Sirius Satellite Channel 159 or at 9 a.m. on CBC Radio One.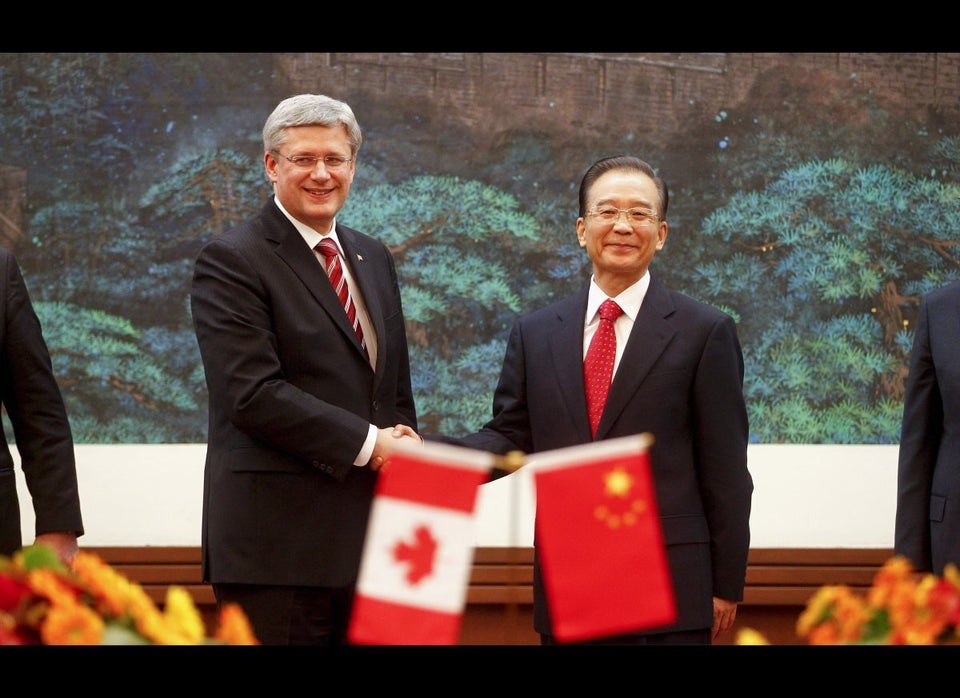 What's In Canada-China Trade Deal?