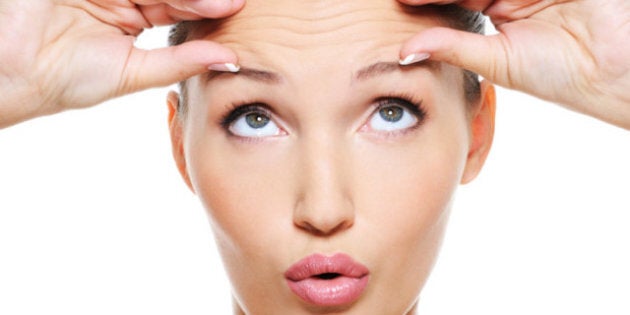 It's the moment we all dread: Peering into the mirror of a poorly-lit bathroom in the wee hours of the night, we're confronted not with the healthy glow we like to think we have but rather a complicated network of tiny lines all over our face that closely resembles a Tokyo Subway map. Sure, the sage wisdom and confidence that we gain over the years is great, but we all could do without the crow's feet and laugh lines that accompany it. And despite the popularity of anti-aging creams, the truth is that wrinkles are an inevitable part of the aging process -- so we can either accept them or try to do something about them.
What are our options when it comes to reducing wrinkles? Botox is currently the most popular choice, but the painful needles involved and resulting unnatural frozen face look often deters us regular folk. Enter Revance, a company that's currently developing a needless alternative to botox that's been receiving quite a lot of press, despite the fact that it's not even available yet.
Known by it's clinical name of RT001, this Revance product is a "topical botulinum toxin type A." Translation: It's botox that you can apply directly to the skin, so no needles necessary. Once it's absorbed, it can target the overactive muscles causing your wrinkles, thereby smoothing out the skin. Does it work? The product is currently undergoing clinical trials, but so far the results are positive.
An August 2009 trial found that it "significantly improved the appearance of Lateral Canthal Lines" (translation: Crow's feet) with "no serious adverse events." Follow-up research has seen similar results -- in fact, Revance has undergone 11 clinical trials involving over 550 participants. "The benefits of RT001 are clear; patients achieve meaningful aesthetic results with a simple, painless procedure" lead researcher Richard Glogau, MD, Clinical Professor of Dermatology at University of California, San Francisco, said in a press release, adding, "The superficial muscles in the crow's feet area can be relatively difficult to inject; this treatment will allow physicians to obtain a more consistent result while maintaining patients' natural expressions".
Others aren't so quick to hail RT001 as a miracle product just yet, however. "I do think it works, but not at the level of an injectable botulinum toxin," Dr. Jessica Wu MD, Los Angeles dermatologist and Assistant Clinical Professor of Dermatology at USC School of Medicine told the Huffington Post. Plus, "it will still need to be applied by medical personnel in a doctor's office, so it's not a do-it-yourself home treatment. I think it will be most useful for those who are extremely afraid of needles, or for those who need numerous injections such as those who are treated for excessive underarm perspiration."
Currently, Reverance's RT001 is undergoing yet more clinical trails and after that will have to await FDA approval in the US, and in Canada it's just begun the clinical trial process. Since there's no way to predict how long it will take for both products to become available to doctors, you'll need to look to other methods to tame your crow's feet for the time being.