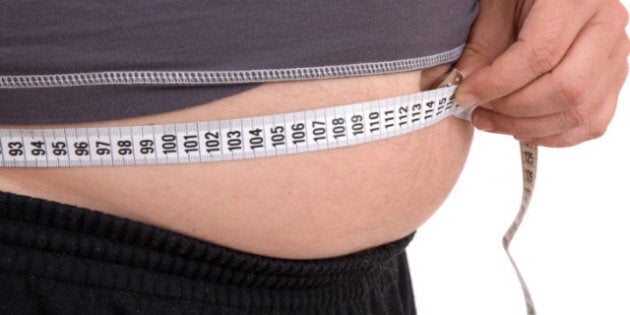 TORONTO - For months, Nicholas Menecola accompanied his mother to see doctors, dietitians and counsellors as she prepared for weight-loss surgery.
He was by her side when she went under the knife for a gastric bypass on Oct. 1, 2010, and watched as she adopted a strict eating plan and daily vitamin cocktail after the operation.
So when the 17-year-old got the green light for a gastric bypass last year, he didn't hesitate, despite the drastic, lifelong changes required.
"I was prepared," said Menecola, who has shed 67 pounds from his five-foot-nine frame in the seven months since the surgery, dropping to 233 pounds from 300.
After years enduring sideways glances and snarky comments as well as chronic leg pain aggravated by his weight, "I had nothing to lose," the teen said. "I knew what I had to do."
Like adults, Canadian teens are growing heavier, with roughly 19 per cent overweight or obese, according to the latest figures from Statistics Canada.
Concern over youth obesity is stirring up broader interest in treatments typically reserved for adults, such as bariatric surgery — a variety of procedures that includes gastric bypass, sleeve gastrectomy and laparoscopic gastric banding, commonly know as lap band.
While some studies suggest bariatric surgery can be effective in treating obese teens, experts worry that in certain cases, it can cause irreparable harm to developing bodies and minds.
"There is demand (for weight-loss surgery) in the adolescent population," said Dr. Jill Hamilton, an endocrinologist at Toronto's Hospital for Sick Children.
At the same time, "there's still a lot we don't know about long-term outcomes in adolescents and what makes a good candidate," she said.
Hamilton heads the country's only hospital-based weight-loss program offering bariatric surgery for minors. Launched in 2010, the program admits 50 patients a year, but only one in 10 is approved for surgery, she said.
In many cases, young patients — already at an emotionally charged time in their life — simply aren't ready to handle the massive changes involved, she said.
Surgery forces people to permanently give up pop, caffeine and several other habits, a difficult sell at an age focused on experimentation, she said. Cutting corners limits weight loss and increases the risk of complications such as vitamin deficiencies, she said.
Even those who are ready require consistent support before and after the procedure, she said.
Teens accustomed to being ignored by the opposite sex may struggle with the newfound attention once they lose weight, Hamilton said. Others may obsess over their food intake and develop an eating disorder.
The Sick Kids program involves regular appointments with doctors, a dietitian, a psychologist, an exercise therapist and a nurse practitioner to help the teens grapple with these and other issues.
But demand from teens for the surgery far outpaces the availability, at least when it comes to hospital-based, government-funded treatment, she said, noting families from as far away as British Columbia and Newfoundland have called the Sick Kids program.
That could push eager teens and their families to pay out-of-pocket for surgery at private clinics, which may not offer adequate support, she said.
"I'm very concerned about the number of kids who have the procedure and are left to fend for themselves," she said.
Access to bariatric surgery varies from province to province, and while all fund at least some procedures, wait times are typically measured in years rather than months.
In Ontario, public health care covers gastric bypass and sleeve gastrectomy, but not the lap band.
Private clinics have stepped in to meet demand, including treating teens, and generally charge upwards of $20,000.
"My informal cutoff is 16," said Dr. Chris Cobourn of the Surgical Weight Loss Centre in Mississauga, Ont., who has dealt with "a few" teen patients.
Because it doesn't alter digestion or the body's ability to pull vitamins from food, the band is less extreme than other types of weight-loss surgery, he said. It's also reversible.
Some have argued that could make it a better fit for teens. In the U.S., regulators are considering whether to approve the device for patients as young as 14.
While costly, private clinics are often the only option for teens, whose youth and relative health keeps them at the bottom of government waiting lists, Cobourn said.
"Most will be adults by the time they make it through the wait list," he said.
Bariatric surgery promotes weight loss by reducing the size of the stomach, which forces people to eat less. Depending on the procedure, it can also reduce the amount of calories the body is able to absorb.
That can be achieved by implanting an adjustable silicone band, the lap band, around the stomach.
Sleeve gastrectomy, or gastric sleeve, involves removing a large part of the stomach, leaving it shaped like a sleeve.
In the case of gastric bypass, a smaller stomach pouch is created using surgical staples and connected to part of the small intestine.
Though the stigma surrounding bariatric surgery is fading, many still see it as taking the easy way out, said Menecola, who was in the Sick Kids' program.
And while he "would do it 100 times over," the teen stresses surgery is "by no means a quick fix."
His mother, Biagina Rizzo, said she initially worried about her son going through such a radical treatment. But her own success with gastric bypass — she lost 100 pounds in a year and a half — eased her mind.
"I only wish, when I was his age, that I had that option," she said. "They should have programs like this in every community hospital."