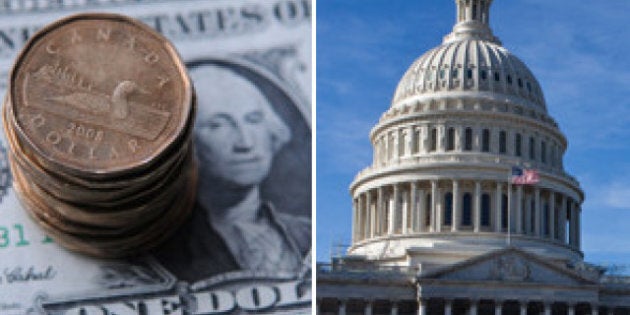 OTTAWA - Political action committees affiliated with companies based in the United States but owned by Canadian corporations are pouring money into this year's U.S. House and Senate races.
Fundraising data provided by the website OpenSecrets.org show American subsidiaries of Canadian companies have formed political action committees that so far have given US$163,500 to candidates running in the Congressional elections.
Donations to Republicans were US$89,250, compared with US$74,250 for Democrats.
Political donations from foreigners are banned in the United States. But there is nothing to stop businesses based in the States but owned by foreign companies from forming entities called political action committees, or PACs, which are then funded by donations from their American employees.
These PACS are set up and run by corporations, labour unions, membership organizations or trade associations. They can only solicit contributions from people associated with the connected or sponsoring organization.
U.S. subsidiaries of some of Canada's biggest companies have already formed PACs ahead of the November Congressional vote.
The Canadian parent companies say U.S. employees at their American subsidiaries made contributions of their own volition, with no direction or influence from north of the border.
"While I can't comment on the specifics, I would note that the activities of PACs are completely transparent with information available on the U.S. Federal Election Commission's website," Manulife Financial spokesman Michael May said in an email.
"Corporate funds are not involved in contributions; employees are the sole source of PAC funding."
Manulife Financial (TSX:MFC) owns John Hancock Life Insurance. Fundraising data from the Center for Responsive Politics, which runs OpenSecrets.org, show the John Hancock-affiliated PAC has given US$29,000 to Democrats and US$27,500 to Republicans — the most money of any Canadian-owned, U.S.-based company.
Other U.S. subsidiaries of big Canadian companies have also formed PACs.
The Goldstrike mine in Nevada is the largest gold-producing mine for Canada's Barrick Gold Corp. (TSX:ABX). Barrick Goldstrike Mines, a U.S. subsidiary of Barrick Gold, has set up a PAC, which contributed US$19,000 to Democrats and US$28,000 to Republicans. Most donations went to lawmakers from Nevada.
Barrick did not respond to questions.
The PAC linked to Grand Trunk Western-Illinois Central Railroad has donated US$10,250 to Democrats and US$16,250 to Republicans. The company is owned by Canadian National Railway (TSX:CNR), a former federal Crown corporation that was privatized in the mid-1990s.
"PACs are a fixture of the U.S. political system, and the other major U.S. Class 1 railroads and other corporations also have PACs," said CN spokesman Mark Hallman in an email.
"The GTW PAC was established to support good government through the democratic process in order to create and maintain a viable, competitive, free enterprise transportation system which serves the public interest and the interests of the rail industry and its employees.
"They remain the goals of the GT-IC PAC, and the contributions made by the PAC are intended to further these objectives."
The practice of U.S. companies with foreign owners forming PACs and raising money for their preferred candidates and causes has gone on for years. But this election season will be different. A landmark 2010 U.S. Supreme Court ruling, known as the Citizens United case, allowed for the creation of super political action committees, or super PACs.
Super PACs can raise limitless amounts of money from corporations, unions and other well-financed donors to run campaign ads. U.S. Federal Elections Commission guidelines only require super PACs to disclose minimal information about the sources of their money.
Unlike traditional PACs, super PACs cannot donate directly to a campaign or work with candidates on the content of their ads.
Some are skeptical of the super PACs' supposed independence. Comedian Stephen Colbert set up his own super PAC to showcase what he considers the absurdity of campaign finance laws. When he mused about running for president, he transferred control of the Colbert Super PAC — which was previously called The Definitely Not Co-ordinating With Stephen Colbert Super PAC — to his friend Jon Stewart of The Daily Show.
There is so far no sign Canadians are funnelling money through super PACs.
At least one election law expert worries foreigners could covertly donate through super PACs.
"There's definitely a threat of foreign influence in U.S. elections as a result of the Supreme Court's Citizens United decision here," said Paul Ryan of the non-profit Campaign Legal Center in Washington, which advocates election financing reform.
"The Federal Elections Commission is asleep on the job in not doing its job to reduce or eliminate any threat of foreign influence on U.S. elections."