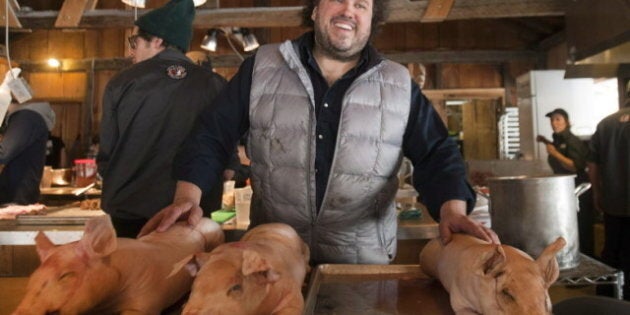 ST-BENOIT-DE-MIRABEL, Que. - The wild-haired leader of a culinary rebellion in Canada has produced a back-to-the-land cookbook in which squirrel becomes sushi and the beloved beaver gets butchered.
Don't tell the folks at the Ottawa winter festival about Martin Picard's latest creation.
If organizers forbade him from serving foie gras at last year's event because of a backlash by animal-rights activists that prompted him to cancel his appearance altogether, it's unclear how they'd react to his new dish, named "Confederation Beaver" -- that is, the buck-toothed national emblem stuffed with its own tail in a slow-cooked sauce of cream and pig's blood.
This second cookbook from the celebrity Montreal chef emphasizes, sometimes with quite graphic pictures, a philosophy of cuisine that has made him a hero to like-minded foodies.
In part, it's about bringing us closer to our food. To its origins in nature, to its convivial traditions, to a time when it could be gobbled down in blissful naivete of such modern-day preoccupations as cholesterol and atherosclerosis.
Check out images from "A Pied De Cochon Sugar Shack." Story continues below: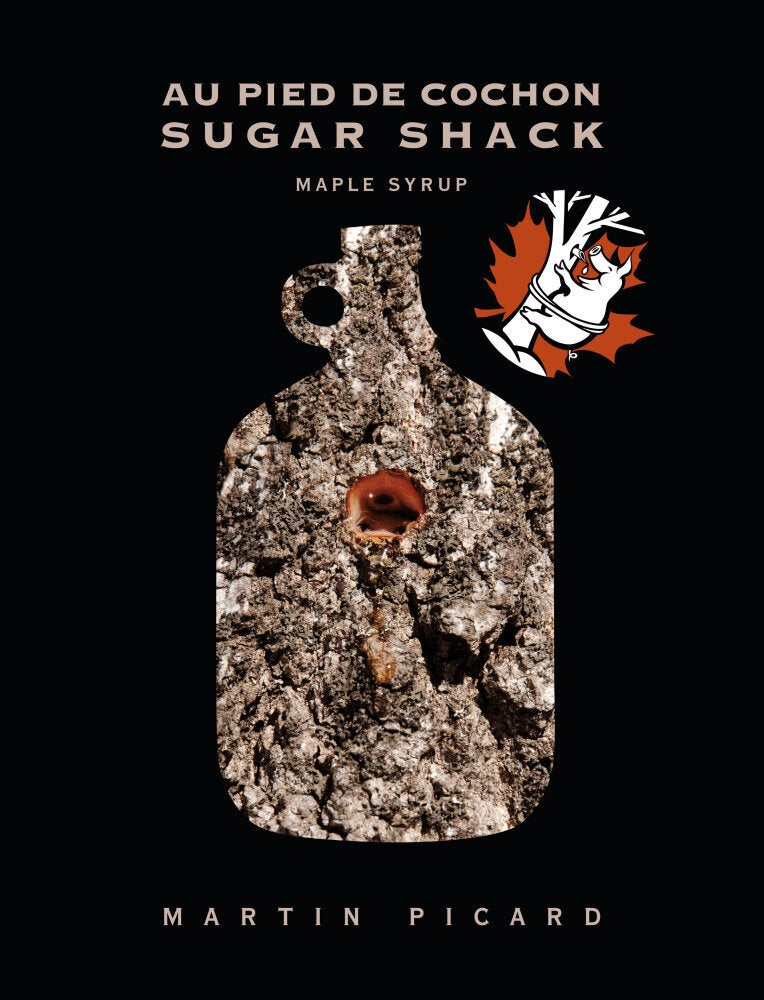 Martin Picard's Squirrel Sushi And Braised Beaver In New Cookbook-from-mt-212330
Hence his new publication celebrating that most enduring cornerstone of the Quebecois culinary tradition: the sugar shack, or cabane a sucre.
To be clear, "Au Pied De Cochon Sugar Shack" carries only one small section filled with lessons such as how to skin the fur from forest rodents and how to braise a beaver's tail until it's suitable for stuffing.
The glossy 380-page manual also contains an illustrated history of sugar shacks filled with family anecdotes; a guide to producing maple syrup; a short story envisioning a post-apocalyptic world where all that's left is the sugar shack; and, of course, 100-plus recipes ranging from familiar desserts to fusion foods.
There is one constant in this book: maple syrup.
There's maple butter, maple sugar cream, maple sugar candy, hard maple sugar, granulated maple sugar -- as well as tourtiere, bread, curried veal, calf's brain, lentil and cabbage stew, and pea soup with foie gras, all including that timeless nectar of Canada's boreal forests.
In his introduction to the book, Picard argues the springtime delicacy is such an essential part of Quebec's culture, history and geography that it should be taught in school curricula. He laments that its value as a culinary resource is under-appreciated.
"Almost everywhere you go, maple syrup seems to appear only at the breakfast table," Picard writes. "The one thing people around the world associate with maple syrup, from the Americans to the French to the Japanese, are pancakes.
"Time to wake up, people."
Jolting people to attention has been Picard's stock-in-trade for some time now.
The 45-year-old Montrealer has hosted a show, "The Wild Chef," on the Food Network. His original cookbook sold about 50,000 copies.
And he now has a popular sugar shack in St-Benoit-de-Mirabel, near Montreal, where it can take more than a year to reserve a table. Each year, reservations are snapped up within hours after they become available.
The shack served as the production facility for the 400 litres of syrup that went into creating Picard's latest cookbook recipes. It was also the site of his book launch Thursday.
Evidence of maple syrup's intergenerational appeal, and its role in Picard's own family history, was abundant during the launch.
Outside the wooden shack, his son and daughter lapped up maple taffy, which they gathered with sticks from the snow. In the meantime, his elderly but energetic uncle, Marc Picard, proudly showed visitors the shiny metallic syrup-boiling system he'd recently had installed. A lifelong syrup maker, the uncle now works at the shack and is featured prominently in the book.
But what originally made Martin Picard a culinary star was his sit-down restaurant, which he opened a decade ago on a cobblestone street in Montreal's bohemian-chic Plateau neighbourhood.
Au Pied de Cochon, a place of minimalist wooden design but over-the-top carnivorous fare, was once famously described by New York chef-author-TV host Anthony Bourdain as a giant "middle finger" to the fine-food establishment.
While Bourdain bemoaned the dreary predictability of most modern cuisine, with its legion of copycat chefs serving similarly tiny, balsamic-glazed veggies in similarly oversized square plates, he said this Montrealer ranked alongside the most innovative in the world.
"A few bold adventurers have taken a stand, turned their backs on the herd and returned to the chef's true -- and truly original -- mission: to make what's good," Bourdain wrote in the preface to Picard's first book, which was also named after his restaurant.
"Martin Picard has not forgotten... Au Pied de Cochon in Montreal is a celebration, an ode to all things porky, ducky, fatty and wonderful."
So if you're looking for bean sprouts sprinkled over sea bass, Picard's brasserie-style meat emporium might not be the place for you.
One of his signature dishes there involves carting out a roasted pig's head, with a knife wedged into its skull, and having it placed on the table where dinner patrons can slice pieces from it.
It's also the home to perhaps Picard's most famous dish -- poutine with foie gras.
Imitations of that dish are now a staple at a multitude of Montreal-area restaurants where the notion of adding gourmet meat to what was historically a snack-shack dish seemed revolutionary just a few years ago.
That approach placed Picard at the vanguard of a movement that has made Montreal known for its fun, fatty, folklore-inspired fare.
The basic formula has been to take old foods and traditions and serve them up as playfully as possible; some of Picard's local peers are known for dishes like nachos with duck, and beef-on-a-lollipop stick.
Another Picard creation that typifies the approach is duck in a can, cooked in a tight metal container and popped open at the table.
Perhaps that mish-mash of traditions is inevitable in any modern, cosmopolitan city. And perhaps it's also a by-product of Picard's own upbringing.
Born in a blue-collar suburb east of Montreal, he spent several years of his childhood in Morocco while his father taught mathematics there.
Picard says the North African experience exposed him to a new world of tastes and spices. Unsure of what he wanted to do later in life, he eventually enrolled in cooking school and received classical training from French chefs.
Finally, he credits one of his mentors, an Italian woman who later became his business partner, with introducing him to the humble cooking traditions of her own heritage.
Those combined influences produced a eureka moment: If other cultures could draw such pride from their own culinary past and find new ways to revive age-old recipes, why not the Quebecois?
Enter poutine with foie gras.
Picard's long-term dream is to create world-class ham from Quebec, producing it from pigs fed with maple syrup at his sugar shack.
His admirers have little patience for naysayers who note that his taste bud-tickling plates risk an artery-clogging after-effect. They sneer at those who suggest that a half-hour of gluttonous joy might not be worth the subsequent pain of a meat-drunken daze.
So how many people, really, are going to head out and kill a squirrel for Thanksgiving Day dinner?
The bearded bacchanalian offers an explanation in his cookbook.
In a prelude to the section on hunted foods, called "The Feathered and the Furry," Picard defends the virtues of wild game, even when it comes from the toothiest, most iconic rodents.
Picard notes there are squirrel recipes in the ''Encyclopedia of Canadian Cuisine'' and that beaver remains a staple in aboriginal culinary culture.
That 31-page feathered-and-furry chapter contains lessons on how to skin animals. The beaver recipe, by itself, comprises six pages. There's also a picture of a dead squirrel, its mouth stuffed with a cranberry and its little limbs protruding from a bed of rice, avocado puree and pickle-almond relish.
"I was intent on creating recipes based on everything I could hunt on the land immediately around the Pied de Cochon Sugar Shack," Picard wrote.
"We mustn't forget that eating squirrel and beaver is part of a long tradition in Quebec and elsewhere in the world... Hunting brings us back to a vital truth about food. When you slaughter an animal, you gain a finer understanding of the true value of what you are eating."
Much like the fur-traders who settled Canada. After all, they didn't come here to snap pictures of those beavers.
But if you're not convinced, the book also has a recipe for a grilled-cheese sandwich topped with truffles. The glossy tome costs $69.99.