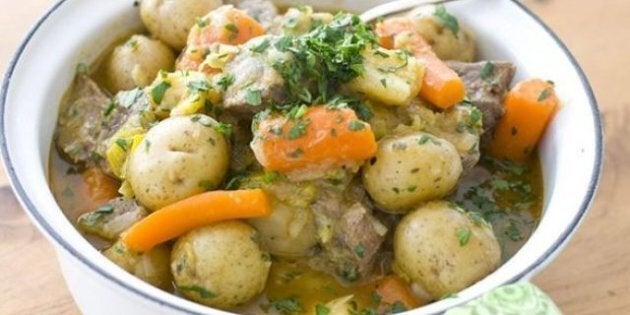 If you're a purist, Irish stew is one of the easiest dishes to make for St. Patrick's Day.
That's because according to culinary lore, the only ingredients are lamb, potatoes, onions and water. Supposedly, adding anything else clouds the true flavours of the stew. And if you're really going to stay true to tradition, all you're allowed to do is dump those ingredients in a pot (preferably over an open fire) and walk away for the day.
The good news is that making a far more flavourful version of this stew isn't all that difficult, and your efforts are rewarded with a rich, brothy meal with layers of flavour that complement — rather than compete with — the core ingredients.
And no open fire or all-day simmering needed.
Start to finish: 2 hours (30 minutes active)
1 kg (2 lb) lamb stew meat, cut in 4-cm (1 1/2-inch) pieces
Salt and ground black pepper, to taste
2 leeks, white parts only, sliced
2 medium yellow onions, chopped
500 g (1 lb) carrots, cut into 4-cm (1 1/2-inch) pieces
500 g (1 lb) parsnips, cut into 4-cm (1 1/2-inch) pieces
1 l (4 cups) vegetable broth
750 g (1 1/2 lb) new potatoes
30 ml (2 tbsp) chopped fresh parsley
Season lamb with salt and pepper.
In a large Dutch oven or heavy-bottomed pan over medium-high, heat oil. Working in batches, add lamb to pan and sear on all sides, making sure not to overcrowd pan. As each batch is browned, use a slotted spoon or tongs to transfer it to a plate.
When all the lamb has been seared, add it all back to the pan. Add leeks, onions, carrots, parsnips, broth, bay leaves and thyme. Bring mixture to a simmer, then cover and cook for 1 hour. After 1 hour, add potatoes and continue to cook until potatoes and lamb are tender when pierced with a fork, about another 30 minutes.
Remove bay leaves and thyme stems. Stir in parsley and season with additional salt and black pepper, if needed.
Nutrition information per serving (values are rounded to the nearest whole number): 490 calories; 130 calories from fat (27 per cent of total calories); 15 g fat (5 g saturated; 0 g trans fats); 95 mg cholesterol; 52 g carbohydrate; 37 g protein; 10 g fibre; 860 mg sodium.