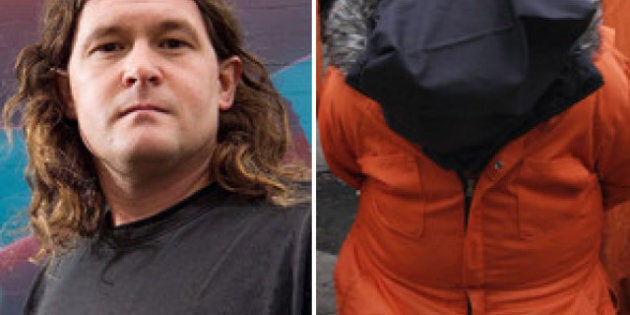 VANCOUVER - Only days after he was removed from Canada for overstaying a visitor's permit, a controversial salmon-farming critic says he has settled in Norway to "slay the dragon in its own lair."
Since 2005, British-born activist Don Staniford has been a divisive force in British Columbia's ongoing salmon-farming debate. He has been accused by the industry of going beyond rational dialogue and distorting facts and has twice been sued by B.C. companies for defamation.
But supporters see him as a tireless critic and Staniford is promising to take his battle against the industry to Europe, where he'll serve as the global campaign co-ordinator for another environmental group.
"I've gone straight to work for the Green Warriors of Norway and straight to the belly of the beast here in Norway," said Staniford, in a phone interview.
"Norway controls much of the global industry and I'm going to slay the dragon in its own lair."
The new job is significant because Kurt Oddekalv, leader of the Green Warriors of Norway, has described himself as the most "hard hitting environmental warrior" in his country.
Also significant is Staniford's legal history.
Staniford's most-recent defamation case was launched by Mainstream Canada, a subsidiary of the Norwegian company Cermaq.
The case has wrapped up in the Supreme Court of B.C., but a judgment has yet to be made.
Staniford began his journey back to Europe in the same over-the-top theatrical style that inflamed his targets: He arrived at Vancouver International Airport clad in an orange Guantanamo Bay-like jump suit and fake, rubber chains.
After half a dozen supporters bid farewell, he said he entered a room full of immigration officials and boarded an aircraft for England.
After spending two days in England, Staniford said he headed off for his new job in Norway.
Colleen Dane, spokeswoman for the BC Salmon Farmers Association, said her organization would not comment on Staniford.
"From our perspective, the association's focus is about encouraging and creating discussion with people who want to know more about our operations and how we raise fish in B.C. and obviously to keep that dialogue moving forward," she said.
But in the past, Laurie Jensen, a spokeswoman for Mainstream Canada, and Mary Ellen Walling, executive director of the B.C. Salmon Farmers Association, have criticized Staniford for his personal attacks.
Staniford said he's already planning his next action. A delegation of Norwegian politicians is heading to B.C. to meet with the industry this week, and Staniford said he plans to raise his concerns with Norway's parliament.
He said he wants to know the purpose of the trip.
Dane confirmed an invitation-only meeting, planned and organized by the Norwegian ambassador, will take place Thursday on Quadra Island, off the northeast coast of Vancouver Island, near Campbell River.
She said her organization has been invited to talk about the relationship between First Nations and the industry in B.C.
"Any time people who are involved in aquaculture around the world in which ever jurisdiction they are operating in, if they can get together and talk a little bit more about their experiences and their learned lessons I think that's a positive thing."
Meantime, Oddekalv, who has led the Green Warriors of Norway since 1993, said he and Staniford should complement each other because of their experience.
"I think joining us together will really make an international force," he added, noting his organization has 22 employees and has a budget of millions of dollars. "I think that will mean a lot."
Both are also planning another action for Vancouver in 2013, when Staniford will be allowed to return to Canada.
Staniford said he wants to organize a two-day conference on salmon farming.
"I'm going to continue this fight," he said. "The Green Warriors of Norway are going to take the battle, take the fight directly to the Norwegian-owned industry here in Norway, and we're also going to take the fight to the market place where Norwegian owned companies are selling their farmed salmon."