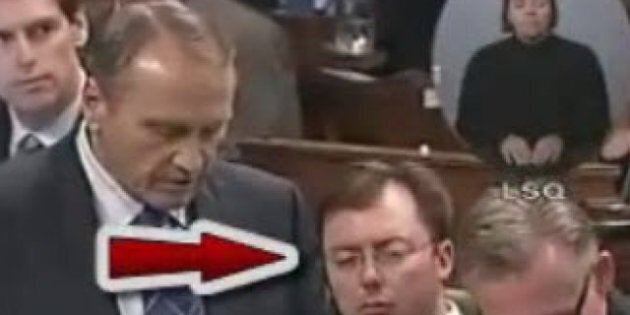 An organization that represents thousands of veterans is considering legal action against a Calgary MP who is accused of falling asleep during a meeting in Halifax.
Veterans attending a veterans affairs committee meeting last week said Rob Anders fell asleep at the meeting.
The Conservative MP has denied the reports and suggested those who accused him were NDP "hacks" who praised Russian strongman Vladimir Putin during the meeting.
Jim Lowther, the president of Nova Scotia-based Veterans Emergency Transition Services, told CBC News an Ottawa lawyer has offered to represent him for free if he decides to sue Anders for defamation.
"If he had just said, 'You know what, sorry guys, I kind of nodded off there,' that would have been the end of it," said Lowther.
"But first thing he does is come out and call us NDP hacks and communists."
Veterans Emergency Transition Services, a non-profit organization that represents about 6,000 veterans, was making a presentation at the House of Commons committee meeting attended by Anders.
Lowther and David MacLeod, who also appeared on behalf of the organization, have both said they are Conservative Party supporters.
Although the Prime Minister's Office released a written statement late Friday night on behalf of Anders apologizing for any offence his comments may have caused, Lowther said he is waiting for a personal apology.
He also wants Anders to resign from the committee.
"I definitely think he should step down. We have other Conservatives and other MPs in other parties who would definitely step up and be a wonderful voice on this committee," said Lowther.
Apologize in House, NDP MP says
Anders should rise in the House of Commons and apologize to the veterans, NDP MP Peter Stoffer said Monday in Ottawa.
Stoffer, the NDP's critic on veterans affairs issues, agrees Anders should resign from the House veterans affairs committee.
"For him to sleep, or have a catnap, or whatever he wants to call it, during that presentation, is an insult," Stoffer said Monday.
"Then for him to accuse them, one, of being friends of Vladimir Putin because they had the audacity to say that even in Russia there is transition services for Russia, and then to say they're in the back pocket of Peter Stoffer, I didn't know my pants were that big, to have people in my back pocket."
"But it was an insult … to these men and women that volunteer their own time and their own money to help homeless veterans," he added.
A YouTube video of Anders, who has represented Calgary West since 1997, became an online sensation in November when it showed him nodding off in the House of Commons.