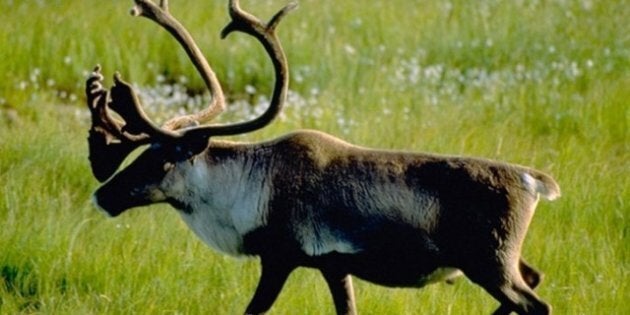 A transfer of 20 mountain caribou from northern to southern B.C. went reasonably well, officials say, despite weather complications and the death of one of the animals en route.
Over the weekend, government biologists and veterinarians attempted to transfer 20 caribou from a healthy donor herd in the Dease Lake area, about 250 kilometres south of the B.C.-Yukon border, to the endangered southern Purcell herd in the East Kootenay.
The animals travelled by truck from Dease Lake to Kimberley, then were transferred by helicopter to two sites in the southern Purcells, a 1,300 kilometre journey.
One of the caribou died during the transfer — probably from stress, said government biologists — and weather prevented the team from dropping the 19 remaining animals all in the same area.
Ten of the caribou were put near the existing herd, but the other nine had to be dropped in a different valley. Officials hope the three herds will eventually reunite.
Transplant a boost for caribou herd
Still, the transfer was a success, said John Bergenske of Wildsight, an environmental group that helped with the transfer.
"It was a day that so many of us have been waiting for, literally, for years in terms of trying to bring caribou herds in the Kootenays back into what they once were," said Bergenske.
"Our hopes are they will thrive and adapt to habitat and help recover mountain caribou in southern British Columbia."
The southern Purcell herd near Kimberley has dwindled to just 15 animals, and officials hope the transplanted caribou will boost the struggling herd.
All the animals have been radio collared and biologists will study their movement patterns. Wolves and cougars in the area have also been radio collared, and if they start to attack the transplanted herd, the predators may be destroyed.
If the northern caribou adapt well to their new surroundings, another 20 will be relocated next year, at a cost of $10,000 each.
Officials say they hope the population will naturally grow to 100 animals by 2027.