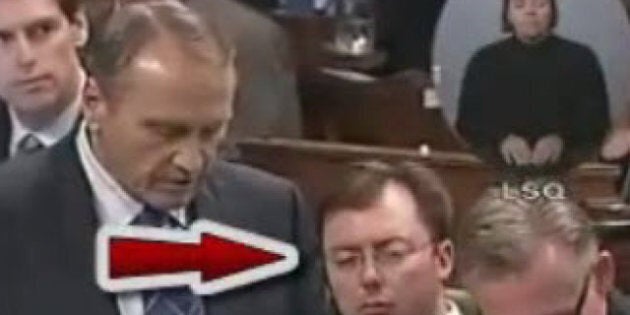 A Conservative MP who called two veterans advocates "NDP hacks" and "Putin supporters" after they criticized him for falling asleep during a veterans affairs committee meeting in Halifax has formally apologized in the House of Commons for his comments.
Rob Anders, MP for Calgary West, read a brief statement to the House Tuesday morning "to express my sincere apology for my comments with respect to Mr. [Jim] Lowther and Mr. David MacLeod."
"Further, I want to apologize for any offence my comments may have caused veterans or anyone else," said Anders, who is a member of the veterans affairs committee.
"I have and continue to have enormous respect for the men and women who have sacrificed in the service of our country. I recognize that the democracy we have today is in large part attributable to them."
But MacLeod and Lowther, the president of Nova Scotia-based Veterans Emergency Transition Services, said in an email the veterans do not accept the MP's apology.
"Mr. Anders' resignation from the standing committee of veteran affairs is required," Lowther wrote Tuesday.
"Mr. Anders' actions and attitude in late February do not demonstrate the required standard. We have discussed the issue with other veterans and conclude that Mr. Anders does not have the best interest of veterans at heart."
Lowther made a presentation last week before a meeting of the veterans affairs committee in Halifax looking into the issue of homelessness among veterans. He said Anders arrived late for the meeting, stretched and yawned and used his BlackBerry.
"And I look down again and he's asleep. Like head-bobbing asleep. Almost hitting his head off the table asleep," Lowther said last week.
MacLeod, also with Veterans Emergency Transition Services, and an opposition MP on the committee also said Anders slept during the meeting.
In a PostMedia report last week, Anders denied the accusations and suggested those who accused him were NDP "hacks" who praised Russian strongman Vladimir Putin during the meeting.
Lowther responded angrily.
"Me personally, I'm a card-carrying card Conservative," Lowther told CBC News after the incident.
Anders's apology Tuesday echoed one he released in a statement Friday, though this time he did not say he looks forward to continuing his work on the veterans affairs committee.
Peter Stoffer, the NDP's critic on veterans affairs issues, called Monday for an apology in the House and also said Anders should resign from the committee.
Last November a YouTube video of Anders nodding off in the House of Commons became an online sensation. Anders explained at the time that injuries suffered in a car accident were to blame.