VANCOUVER — NDP leadership contender Thomas Mulcair was accused by his fellow competitors Sunday of turning his back on his party for trying to reach out and appeal to new voters.
The Quebec MP was the subject of most of the attacks from other leadership candidates during the NDP's last official debate in Vancouver before it convenes on March 23 and 24 in Toronto to elect a new leader.
"You've attacked our opposition to unfair trade deals, our links with the labour movement, our championing of ordinary people, you've said that we're one of the only social democratic parties not to renew itself," Manitoba MP Niki Ashton told Mulcair.
"Would it not make more sense to go after Stephen Harper's policies than to criticize our own party?" she said.
Ashton, former party president Brian Topp, and Ontario MPs Peggy Nash and Paul Dewar were all after Mulcair to come clean about the direction in which he would take the party.
"What direction will it take our party in, because so far you've refused to say," Nash said.
"I think you have been very critical of our party," Topp chimed in after. "Tom, instead of saying our party is the problem, (shouldn't) we be attacking unfair taxes, climate change and inequality, the issues our party was funded to fight?"
Dewar suggested Mulcair was ill-fitted to lead a party he didn't fully support.
"How can you inspire people to vote for our party when you don't seem to be inspired by our party?" Dewar asked.
Mulcair told the estimated audience of 1,000 -- 500 of whom were watching in two overflow rooms -- that what he wanted to do was mimic the NDP's success in Quebec in other areas of the country by changing and adapting the language used in party communications to different regions.
"Our boilerplate, our way of connecting with people has often been 'Here's the central campaign, stick our candidate's face here.' What I've been hearing from across Canada is that people want us to adapt exactly as we did in Quebec. There was no contradiction between the Quebec campaign and the general campaign; we adapted and we won 59 seats. That's what I want," Muclair said.
The NDP's Quebec election campaign used different messaging focused on throwing out the provinces' ineffective politicians who barked at each other and taking a chance on a new party instead.
If the NDP didn't change, Mulcair suggested, it would never be able to obtain power.
"We have to be cognizant of the fact that between the Ontario border and the B.C. border we now hold a grand total of three seats. So if we don't do something differently the next time around, it is guaranteed we will get the same result," he said.
After the debate, the candidates said they were unsatisfied with Mulcair's answers.
Mulcair hadn't been "clear" enough Topp said, while Dewar stated the Quebec MP hadn't provided "enough detail."
"These aren't just about superficial language or local issues, this is about the foundation of who we are," Ashton said.
Nash, who told reporters she believes she will be on the final ballot with Mulcair on March 24, suggested he was holding a secret agenda.
"I think that's a fundamental question as a leadership candidate that he needs to answer, what direction is he taking the party, and I don't think we got a clear response," she said.
"As New Democrats start to vote, they need to know where each candidate would take the party," Nash said. "It is really a fundamental question about which way our party will be going in the future," she added, saying she planned to raise it as she continues meeting with New Democrats ahead of the Toronto convention.
But B.C. MP Nathan Cullen, the hometown boy who charmed the crowd Sunday and who has suggested working with the Liberals and Greens to elect more progressive parliamentarians, told reporters he wasn't sure what the other candidates were fishing for from Mulcair.
"This talk and notion of betrayal and these 'Some New Democrats are good New Democrats and others need to be pass some other kind of test' is offensive to me. I think it's wedge politics, but done within the family," Cullen said.
"Some of those same accusations have been levelled towards me… so I more than take offense, I reject any of these notions," he added. "It's wrong and offensive."
Mulcair told reporters he thinks the other candidates are coming after him because he's the frontrunner.
"When you get people coming at you with that question, what they are essentially saying is that they realize that your campaign is doing well," he said.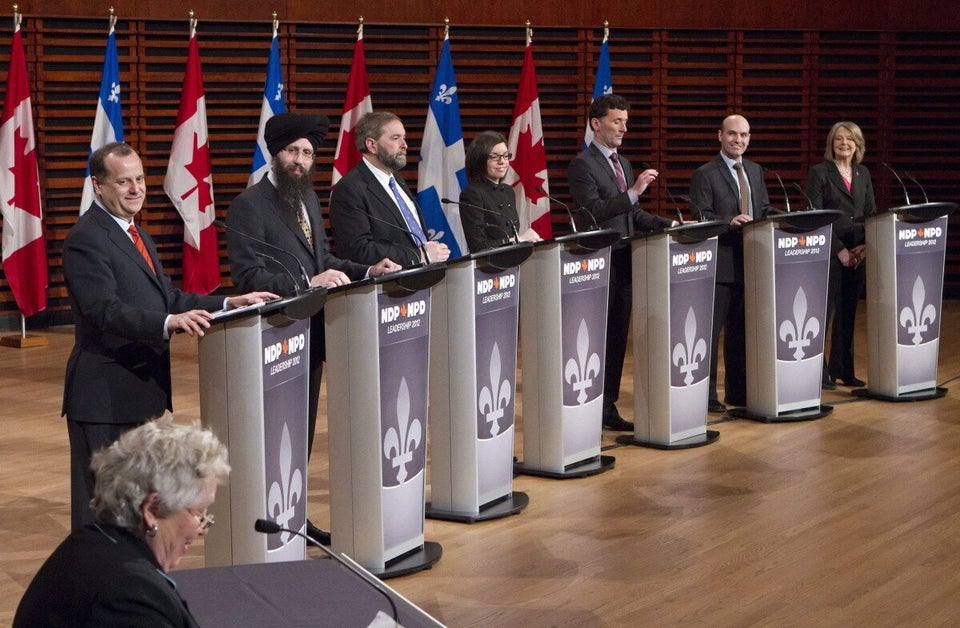 NDP GOES 1 ON 1 WITH HUFFPOST