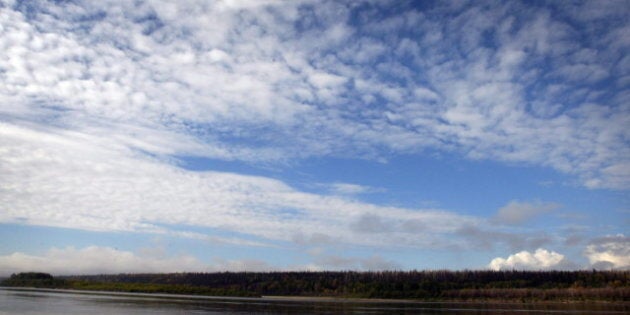 EDMONTON - Alberta's oilsands producers are used to thinking big, and their plans to clean up the mess their mines leave behind are fully in line with the outsized trucks that prowl their pits and the outsized budgets that keep them growing.
Most wetlands reclamation starts with land that's only been disturbed on the surface — for example, turning a farmer's field back into marsh. In the oilsands region, however, reclaimers are building an entire landscape from underground aquifers to the shape of the surface.
"This is not restoration," said Johnathan Price, who is with the University of Waterloo's department of geography and environmental management and helped design Suncor's plan.
"We've got nothing to begin with. It's essentially the whole watershed. This has never been done before."
Both Syncrude and Suncor (TSX:SU) are in the middle of multi-year, multimillion-dollar projects to rebuild fens — probably the most complex type of wetland. The companies are on different paths, but their goals converge: self-sustaining plant and animal communities, roughly equivalent to what existed before, that will eventually begin to build fresh layers of carbon-storing peat.
Syncrude's Sandhills project began with a mined-out oilsands pit lined by the salty, impermeable remains of an ancient lake. Perfect, said Syncrude environmental scientist Robert Vassov.
"When we put our materials back into an old mine, it's like putting it back into a bathtub. We'll have control of the water entering and leaving the system."
The pit has been filled with consolidated tailings, the fine clay particles left from bitumen extraction and from which almost all the water has been removed by adding gypsum. Soil stored from when the mine was excavated and sand that used to be sticky with bitumen go over the clay.
Then comes a layer of peat, sliced out carefully from another fen like a serving of a dessert square.
The Sandhills fen will cover 17 hectares out of a 50-hectare watershed. Forest and uplands are on the rest.
"By far, the most challenging aspect of restoring a wetland is getting the hydrology right," said Vassov. "That's getting the surface water and the groundwater to work in a fashion where you're going to have a continued supply of water to promote your wetlands and your wetland plants."
Sandhills will use whatever rain or snow it gets. But the primary supply of moisture will be fresh water from a nearby lake, pumped through the system to regulate and measure the flow.
The clay tailings beneath will keep the water from draining away, said Vassov, although that means some process-affected water in the tailings will leach back up.
In contrast, Suncor's Pond 1 project began with a tailings pond.
"We removed all the surface water and pulled out the majority of the mature fine tailings, the really yogurt-like tailings material, and infilled it with tailings sand," said Christine Daly, Suncor's wetlands reclamation director.
Suncor will also build hills and troughs. Water flowing from the former will collect in the latter. But Pond 1 will keep water on the surface — and protect it from tailings contamination — by underlaying much of the 32-hectare watershed with a commercial liner to sandwich clay between two layers of plastic.
Suncor will also move peat to the new fen.
Pond 1 will be watered entirely by precipitation. That means some of the salts and residuals from the tailings sand in the uplands are likely to percolate into it.
Sandhills is largely complete and was seeded with natural plants over the winter. Pond 1 is to be seeded next year.
Daly said Suncor has begun examining undisturbed fens in the region to compare them to what happens at Pond 1.
"We're doing all kinds of greenhouse studies, looking at identifying which fen plants are appropriate for our constructed fen and looking at how to propagate those species. We're doing a lot of research. The true test is will it continue to accumulate peat
"How long? I don't think that's a question I can answer at this time."
Price said a healthy plant community will take "decades, at least" to develop. But some plants should be growing well within a few years — followed, eventually, by fresh peat, he predicted.
Vassov agrees there's still a lot to be understood, much of which will be learned at Sandhills.
"We're starting to understand why there are wetlands in the natural environment and we're understanding the cycles. We've used that information to help us design what we need to do with our man-made area.
"Seeing it happen with my own eyes is incredible."