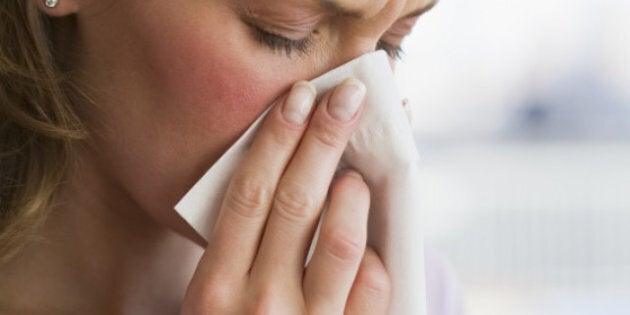 As spring approaches, long-suffering allergy patients are likely wondering when their hacking, coughing and itchy-eyed sneezing will begin.
An unusually warm winter and predicted mild spring are bound to affect the forthcoming allergy season — for example, those who balk at the sight of ragweed could run into it earlier this season because of warmer weather.
However, getting an accurate prediction as to how allergies will affect Canadians nationwide can be tricky.
Stuart Carr, president of the Canadian Society of Allergy and Clinical Immunology, told CBC News he sees a lot of fluctuation in his patients from year to year, so their symptoms can be difficult to predict.
"Every region has its cross to bear, and has sufferers that will end up with significant symptoms at different times of the year," he said.
"These things vary a lot across the country — so the weather ends up making a huge difference. We live in such a geographically huge and diverse country that the regional differences actually end up being quite enormous."
Carr said every year may seem like "the worst ragweed season ever" but there's a relatively small variation overall.
That variation could prove larger than normal this year, in part because of the record warm winter most of Canada is breezing through.
Richard Moffet, a meteorologist with Environment Canada, told CBC News this winter was an exceptional one for most of Canada.
"The only area in Canada where they got normal or below normal temperatures for the winter was on Vancouver Island and the coast of B.C. Other than that, it was above normal throughout Canada," he said.
The unseasonably mild winter was especially felt over the Prairies, which received a winter that was on average about six degrees above normal.
Moffet said a variation of that size is very significant. "For some localities, it will mean a record mild winter."
A mild winter and spring means allergens could be hitting the air a little earlier than usual, as warmer temperatures could signify earlier pollination for many species of plants, but that isn't the sole factor influencing how bad things could get.
"Duration is very important as for how long you're going to be symptomatic, but it's probably the intensity of the season that matters more," Carr said.
Things could be worse with a shorter, yet more intense pollen season.
"Sometimes that will happen if you have a spring that's slow to start weather-wise, and then all of a sudden you have three or four really hot and sunny days in a row, which makes the tree pollen explode," Carr said.
"Then you get this very intense, abbreviated pollen season."
But it's not all gloom and doom — certain allergy sufferers could actually feel fewer symptoms because of the warm weather.
"When we have an unseasonably warm winter where we have a less persistent snow cover, there's less mould in the spring." Carr said. "So it should actually be a better early spring for certain allergy sufferers."
On top of a record mild winter, a large portion of Canada is heading for an unusually mild spring.
"From Halifax to Winnipeg, it will be above normal temperatures," Moffet said.
"The departures won't be as strong as they were for the winter, but the forecast is for above normal."
With an allergy season that could be earlier or more intense than usual, Carr said allergy patients should be focusing on preventative treatment — knowing their triggers and which season usually sends them reaching for the tissues in a ragweed-induced haze.
"The key is they should be following a good treatment plan, preferably before the start of the season."
Carr said the medical profession is often accused of not making preventative treatment a focus, and that's exactly what's needed here.
"Prevention is not what a lot of people want — which is cure — but if we do the right things at the right time of year, we can make an enormous difference in your symptoms and quality of life."