One of the most promising — and unexpected — union organizing drives in Alberta in recent memory got its start on a frigid evening in February 2009, with a chance encounter in an Edmonton taxi cab.
David Froelich, a veteran organizer with Teamsters Local 987, was on his way home from the airport when he struck up a conversation with his taxi driver, Akram Ali Shamie, who shared the frustrations he and the other drivers were having with their taxi company.
The main sticking point was the size of the fleet: Despite pledging to cap the number of cabs at 100, Airport Taxi Service had allowed the total to grow to more than double that, and it was continuing to expand. The situation was intensifying competition for fares, and diluting the value of the taxi licenses the drivers owned.
Ali Shamie told Froelich they were considering forming an association to take on the company, but he had doubts about how much they would be able to accomplish without legal protection or a strike fund.
"I said, 'Well, we've got about $50 million in our strike fund, so maybe we can help you,'" recalled Froelich. "We went for coffee and got talking."
What Froelich experienced in Edmonton is playing out across Canada, most recently in cities like Hamilton, Markham and Toronto, as Canada's more than 40,000 taxi drivers reach a breaking point and push back in an industry whose tangled web of hierarchies makes it difficult to regulate and police.
Characterized in many jurisdictions as independent contractors, taxi drivers must answer to company owners and city bylaws, placing them squarely outside the standard employer-employee relationships unions are accustomed to mediating. But with immigrants leading the charge, this very non-traditional class of workers has increasingly staked its hopes on Big Labour, which after years of flagging membership is wading into unfamiliar waters, despite what promises to be a tough fight.
Though some owners say the unions have swooped down on a vulnerable population in an opportunistic bid to replace the manufacturing base that used to fill their coffers, interviews with taxi drivers across Canada suggest that conditions have become increasingly untenable for this largely immigrant workforce.
The list of driver grievances is long, and touches on everything from rising costs to deteriorating job security and lack of recourse.
Taxi drivers aren't big earners to begin with. Much of the cash customers hand over goes to covering expenses such as gas, insurance and fees, which can run as much as $100 per day.
Additionally, taxi licences have skyrocketed in cost, exceeding $200,000 in Montreal in recent years and $250,000 in Toronto. Not all cabbies pay for their own licences, however, as many of them share or lease the licences to each other.
The prohibitive cost of entry into the business is but one of many challenges. In Markham, Ont., for instance, taxi driver Ben Abou Akar, 48, says drivers have been unable to fight the proliferation of illegal taxis and the recent crackdown on taxi stands, which in recent years has cut his annual earnings by half, to less than $35,000.
"Some of the drivers [are starting to feel] like they are losing their dignity," said Abou Akar, who started driving a taxi 20 years ago, shortly after immigrating from the Ukraine. "The security comes up and kicks you out, gives you tickets, and the town won't listen to you, so you start having this feeling like you're not a first class citizen, like you're a second level of citizen."
But for more than a few drivers, the push to organize also comes from the desire to pave the way for future newcomers who may very well find themselves behind the wheel of taxi, just as they did.
As Balraj Manhas, an Edmonton taxi driver and member of the Teamsters bargaining committee, explains, "We faced these problems for a long time, so if we don't stand up now, they will be facing them for years to come."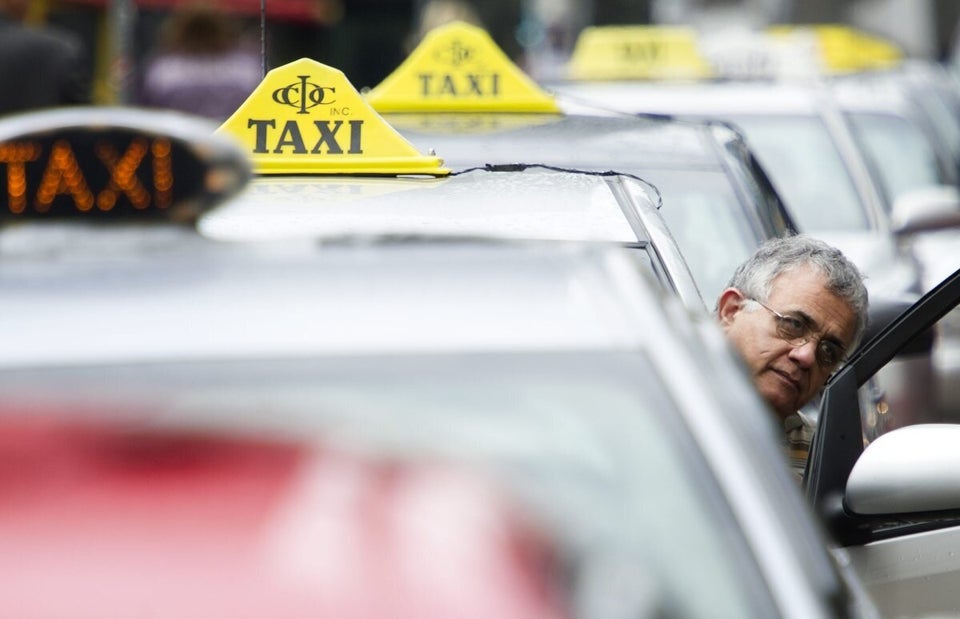 How Cab Fares Compare Across Canada
In many respects, the odds are stacked against the unionization of taxi drivers. The most obvious hurdle is a 1982 Supreme Court of Canada decision, which determined that taxi drivers, who aren't paid wages and often own their own cars and taxi licenses, are independent contractors, and therefore not entitled to the rights afforded to traditional employees, including the ability unionize.
Several provincial labour boards have since ruled that because of the extent to which taxi companies and brokers control the movement and earnings of taxi drivers, these workers are in fact more accurately described as "dependent contractors," a classification that opens the door to unionization.
But because of the wide variety of arrangements across taxi companies and brokerages, the determination is regularly challenged.
Even in Ontario, where there have been several long-standing taxi unions — the Canadian Autoworkers' Union represents taxi drivers in Ottawa and Windsor — cab companies often maintain they are not employers, triggering fresh labour board hearings.
Despite a 2009 labour relations board decision that recognized the right of taxi drivers at Hamilton Cab to unionize as dependent contractors, Blue Line Taxi, another company in Hamilton, is still insisting that the ruling doesn't apply to them, says Jacob Leibovitch, executive director of the United Steelworkers-backed Ontario Taxi Workers' Union (OTWU).
"Blue Line is essentially re-arguing before the chair of the Ontario Labour Relations Board [...] that Blue Line should not be considered 'employers' as their company is organized differently," said Leibovitch. "They are trying to block that and claim that they're not the employer, but it's just a stall tactic to wear us out."
While Leibovitch says he is confident that Blue Line — which declined HuffPost Canada's request for comment — will eventually acquiesce, it is easy to understand why this push-back might deter unions from getting involved.
In Alberta, for instance, Froelich estimates that the labour board hearings and collective bargaining talks that began with the Airport Taxi Service drivers and have grown to encompass nearly 2,000 drivers across several companies in Edmonton and Fort McMurray, have so far cost the Teamsters more than $200,000.
The assumption is that union dues — $50 per driver per month — will more than recoup initial expenses, but, as Froelich points out, "no one pays until there is a ratified agreement, so we're carrying that cost."
Neither the Airport Taxi Service nor the Greater Edmonton Taxi Service (GETS), another company the Teamsters' are attempting to unionize, responded to HuffPost's request for comment.
Forming a union is only the first step in addressing the concerns of drivers, whose grievances often relate to city and municipal bylaws that govern fares, licensing fees, and determine whether safety measures, such as shields and security cameras, are allowed.
"The unions have to do a whole lot more at the local level influencing the decision making of the local council," said Ali Shamie.
Bigger cities with numerous taxi companies can present an added challenge.
As Harry Ghadban, a national representative for the CAW and former taxi driver, explains, a taxi unionization drive in Toronto in the 1990s, though initially successful at several companies, unravelled when brokers, who run taxi dispatches, began to flee to non-union shops.
"The [license] owners are all intertwined. It makes it hard because the person moves his cars to the place that is not unionized, and says to the drivers, 'If you're going to unionize, you're not going to be driving,'" he said. "Those veiled threats have a detrimental effect on trying to organize, and trying to keep them."
Leibovitch says this issue is what prompted drivers in Toronto, who recently held a demonstration at City Hall to protest what they see as the city's two-tier licensing system, to go the more informal route in 2009, forming the iTaxiworkers Association, which he also heads.
All of which begs the question: What's in it for unions?
According to Jagtar Singh Chahal, CEO of Hamilton Cab, which is in the midst of collective bargaining negotiations with the OTWU, organizing taxi drivers is a financial play on the part of unions to replace the factory workers whose dues used to fill their coffers.
"In Hamilton, there used to be 20,000 steelworkers, now I think there are fewer [steelworkers] than taxi drivers," said Singh Chahal, who drove a taxi after immigrating from India. "They just need more numbers to collect union dues."
Singh Chahal says he is speaking from experience: he helped form a now-defunct taxi union in the area in the early '90s, but he says drivers quickly became disenchanted when it failed to deliver on its promises.
Though he maintains he has "absolutely no problem" with his drivers forming a union, he opposes what he sees as outside interference in the process.
"I do not want any third party coming to exploit them, and to collect union dues and make jobs for themselves," he said.
Leibovitch disputes this claim, noting that every jurisdiction where the OTWU is active — which includes the southern Ontario cities of Hamilton, Markham, Richmond Hill and St. Catharines — the drivers "approached us."
The grievances, he concedes, are significant. In Hamilton, for instance, the main objections are unfair dispatch and discipline issues; in the Toronto suburb of Richmond Hill, drivers are concerned about illegal taxis and a lack of advertising by the taxi company.
But he says the Steelworkers' interest in the cause speaks to "the trade union getting back to its core values" — organizing workers who don't have a voice.
"People shouldn't be fooled into thinking that taxi workers are going to replace good-paying industrial jobs. It just won't bring in the same dollars [to unions] on a per capita basis," he said. "This is really an experiment based on solidarity more than it is an economic venture."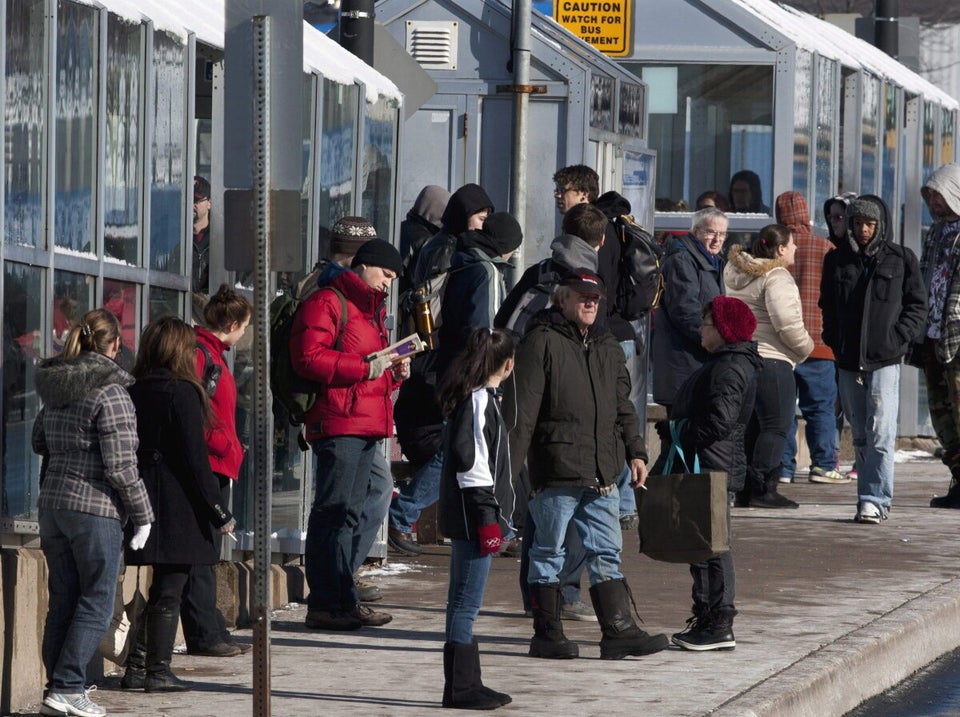 5 Signs Canada's Workers In For A Rough 2012
Yet the vast majority of the drivers who spoke with HuffPost said the push to unionize is coming from within; monthly dues, they say, are a small price to pay for legal protection and recourse against rising costs.
"Most drivers are not focused on what the Teamsters are making, they are focused on, 'Are [our] concerns being addressed? Are we getting a solution to our problems?'" said Manjinder Punia, who is involved in the Teamsters' bid to unionize 1,000 GETS drivers.
According to Froelich, the collective bargaining agreement he is in the midst of negotiating for GETS drivers aims to significantly reduce monthly expenses. Even when they start paying union dues, Froelich says the deal will save them up to $150 per month.
Punia took his support for the union to the airwaves, attempting to reach out to drivers through a community talk radio show he occasionally hosts.
From the outset, Punia, who drives for Capital Taxi, says organizers were "very clear with drivers" about the role of the union, and what it could reasonable hope to accomplish.
"Their job is first off that we have an agreement that is applicable to both the union and employer, so [the taxi company] will address the grievance procedure, your rent, insurance, fair dispatch, [so that] nobody has it in their minds that they are working one morning and not the next morning," said Punia, who claims he was fired from his job at GETS-owned Yellow Cab for opposing a company decision. "There will be a due process."
According to Ali Shamie, who was a labour agitator in Ethiopia in the 1970s, unions are particularly appealing to this largely immigrant workforce, who see Big Labour as "a way to get more access to the mainstream of society."
"The union is the only institution that could make the justice system accessible for those tongue tied with little English," he said. "The collective bargaining agreement is the most equalizing commitment that an institution can give to an immigrant."
But like any industry, the sustainability of taxi unions will ultimately depend on how much power they have to influence taxi companies, brokers and municipalities.
It's a process that Shahid Khan, a United Class Cabs driver in Fort McMurray — where 200 taxi drivers ratified a collective bargaining agreement with Teamsters local 987 in June — will be watching closely.
As he sees it, success will rely on the union's ability to limit the number of taxi licenses in the boom town, which he claims has created an oversupply of taxis, greatly reducing profitability.
"I will be happy to pay [dues], but if I know they are not going to stop the licensing, then it's absolutely useless," he said.
Meanwhile, Froelich and Ali Shamie are continuing to cast a wide net.
After more than a year of costly legal wrangling, in May 2010, Teamsters 987 ratified the first collective agreement with a deal that caps the number of Airport Service Taxi cabs at 207, making the company's 250 drivers the first in the province's history to unionize.
Negotiations are currently underway with GETS and two other taxi companies in Fort McMurray to get agreements for 1,200 additional drivers — which, as far as Froelich is concerned, is only the beginning.
"The Teamsters are getting calls from major centres across Canada, saying 'What about us?'" he said. "I think this year is going to be just monumental in the cabbie industry."
FLASHPOINTS IN THE HISTORY OF CANADIAN LABOUR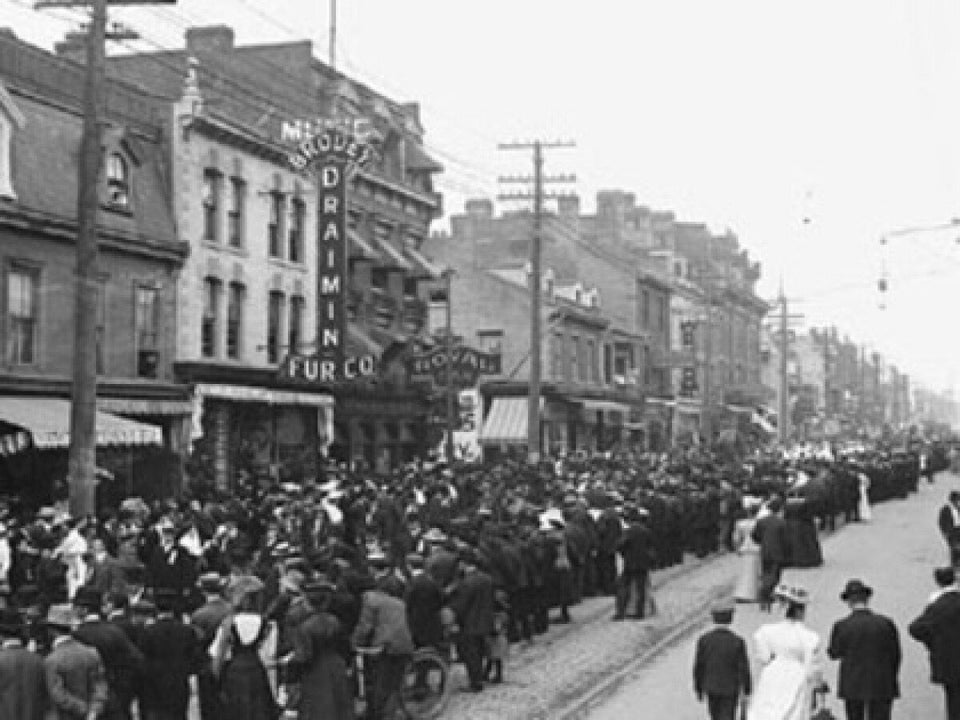 Flashpoints In History Of Canadian Labour