The NDP leadership candidate struggles in French and has a lower profile than some of his opponents, but he's still convinced he can win the party's leadership on March 24 in Toronto.
Dewar is asking NDP members to believe in something that comes naturally to many of them — that politics can be done differently. He's trying to speak to people's ideals, he said during an interview in his 21st floor hotel suite at the Westin Grand in Vancouver over the weekend.
"I've told people if you're just looking for someone who will scream and throw vitriol across the aisle, I'm not your guy. If you want someone who is going to stand up and be strong, smart, bring people together and get results, I'm your guy," Dewar said.
The affable 49-year-old MP said he's been told on the campaign trail he is not slick, but argued that he's not so nice that he can't go toe-to-toe with Stephen Harper.
"(The Prime Minister) doesn't yell, Dewar said. "He is able to sow derision amongst others by playing a certain game that is very much about dividing people and finding wedges, I'm very aware of that. I know how to deal with that."
Unlike Bob Rae, the Liberal's interim leader, who gets angry and yells, Dewar said he'll follow in the footsteps of the NDP's beloved former leader Jack Layton and show people politics can be practiced differently.
"I think that's what people are looking for, they are not looking for another hot head," he said.
Dewar wants to be propositional and said he's willing to reach out to Canadians of all political stripes to achieve results.
"Let's talk about lifting seniors out of poverty — I can talk to people who are Conservatives who believe in that. They want to know how we're going to do it and how we're going to pay for it, fair enough, but we have … to give Canadians something to believe in and a future to believe in," the Ottawa MP said.
"I did not get involved just to have crisp debate and differences on policy and ideology. I'm more interested in how do we find those points of interests and get people behind those ideas and rally people and for me that's what I do well and that's what I think we need. And that's the different between me and my colleagues."
Dewar said he has no problem seeing himself as prime minister and he believes the Canadians won't either.
"I feel comfortable in that role. I don't find it difficult to appeal to people regardless of where they are in the country or their political background," he said.
Dewar might find it difficult, however, to connect with francophone Quebecers. His French has been criticized by fellow candidate Brian Topp who suggested that Dewar wouldn't be able to speak adequately to Quebecers nor hang on to the NDP's 58 seats in the province.
When asked in French, if he thought he spoke the language well enough to be win over Quebec, Dewar said he thought what was more important was his ability to connect with "Mr. and Mrs. Everybody" and to reflect their concerns. The MP, however, used two incorrect French words in his explanation.
His French is a challenge but it is also an opportunity to engage more with Quebecers, he stressed.
Dewar is running on a platform aimed at re-energizing, uniting and mobilizing the party's grassroots.
"The others (his opposing candidates) have plans to focus on different things but I've been the only one who is really focused on connecting with people at the grassroots level and challenging them ... saying that we need you to work harder to connect with your neighbours to bring people to our party and as leader, I am going to support you and build that up," Dewar said.
"That is a huge organizational change," he added.
In the last couple of years, Dewar said the NDP has failed to connect with its own people and now needs to focus on getting members involved.
He's been crisscrossing the country telling riding associations where the NDP came in second that members there need to act as the official opposition in the riding.
He wants the NDP to focus on issue-based campaigns, a tactic the Conservatives have used to mobilize supporters and raise thousands of donations on wedge issues such as ending the long-gun registry, cutting funding to the CBC and eliminating the Wheat Board's single desk. Dewar said the NDP would use issue-based campaigns to champion an additional role for government on bread and butter issues that Canadians of all stripes care about, such as pensions and post-secondary education.
"What this will do, of course, is rejuvenate in some cases our party in some regions and gives people something to vote for and get behind," he said.
If NDP members don't vote for his positive vision, Dewar said he's not sure he'll read into it.
"We'll have to wait and see, I'm running to say that politics can be a positive force in our party and in our lives and I'm not sure people are going to vote against that. We'll see."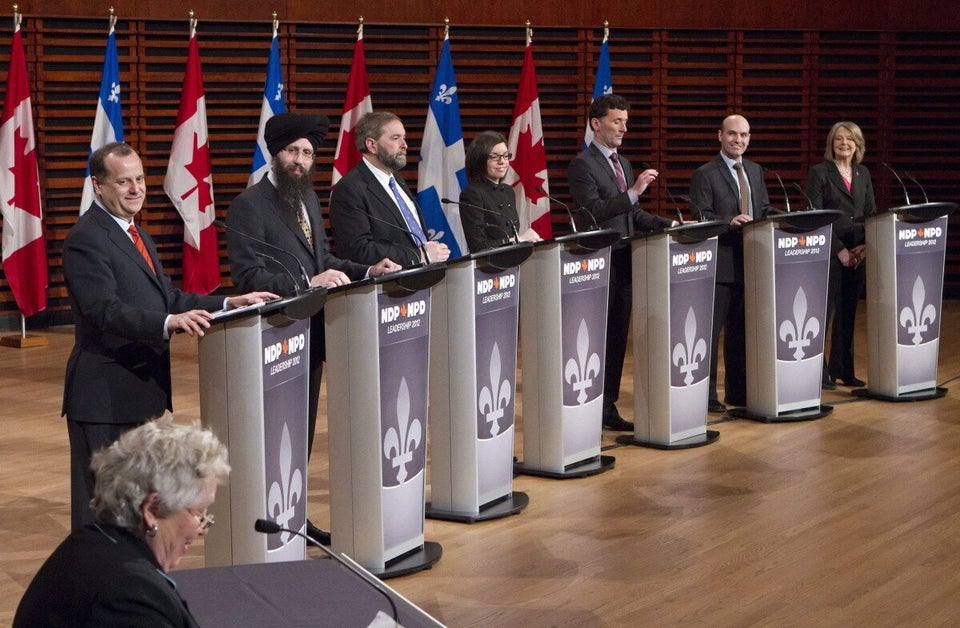 NDP GOES 1 ON 1 WITH HUFFPOST