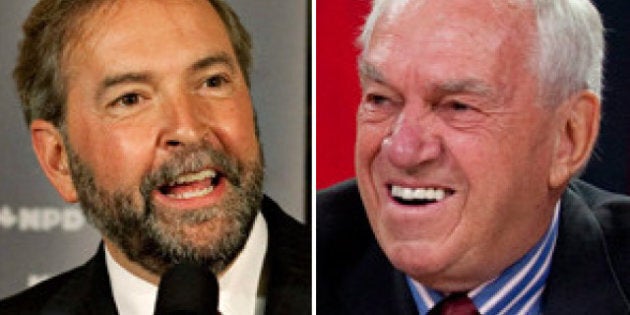 OTTAWA - Former NDP leader Ed Broadbent is accusing the front runner of the current leadership race of taking undue credit for the party's electoral breakthrough in Quebec.
In the process, Broadbent says Thomas Mulcair has unfairly maligned the team largely responsible for the NDP's success and, by implication, the leader who put that team together — Jack Layton.
Broadbent is backing Brian Topp, a key member of the late Layton's inner circle and one of Mulcair's top rivals for the leadership.
Broadbent is also casting doubt on Mulcair's temperamental suitability for the top job, which he says requires a team player who can unify the party.
In speaking out one week before the New Democrat leader is crowned, Broadbent is saying openly what Mulcair's critics have only whispered up to now.
In an interview Thursday with The Canadian Press, Broadbent denied suggestions his blunt talk signals a desperation to stop Mulcair.
He said he simply felt someone needed to come to the defence of Layton and his team and set the record straight.
He said he's been "deeply disappointed" by Mulcair's repeated snide references to "Laurier Avenue," the location of the NDP's national headquarters, and his suggestions that he's had to fight against central party strategists in order to modernize the party's approach to campaigning in Quebec.
In reality, Broadbent said it was Layton and his inner circle "who put money and resources and developed together a coherent strategy for Quebec before someone named Tom came along."
"It was the federal campaign in Quebec that got Tom elected in the first place in the (2007) byelection and then repeated after in the general election," he said.
"Of course, (Mulcair) played a role in this himself as the candidate and he was a very good candidate. But the strategy for it, the money for it, the organizational resources were all provided by the federal party."
Broadbent named those in Layton's inner circle whom he believes deserve the credit but who may have no future in the party if Mulcair is chosen leader: Topp, who served as Layton's national campaign director, chief of staff Ann McGrath, principal secretary Brad Lavigne and Raymond Guardia, who ran the Quebec campaign for Layton.
Guardia is now Topp's national campaign director. McGrath and Lavigne have remained neutral in the leadership contest, serving as chief of staff and principal secretary respectively to interim leader Nycole Turmel.
Broadbent said he decided to speak out because "they were being attacked, I think unfairly and, by implication, Jack was (being attacked for) not running the right kind of campaign, which is of course ridiculous. That needed to be said."
He said it "does indeed" worry him that some or all of Layton's team will be sidelined if Mulcair wins, given the apparent contempt the front-runner feels for them.
"These are good, fine, dedicated, competent people ... I'm sure many of them are concerned when you have one of the leadership candidates who's doing very well making these kinds of comments. If I were in one of those positions, I would be concerned."
Broadbent acknowledged that a new leader is entitled to bring in his or her own people. But he said that doesn't mean the outgoing team should be unfairly criticized, particularly when some are unable to defend themselves publicly.
Broadbent also took issue with Mulcair's repeated assertions that the party needs to modernize in the rest of Canada, just as it did in Quebec in last spring's election campaign. He said Layton's entire tenure as leader was devoted to growing, expanding and modernizing the party.
"It's been misleading to say that the party hasn't been constantly revitalizing itself, both in terms of policy and organization."
Mulcair's critics have long whispered that he's an abrasive, mercurial figure who doesn't play well with others. But there's been little sign of that in the leadership contest. Mulcair has been resolutely positive, amiable and collegial.
But Broadbent, who led the party from 1975 to 1989, raised the temperament issue openly as he talked about the two qualities he believes are most needed in a leader.
"One is to be very intellectually competent and self-possessed and able to debate in a very forceful way ... and Tom clearly is able to do that," he said.
"But the other capacity of leadership ... is the capacity to generate a good team spirit, to maintain a sense of unity and collaboration."
On the latter score, Broadbent said New Democrats should take note that most of the 43 caucus members who've endorsed Mulcair are newly-elected rookies from Quebec while most of those who've worked with him in caucus in the past are backing other candidates.
"I read into that that they have concerns about team-building, presumably."
Mulcair's camp refused to directly respond to Broadbent's criticisms.
"Mr. Mulcair and his team have run an upbeat, positive campaign and have stayed on the high road throughout," campaign director Raoul Gebert said in an email.
"Mr. Mulcair now has the support of 43 of his fellow NDP MPs — there are no second-class MPs — and this means that he has more MPs from across the country supporting him than all other candidates combined," he added.
"As this race comes to a close, we are focused on keeping it a positive and unifying campaign."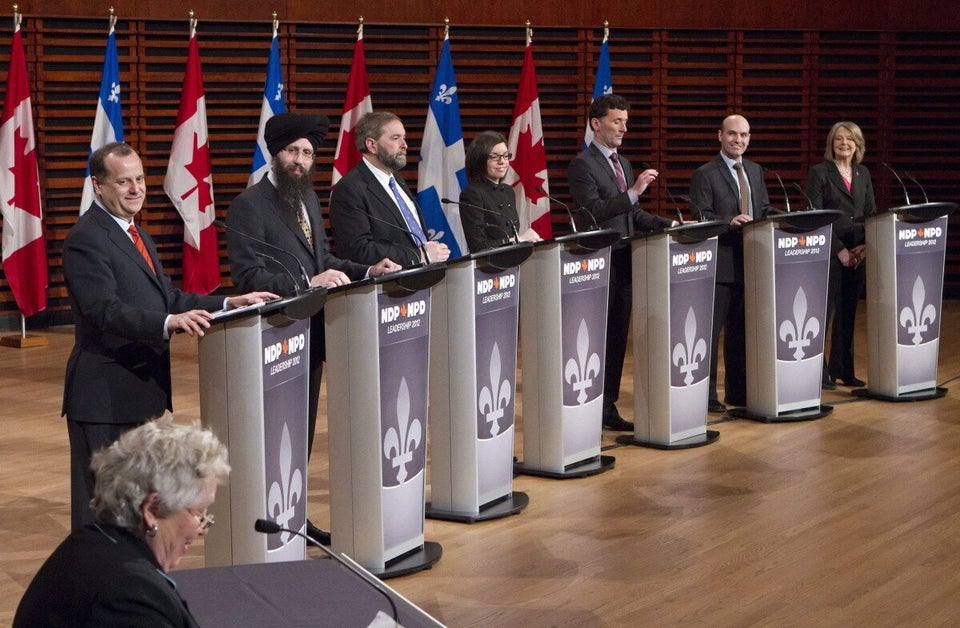 NDP GOES 1 ON 1 WITH HUFFPOST