TORONTO — The slip-ups of two prominent NDP leadership hopefuls may matter little to delegates casting ballots this weekend as they vote to replace their late and beloved leader Jack Layton on Saturday.
Ontario MP Peggy Nash's microphone was cut off after she went over her allotted time during a 20-minute candidate showcase. Poor planning also left Quebec MP Thomas Mulcair speeding through his speech after his entrance took longer than expected. Twitter was quick to note the gaffes.
"He was pressed for time," explained Mulcair supporter and former leadership contender Romeo Saganash, who noted that his man wasn't alone in having to adjust his speech on the fly.
NDP members who haven't voted in advance have until Saturday at 9 a.m. ET to cast their first ballot.
A rousing tribute Friday evening to Layton, the man who led their party to an unprecedented electoral victory last May, may leave a few delegates thinking more seriously about candidates they weren't necessarily considering.
"It is springtime for the New Democrats!" Layton's widow, MP Olivia Chow, told the crowd of several thousand gathered at a Toronto convention hall. "We have come through a winter of challenge and change together and now it is spring."
Layton's poise and charisma, which seemed to come so easily to the NDP's late leader – and which was on full display during an emotional video tribute – was in short supply earlier in the day as the seven candidates to replace him vied for the approximately remaining 75,000 votes left to be cast.
Jane Sparrow said she was hoping to be inspired by Brian Topp, the man whom many long-standing Layton backers -- including the late leader's mother Doris -- have endorsed.
But instead she found he failed to connect with the crowd, something that came so easily to Layton.
Convention Coverage, HuffPost Style: The Huffington Post Canada brings you comprehensive coverage of the NDP leadership convention in Toronto, with photos, behind-the-scenes video, opinion and reporting from the convention floor.

Follow us at @HuffPostCanada, on our Ottawa Bureau Chief Althia Raj's Facebook Page, on our NDP leadership site, and on our politics page and our front page. Friday, we cover candidate speeches and a tribute to Jack Layton. Saturday morning, we follow the rounds of voting that will end with the new leader.
"I just didn't have the connection with him," Sparrow said. "He had a nice background, he had everything that I wanted to see there but there wasn't the same type of personality as there was with Jack and that's what I wanted to find."
Sparrow said that despite the unfortunate ending to Nash's showcase, she believes the Toronto MP can make people feel really comfortable.
"Peggy did that here," she said.
Wilhelmina Laurie said she was also impressed with Nash and has decided to vote for her rather than her previous pick, Mulcair.
"She really came out of her shell," Laurie said. "When she came up, I thought there is a union girl coming out and I really was impressed and I wasn't that impressed with Tom."
Laurie said she was also surprised by Martin Singh's showcase, which included a cartoon video explaining how a Nova Scotia boy became a Sikh.
"Everything was business, business and pharmacare (with him) but this time he shared some personal stories ... I'm glad I went to hear him," she said.
Douglas Allen told HuffPost he was most impressed by the "teacher from Ottawa," MP Paul Dewar.
"I thought the way he conducted himself, the way he talked, I was kind of impressed," Allen said.
But Allen, an early Mulcair supporter, has already locked his vote with his candidate by voting in advance polls along with 55,000 other NDP members.
That means that depending on the voter turnout Saturday, the race really could be up for grabs.
B.C. MP and leadership hopeful Nathan Cullen told reporters Friday that if he drops off the ballot Saturday, he won't tell his supporters to vote for a particular candidate.
"It's not the way it's going to work with our campaign," Cullen said. "The choice is now with the members of this party and it's not for me or I think any other campaign to try and push them in one way or another," he said.
Only Singh has instructed his 10,000 supporters to back another candidate, Mulcair, if and when he drops off the ballot.
NDP leadership candidate Thomas Mulcair speaks very quickly during his convention speech.
Peggy Nash's speech gets cut off at the NDP Convention.
SIGHTS AND SOUNDS AT THE NDP CONVENTION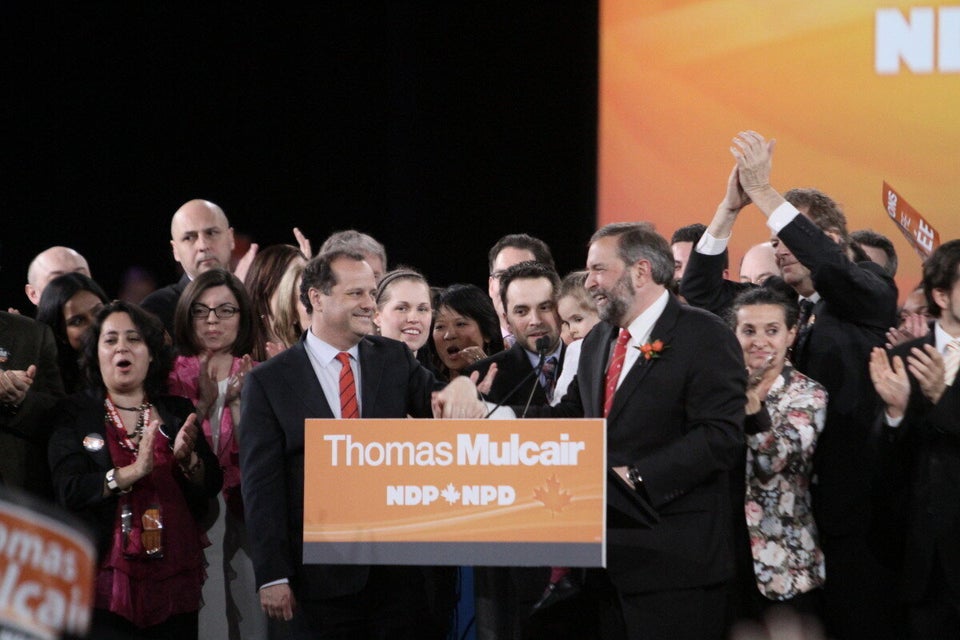 NDP Convention Sights and Sounds