HuffPost Canada
With over 130,000 members spread out in all 10 provinces and three territories, candidates for the NDP leadership have spent the final days of the campaign appealing to New Democrats in every part of the country.
But from where will their votes come? Fundraising , endorsements, and polling data give us a clue.
Here's a breakdown of where in the country each of the seven NDP hopefuls is strongest.
STORY CONTINUES BELOW GRAPHIC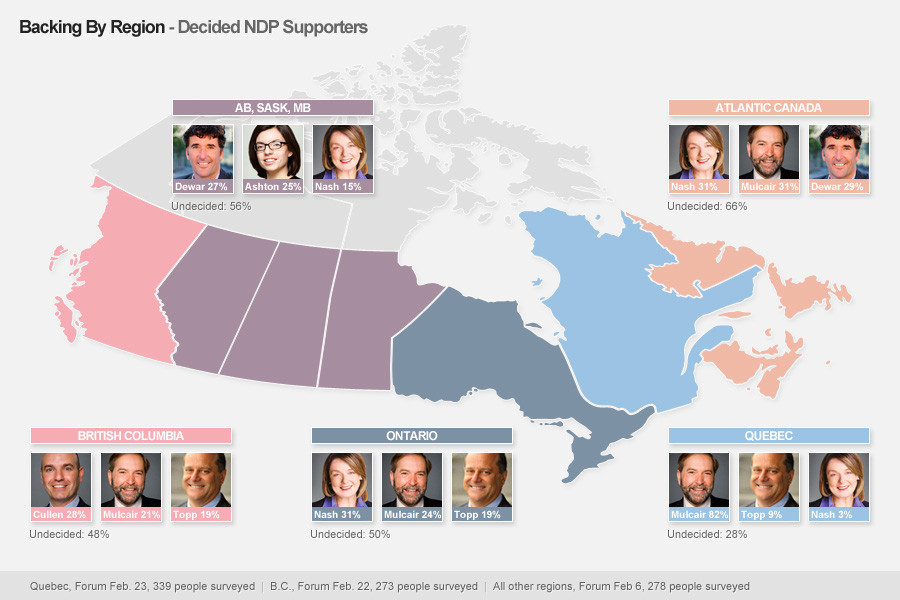 SUBSCRIBE AND FOLLOW
Get top stories and blog posts emailed to me each day. Newsletters may offer personalized content or advertisements. Learn more
Thomas Mulcair: The front-runner going into this weekend's vote, Mulcair's support is spread across the country. He has received endorsements from current or former party leaders in British Columbia, Manitoba, Ontario, Yukon and throughout Atlantic Canada. He is the consensus choice in Quebec, where 82 per cent of NDP supporters want him to become the party's next leader, and he has also done well in polling in British Columbia, Ontario and on the East Coast. He has raised the most money, pulling in $105,000 from Quebec alone (or 71 per cent of all donations from the province) and the most money in Alberta, Saskatchewan, New Brunswick, Prince Edward Island and Newfoundland and Labrador. He has more federal caucus support than all of the other candidates combined, dominating in Quebec but also receiving strong support in Atlantic Canada and Ontario. He is likely to draw the vast majority of votes from Quebec, but has enough support in the rest of the country to come out on top on the first ballot and, quite possibly, on the final ballot as well.
Peggy Nash: The MP for Parkdale – High Park in Toronto has three main pockets of support in Ontario, British Columbia and Atlantic Canada. The lion's share of her backing has come from influential women within the party. Nash has topped polls in Ontario and Atlantic Canada, and has come up fourth in British Columbia. She has raised roughly two-thirds of her money in Ontario, where she has taken in $133,000, and has been a successful fundraiser in British Columbia and Atlantic Canada as well. Her endorsements have come primarily from those three regions, including that of former Nova Scotia and federal leader Alexa McDonough and current head of the NDP in Newfoundland and Labrador, Lorraine Michael.
Nathan Cullen: Probably more than any other candidate, Nathan Cullen's support is regionally concentrated in one province: British Columbia. The MP for Skeena – Bulkley Valley has topped polls of NDP supporters in B.C. (28 per cent) and has raised almost $150,000 in the province, more than four times his nearest rival. He has raised more than half of all the money donated in British Columbia, the province with the largest number of NDP members. His caucus support is somewhat more diffuse. He has received endorsements from a few Ontario MPs, MPs and MLAs from British Columbia and a donation (but not an endorsement) from former premier Glen Clark.
Brian Topp: The former party president started his campaign strongly with an endorsement from Ed Broadbent and can claim "home province" status in Quebec, where he was born, Saskatchewan, where he worked, and Ontario, where he now lives. Topp has done well in polls in British Columbia and Ontario (19 per cent in each, ranking third) and Quebec, where he comes up second to Thomas Mulcair with nine per cent among NDP supporters. He has raised almost three-quarters of his money in Ontario, where he has taken in $176,000, more than any other candidate. He ranks second in donations in Quebec, Saskatchewan and Prince Edward Island. He has strong support within the federal caucus and has received the endorsement of more B.C. MLAs than any other candidate.
Niki Ashton: An MP from Manitoba, where her father is an MLA, Ashton is expected to draw most of her support from her home province. She ranked second (25 per cent support) among NDP supporters in Alberta, Saskatchewan and Manitoba in the most recent poll, and has raised more money than anyone else (39 per cent of all donations) in Manitoba. She has also received a lot of support from the Manitoba NDP caucus, and ranks second in money raised across the three Prairie provinces.
Paul Dewar: Ashton will be challenged for support in Manitoba by Paul Dewar, who has raised almost as much money in the province. Dewar has polled well in the Prairies, the favoured candidate at 27 per cent, but has also done well in his home province of Ontario (18 per cent), where he is the MP for Ottawa Centre. Dewar has raised most of his money in Ontario, ranking second with a total of $142,000. He has the support of former Ontario NDP leader Mike Cassidy, as well as backing from within the federal and provincial Ontario caucuses.
Martin Singh: The pharmacist from Nova Scotia is likely to receive much of his support at the other end of the country in British Columbia, where he has raised more than half of his money. Raking in some $34,000, Singh ranks third in donations in the province thanks in large part to its large Sikh community. Singh is also likely to get a good chunk of the vote in his native province, where he raised $13,000, ranking second.
Convention Coverage, HuffPost Style: The Huffington Post Canada brings your comprehensive coverage of the NDP leadership convention in Toronto, with photos, behind-the-scenes video, opinion and reporting from the convention floor.

Follow us at @HuffPostCanada, on our Ottawa Bureau Chief Althia Raj's Facebook Page, on our NDP leadership site, and on our politics page and our front page. Friday, we'll be covering candidate speeches and a tribute to Jack Layton. Saturday morning, we'll be following the rounds of voting that will end with the new leader.
WHAT YOU NEED TO KNOW ABOUT THE VOTING
What You Need To Know About The NDP Leadership Vote
TAKE OUR POLL