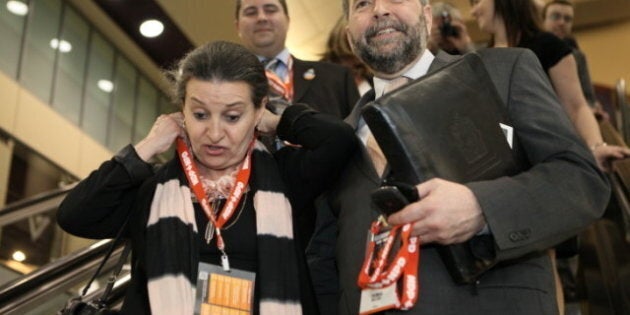 TORONTO -- NDP leadership candidates are preparing their last-ditch effort to swing undecided members as their party chooses its next leader.
The seven hopefuls will have 20 minutes Friday afternoon to make their pitches to the more than 4,000 delegates at the Metro Toronto Convention Centre.
"The issue today, from what I'm hearing from everybody on the floor, is this is about choosing the next prime minister," said Paul Dewar supporter and MP for Timmins—James Bay Charlie Angus.
"Paul has what it takes. When he gets up there he's gotta make people know that he can do it. The light's got to go on, he's got to be there strong and he's got to be confident and relaxed. I think that is what he is thinking is most important," Angus said.
Convention Coverage, HuffPost Style: The Huffington Post Canada brings you comprehensive coverage of the NDP leadership convention in Toronto, with photos, behind-the-scenes video, opinion and reporting from the convention floor.

Follow us at @HuffPostCanada, on our Ottawa Bureau Chief Althia Raj's Facebook Page, on our NDP leadership site, and on our politics page and our front page. Friday, we cover candidate speeches and a tribute to Jack Layton. Saturday morning, we follow the rounds of voting that will end with the new leader.
Peggy Nash spokeswoman Zuzia Danielski said her candidate has to go on stage and "pump the crowd up as she has done all across Canada and explain again her reasons why everybody should vote for her."
By random selection, Nash has been given the sixth spot in the showcase, right before long-shot candidate Martin Singh, and her team is thrilled with her placement.
"It's really that final message to voters, that she is the best candidate to lead New Democrats to form government in 2015," Danielski said.
But Thomas Mulcair supporter John Fryer told HuffPost he doesn't think the candidates' showcases will be make or break.
"This is not a typical convention where the people here are making the decision. The people making the decision half of them have already voted so it is in the box," he noted. More than 50,000 NDP members have voted in advance.
"I really don't think it matters at all what goes on this afternoon," Fryer said, adding that he doesn't think his candidate is capable of flopping.
"As long as he just projects that stature, that gravitas — which he does every time he opens his mouth," Fryer said Mulcair would be able to deliver the only message that matters, that he's the only statesman in the room and the only candidate capable of beating Stephen Harper.
"I'm going to vote here, but there is not a possibility that anybody could convince me even if they got up there naked and did a strip, could they persuade me to vote for somebody else," said Fryer, who will have a front-row seat.
The NDP's leadership convention in Toronto has attracted the greatest attention in the party's history: More than 4,200 delegates have registered and some 690 journalists have been accredited to cover the event, NDP spokeswoman Sally Housser said.
The two-day event kicks off at 12:30 p.m. Things may not go exactly as planned, however. The co-chair of the NDP's socialist caucus Barry Weisleder told HuffPost he will ask the party to change its agenda so it can debate party resolutions as well.
Some convention attendees have also been delayed because of labour strife at Air Canada.
Housser said she understands the union leadership has told their members to go back to work and believes the convention won't be affected.
"We're confident that this will be resolved shortly and that all people registered will be able to join us at convention this weekend," she said.
With files from the Canadian Press
CONVENTION SIGHTS AND SOUNDS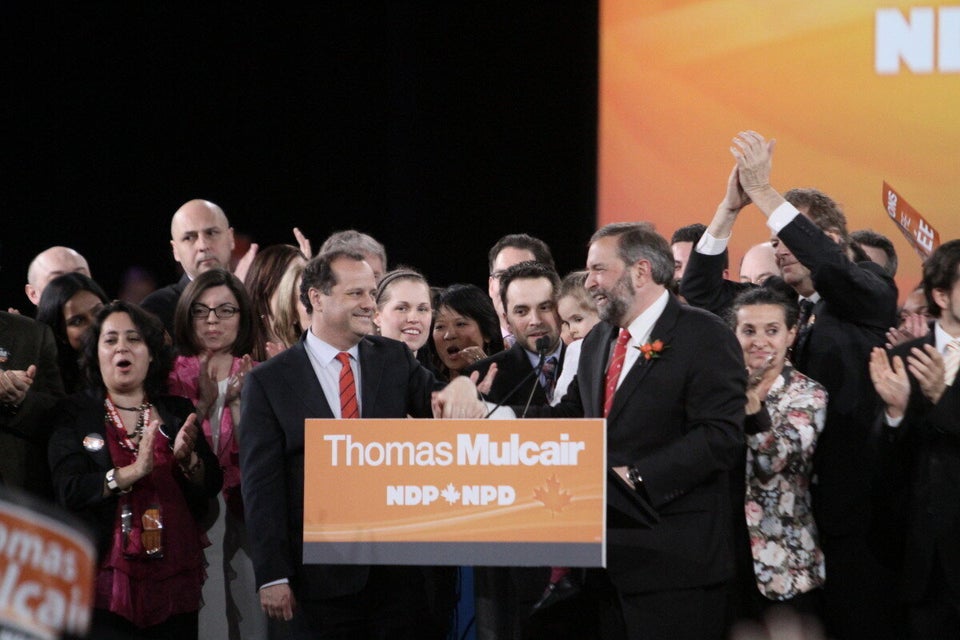 NDP Convention Sights and Sounds