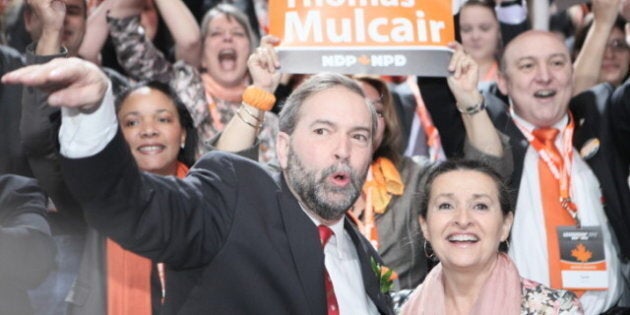 CP -- Mercurial Thomas Mulcair was poised to win the NDP crown and leadership of Her Majesty's loyal Opposition late Saturday after a long battle of voting attrition.
Mulcair, the sometimes combative former Quebec Liberal cabinet minister, held 43.8 per cent of the votes after a third ballot, leaving only second-place Brian Topp still on the ticket after a long day that opened with seven leadership contenders.
Just over 7,000 votes separated the two long-acknowledged party front-runners heading into the final ballot — a gulf that appeared simply too wide for Topp to bridge, given the day's incremental voting shifts.
Some New Democrats — particularly Mulcair's supporters — had hoped Topp, in a gesture of party unity, would concede defeat rather than force the contest to a fourth and final ballot.
Topp, the veteran party strategist favoured by the NDP establishment, consolidated his second-place status, taking 31.6 per cent of the votes and asserting afterwards that he could still win the race.
"Why throw in your hand when you can win?" Topp said.
Nonetheless, the savvy NDP strategizer also provided a rationale for pushing the final vote rather than conceding, arguing it's not in the party's best interests to anoint a leader who hasn't actually crossed the finish line.
"I think it's fit and proper to let the party decide who the leader is and to not have the appearance that it was arranged."
Dark-horse contender Nathan Cullen, written off at the start of the race last fall after proposing co-operation with the Liberals, was finally hobbled, dropping off the ballot following a third-place finish with 24.8 per cent of the vote.
Cullen said his strong showing in the contest proves there's an appetite for co-operating with Liberals.
"Change is in the wind, my friend," he said. "I think anybody who (thought) New Democrats aren't open to the ideas of change was obviously mistaken."
Mulcair failed to increase his margin on Topp, but the second-place candidate was clearly running out of track with only a single ballot remaining.
Peggy Nash was eliminated following Saturday's second ballot, while Paul Dewar, Martin Singh and Niki Ashton all dropped out after the morning initial vote.
Any sense of growing excitement and momentum, however, was drained out of the Metro Toronto Convention Centre as a series of technical delays with the online voting system slowed voting by hours.
Cullen's campaign manager confirmed prior to the third-ballot results that the party's chief electoral officer had informed them of an attempted cyber-attack that slowed the online voting system, but failed to compromise the results.
"The party has informed Nathan's campaign that there was a cyber-attack on the voting system," Jamey Heath told The Canadian Press.
Party president Rebecca Blaikie confirmed two IP addresses had been isolated as the sources of attempts to slow entry into the system, effectively gumming up the works but not impairing the vote.
"Whoever this is or whatever it came from, their goal was simply to make it a pain to get into our site, to make it harder for people to vote, to block it up with a lot of traffic," Blaikie said.
A total of 62,738 votes were cast in the third round, down from 65,108 on the first ballot — and less than half the 131,000-strong party membership.
About 56,000 people had voted in advance of the convention.
Under the preferential ballot system, in which voters ranked their choices first to last, those 56,000 votes were locked in for all subsequent ballots and couldn't be influenced by floor-crossing endorsements.
None of the vanquished candidates except Singh chose to publicly endorse another contender.
"I can happily work with any of the three remaining candidates," said Nash, adding that any of the remaining contenders "would make an absolutely amazing leader."
Popular NDP MP Charlie Angus, who had backed Dewar in the race, threw his support behind Mulcair.
"Thomas is fearless, Thomas is organized," Angus said. "He's one of the strongest MPs we've seen in the House of Commons and he's certainly a match for Stephen Harper."
Mulcair's high profile in Quebec helped him maintain his lead in the NDP leadership race. Once a western-based protest party, the NDP's world has revolved around Quebec since last May's election, when an orange wave swept the province and vaulted the party into official Opposition status for the first time in its 50-year history.
As the lone Quebec MP in the hunt, Mulcair made a powerful case as the standard-bearer for a party in which 58 of its current 102 seats came from his home province. Mulcair was the lone New Democrat among those 58 Quebec MPs who held his seat before last May's federal election.
He has also caused divisions, however, among social democrats who believe he'll turn the party into a pale imitation of the more centrist Liberals.
Topp, who has never held elected office but has a rich history as an NDP strategist federally and provincially in Saskatchewan, received endorsements from much of the party brass, including a late nod last week from the mother of Jack Layton.
It was Layton's death from cancer last August that tossed New Democrats into a leadership race just months after their historic electoral breakthrough.
Cullen's controversial policy proposal of co-operating with Liberals and Greens in the next federal election to present voters a single "progressive" choice had appeared to make his candidacy a non-starter last fall.
But his campaign gathered momentum in recent weeks — in large measure by dint of Cullen's good humour and command of public speaking.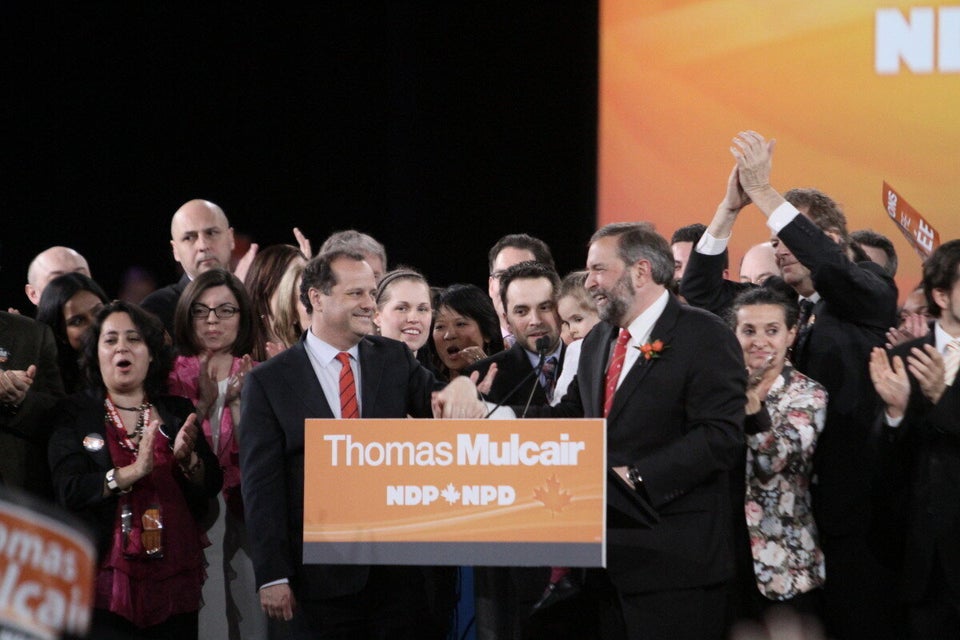 NDP Convention Sights and Sounds