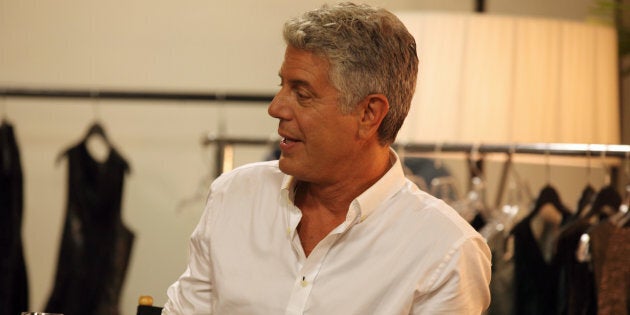 MONTREAL - When celebrity chef Anthony Bourdain was compiling his list of international cities to feature on the TV show "The Layover," Montreal was a no-brainer for inclusion.
That's because the city's cuisine is "uniquely crazy, uniquely individualistic and rugged and excessive and wonderful," according to the New York City native.
"It says Canada to me," he added during a recent telephone interview.
The premise behind the "The Layover" was simple but highly challenging: Bourdain spent between 24 and 48 hours in each of 10 cities and packed in as much hard living as the liver and the rest of his body could take.
Viewers are taken off the beaten track as Bourdain, who has also written several books and stars in "Anthony Bourdain: No Reservations," shows them where to visit and where to stay around the globe.
The Montreal episode also includes debate on whether its bagels are better than New York's, as well as adventures involving dragon boats and surfing on the St. Lawrence River.
"We were looking to do something fast and different, and a little scary, something that challenged and pushed us," says the 55-year-old.
"Most of the time," is his immediate reply.
"It was difficult. Essentially, it's eight days of serious eating and drinking compressed into two (for the purposes of) the show.
"That's tough. It was very physically demanding and a little intimidating, a little frightening to embark on a bold new venture like that, especially when you're eating and drinking as much as I was."
The series has aired in the United States and gets its Canadian debut on Travel + Escape on April 11. The Montreal episode is set for broadcast May 2.
Bourdain has fond memories of Montreal dating back to a book tour in 2001 when local chefs took him under their wing.
"I knew we could make a good show there and have a good time doing it. It's my favourite city in Canada.
"I love the chefs there," he says, ringing off the names of Martin Picard (Au Pied de Cochon) Normand Laprise (Toque) Frederic Morin and David McMillan (both Joe Beef) as some of the outstanding ones.
"It's the most uniquely Canadian food in Canada. In Vancouver the cuisine is very strong mix of great Asian food from all over Asia, a lot of great homegrown stuff, but the cuisine in Montreal could exist nowhere else other than Quebec.
"It looks and tastes different from food anywhere else and the chefs, particularly when you're talking about Martin, or Fred or Dave, are unlike chefs anywhere else."
The other cities where Bourdain lived large for the series were New York ("the greatest city in the world," he says unabashedly), Singapore, Hong Kong, Miami, London, Rome, Amsterdam, Los Angeles and San Francisco.
Bourdain has plans to do another season of "The Layover" this summer and Canada's largest city will be getting in on the fare.
"Toronto will be on the list for sure," he says of a city he has visited several times but never featured on any of his shows.
Bourdain says that when he talks to journalists and chefs from elsewhere in Canada, he always hears trash talk about Toronto.
"I feel sort of an obligation to highlight that there is indeed good food there and good people, as I know from personal experience," he says.