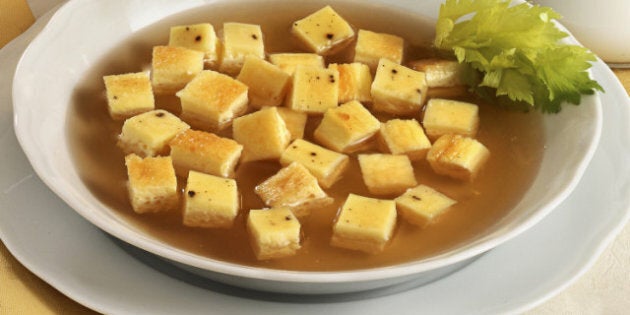 For those who will be celebrating Passover over the next week or so, a cupboard full of matzah can feel like the most boring menu prospect in the world (after, of course, you've finished off the seder leftovers). Sure, you have your recipe for chicken soup and kugel, but why not get inventive this year with some Italian inspiration?
For Passover, Rovati has put together some of her favourite dishes with non-leavened options -- not exactly a simple task for a culture so firmly ensconced in wheat flour pasta (potato pasta, however, is considered kosher for the holiday). Part of their beauty is that they can work for both Passover and Easter feasts, which correspond this year, without anyone feeling as though they're missing out.
SEE: The recipes in the slideshow below -- instructions are in the slides, as well as below: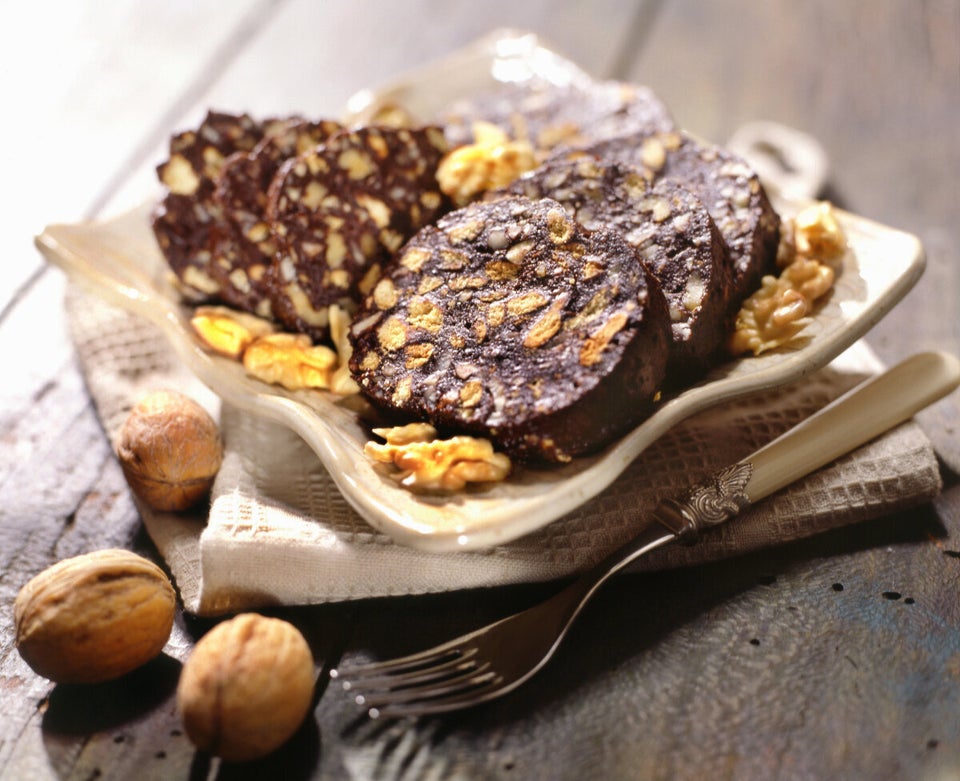 2 cups (500 ml) semisweet chocolate, grated (or semi-sweet chocolate chips)
2-3 Tbsp. (30 to 45 ml) orange liqueur, or a few drops of vanilla or almond extract
1 cup (250 ml) shelled walnuts, or pistachios
1 cup (250 ml) broken Passover cookies (or more nuts for a gluten-free version)
2 Tbsp. (30 ml) candied orange (optional)
Boil the water in a pot. Lower the heat, add the sugar and cook for about one minute. Add the chocolate and stir until smooth. Remove from the stovetop and add extract or liqueur, the broken cookies, nuts, and candied peel if using. Taste and add more sugar if you prefer a sweeter flavour.
Refrigerate for a few minutes (in the refrigerator); when it's lukewarm, shape it into one or more logs wrapping it tightly in plastic wrap or parchment. Allow to rest in the refrigerator for at least 6 hours. About 20 minutes before serving, unwrap and cut into slices.
Bocca Di Dame Al Caramello (Lady's Mouth Cake with Orange Caramel)
2 cups (500 ml) ground almonds
3 or 4 Tbsp. (45 to 60 ml) fine matzah meal
5 large eggs, separated (use 3 yolks and 5 whites)
toasted, slivered almonds to decorate
Grate the zest of an orange and set it aside. Place the peeled orange in a small pot, cover it with water and bring to a boil. Drain, dry and set aside. Beat the egg yolks with 2/3 of the sugar and the salt. Add the ground almonds and the matzah meal, the zest of the second orange and of the lemon, and combine well.
In a separate bowl, beat the whites with an electric whisk until stiff; gently incorporate them into the batter with a spatula, using an upward motion. Line a baking pan with oven-proof parchment and pour the batter into it.
Bake at 350 F - uncovered for the first 20 minutes, then covered with foil for 15 or 20 more minutes. Remove from the oven and allow to cool down on a rack, then cut into squares. In the meantime, melt the remaining sugar with the water in which you boiled the orange over low heat, stirring constantly, until it forms a caramel that you will brush on top of the cake. Decorate with slivered almonds.
Matzah Gnocchi with Light Tomato & Leek Sauce
Serves 4 to 6 as appetizer
11 matzahs, broken into small pieces
1 Tbsp (15 ml) freshly minced parsley
half a salami, peeled and coarsely chopped
3-4 spoonfuls of matzah meal, plus more to dust the gnocchi
Salt and pepper, to taste
Soak the matzah in cold water or broth for at least 1 hour or until soft. Drain, squeeze well, and place into a clean bowl; add the eggs, salt and pepper, parsley, nutmeg, salami, and 3 or 4 tbsp. of matzah meal. Mix all the ingredients together.
In a second bowl, place some more matzah meal. With a wet tablespoon or a scooper, take some of the mixture and place it on top of the matzah meal. Using your hands, or by shaking the bowl, you should be able to cover this "gnocco" more or less evenly with matzah meal and shape it into a ping-pong size ball (just like a matzah ball).
Proceed with the rest of the mix and place the gnocchi on a piece of paper towel.
Bring a large pot of salted water to a boil; drop in the gnocchi, and scoop them out as they raise to surface using a slotted skimmer.
Dress with the following light tomato sauce:
Heat 4 tablespoons extra-virgin olive oil and add 2 thinly sliced leeks and a whole clove of garlic.
Cook for about 5 minutes, stirring, and discard the garlic. Add a 28-ounce can of peeled tomatoes, break them down with your hands, and add to the leeks. Season with salt and pepper and a pinch of sugar. Cook for about 10-15 minutes uncovered, allowing the sauce to thicken.
Easy Passover Soup With Frittata
1 Tbsp (15 ml) freshly minced parsley
4 slices Hungarian salami, peeled and very finely chopped (optional)
salt, and pepper to taste
3 Tbsp (45 ml) extra-virgin olive oil
3 quarts (3 L) (or to taste) chicken or beef broth
Stir together the eggs, the parsley, salami, salt, pepper and nutmeg in a bowl. Heat olive oil in a skillet, pour the mixture in, and once one side is cooked, flip it over and cook the other side (if you prefer and if the skillet is oven-proof, you can also cook the second side by broiling in the oven). Allow the frittata to cool down and cut it into small cubes, that you will place into a bowl and cover with steaming hot chicken or beef broth for a soup.
Pistachio Amaretto Crostata with Chocolate and Mixed Berries
1 heaped cup (250 ml) blanched pistachios or almonds
1/2 cup (125 ml) granulated sugar
1 slightly beaten egg white, or a little more as necessary
3/4 tsp. (4 ml) amaretto liqueur or almond extract
matzah meal for dusting (gluten-free matzah meal for a gluten-free version)
8 oz high quality bittersweet chocolate, grated (or chocolate chips)
3 Tbsp. (45 ml) almond oil (or 1/2 stick margarine)
2 small baskets of fresh mixed berries
a few Tbsps of raspberry or blackberry preserve
Preheat oven to 350 degrees F. Line a 9-inch spring-form pan with aluminum foil or parchment (you can also use a disposable aluminum pan). Grease the parchment and the sides of the pan with margarine or oil, and dust with matzah meal.
Grind the pistachios or almonds, in a food processor. Add sugar, almond extract and salt and combine. Add the egg white and blend. Remove from the food processor and knead with your hands until the mix holds together (it will still be very crumbly), adding a spoonful or two more egg white only if necessary. Press the dough onto the bottom of the pan with your fingers or knuckles.
Bake the crust for 10 minutes. Take it out of the oven and press it down quickly again with a ball of paper towel or the back of a wooden spoon (it will be too hot to touch), trying to make it slightly concave . Put it back in the oven and bake for another 3-4 minutes Take out again, press down again, and allow it to cool down and harden.
Remove the parchment or aluminium lining, and put the crust back into the pan. Melt the chocolate in a bain-marie (or in your microwave) without letting it boil or burn, and add the oil or margarine; stir until smooth, pour the mixture on top of the crust, and refrigerate (covered) for at least 2 hrs. The crust and filling can be made several days in advance and stored in the refrigerator.
A few hours before serving brush the chocolate top with a little preserve and arrange the fresh berries on top. Leave out of the fridge for at least one hour before serving to make it easier to cut, and use a sharp knife.
*** Tip: this type of crust can be hard to cut, so don't serve the cake in a delicate platter unless you pre-slice it!