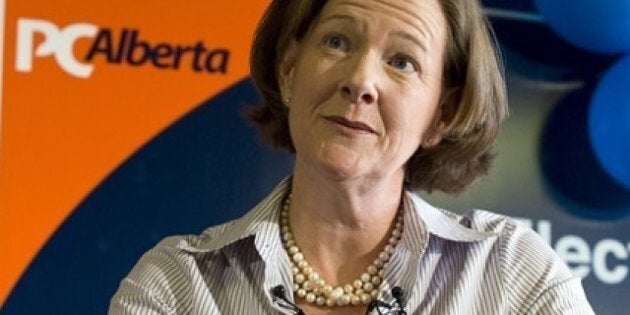 EDMONTON, ALBERTA, CANADA, - Alberta Premier Alison Redford, say analysts, will need to deliver the debate of her life this week to save a 40-year-old Progressive Conservative dynasty from the scrap heap.
With the provincial election campaign at the halfway point, Redford is preparing for a televised leaders debate Thursday that she hopes will turn around a campaign beset by mistakes, missteps and criticism coming at it from all directions
"The debate is absolutely crucial this time. This is the first head-to-head confrontation for the leaders," said Keith Brownsey, a political scientist with Mount Royal University in Calgary.
"We know from studies that voters make up their minds 14 days to 10 days out. It's a critical period we're entering. If the opposition parties and the governing Conservatives haven't made their case, this could all be over."
Polls suggest the Tories have blown a substantial lead they held heading into the campaign and now trail Danielle Smith's Wildrose party with two weeks to go to the April 23 polling day.
A loss would knock off a Progressive Conservative party that has run Alberta with 11 consecutive majority governments dating back to 1971.
Political scientist Doreen Barrie said Redford must do more Thursday than simply attack Smith, who has been scrambling of late to clarify where she and her party stand on social issues such as abortion and conscience rights.
"She has to come across as being competent and decisive," said Barrie, with the University of Calgary.
"She has to be proactive and not just respond to her opponents — Danielle Smith in particular — to show she can run the province, that she has got ideas and policies."
Despite passing a provincial budget prior to the March 26 writ drop, Redford has been announcing new money on the campaign trail, including $2.4 billion to fix and build schools, more family care clinics and tax breaks for kids in sports.
"It seems as if Alison Redford is making policy on the run," said Barrie.
The Wildrose, a party further right than the right-centre Tories, is made up of many ex-Tories who feel their former party has abandoned its roots of fiscal conservatism and grassroots decision making.
The party has held the initiative from the start of the campaign, promising tax credits and funding help for families with young children, and an end to mandatory add-on school fees.
Their biggest splash has been a promise, taken from the playbook of former Tory premier Ralph Klein, to directly rebate to every citizen a portion of future oil and gas surplus money.
The party estimates it could amount to $300 for every man, woman, and child in Alberta starting in 2015.
The Tories, among other critics, say the fiscally-conservative Wildrosers have lost their way, and that their stated promises to pay for more front-line care, grow the provincial savings fund to $200 billion while giving back oil money to citizens can't be done without deep cuts in service.
The problem for the Tories, said Barrie, is that they have always measured electoral success in either strong or sweeping majorities but are now on unfamiliar ground.
"We have a competitive election," she said. "The Conservatives are unused to this kind of situation. This is why they're stumbling around. They've never had to actually work up a sweat."
She said they're also fighting a nimble opponent while carrying 40 years of political baggage.
In the run-up to the election, the Tories were stung by scandals that left voters angry with the party's perceived sense of entitlement.
Early last month, the Canadian Taxpayers Federation revealed that politicians on a Tory-dominated legislature committee had been receiving $1,000 a month on a panel that hadn't met for years.
As public outrage grew and politicians on most other parties paid the money back, Redford hedged and dodged. She first froze future pay, then directed caucus to pay some of the money back. But as the poll numbers plunged in the first week of the campaign she announced it would all be paid back, adding that her handling of the affair had been "a mistake."
The party has also had to renounce a letter sent from backbencher Hec Goudreau to school officials in his own riding, telling them to stop criticizing the government over a rundown school or risk never getting a new one.
Municipal Affairs Minister Doug Griffiths threatened to boycott the Alberta Urban Municipalities Association after its president said grant money is often distributed not on merit but on who is friendly to the Tories.
More troubling has been a report by an independent committee probing long wait times and problems in the health system. The Health Quality Council report blamed the government for taking a struggling hospital system and running it off the road through and ill-conceived and executed centralization scheme in 2008.
The plan, said the report, brought confusion, turf wars, and long line ups for emergency care. More disturbingly, it said, there was widespread intimidation of doctors who complained about the deteriorating patient care. Doctors were blackballed, quit, or were denied lifeline hospital privileges.
After the report came out, Redford renounced within 72 hours a promise to have an upcoming public health inquiry to look into the bullying. There was nothing more to learn, she said, despite evidence the intimidation reached into the highest levels of her government.
The Alberta Medical Association disagreed and in the campaign has taken to publicly criticizing her health promises. Last week, the AMA said her plan for 140 new family health clinics was ill-thought-out and ineffective. It said her plan to fast-track certain aspects of emergency care was already being done.
Redford, in response, took the unusual step of publishing an open letter to the AMA, disputing its analysis and urging it to attack the Wildrose, which plans to delay work on a south-Calgary hospital and introduce more privatized care under the public-health umbrella.
"Perhaps in a future (AMA) president's letter you will address the potential disruption the Wildrose Alliance proposals will have on Albertans' health care system," wrote Redford.
The AMA insists it is acting only in the public interest, but Barrie said the message is clear.
"It's all coming back to haunt (the Tories)," Barrie said.
"This is what happens after 40 years in power, and this is what Alison Redford has to wear."