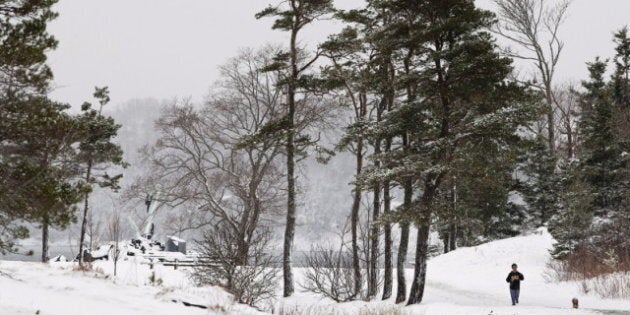 Parts of Nova Scotia, New Brunswick, P.E.I. and eastern Quebec were digging out from a heavy snowfall on Easter Sunday.
"We're going to see the snow moving into areas of New Brunswick – mostly eastern New Brunswick, basically stretching from Bathurst across the Acadian Peninsula, down towards east of Fredericton … and the southeastern areas of Moncton," said CBC meteorologist Kalin Mitchell.
In New Brunswick, Moncton saw about 20 centimetres of snow, while Bathurst got about 10 centimetres, Gagetown about four centimetres and Saint John got about three centimetres by early afternoon Sunday.
"In total, snowfall amounts could be in the 10 and 20 centimetre range with this weather system as we go into tonight," Mitchell said.
About 13 centimetres fell in Charlottetown, with more snow reported on other parts of the Island.
The Confederation Bridge had restricted some vehicles because of high winds, but reopened just before 1 p.m.
In Nova Scotia, there were reports of four centimetres of snow in Greenwood, Colchester and Cumberland Counties saw 10 to 15 centimetres. Halifax and southern parts of the province got five to 10 centimetres.
Warmer temperatures are expected in most of the Maritime regions Monday.
The storm also swept across the Gaspé Peninsula, where Environment Canada expected as much as 25 cenitmetres of snow could fall by the end of Easter Sunday.
Coastal municipalities were warned to expect high tides.
"This depression comes right in the period of high tides and strong winds. It will cause a storm surge," said meteorologist Gilbert Fillion.
Travel woes
Police departments around the Maritimes are warning motorists to use caution.
The weather could also hamper travel plans.
There are a number of delays at the Halifax Stanfield International Airport, while many highways are slippery and snow-covered with reduced visibility.
"Just slow down and give yourself plenty of time to get to where you're going," said Const. Dale Johnson of the Charlottetown Police.
"This low pressure system continues to move west, it'll be moving into the province of Quebec as we move into evening … it'll have broken down into seeing chances of flurries across large parts of Nova Scotia and Prince Edward Island, and still some chances of light snow across areas of New Brunswick," Mitchell said.
Many Easter church services throughout the region have been cancelled.
The wintery weather has caused power outages in the region. In New Brunswick, about 1,300 customers were experiencing outages in Bathurst, Rothesay and Tracadie by early evening.
The snowfall forced police to pull a dive team searching for a missing fisherman presumed drowned on a lake on Nova Scotia's Eastern Shore.
Snow reaction
Halifax's Annette Fogarty wasn't impressed to see the snow.
"I don't like it," she said. "I was hoping for a chocolate bunny, not for snow. I guess winter's back."
"I thought it was Christmas not Easter. Otherwise it's not bad, I've just been for a walk up to the market and enjoyed that," Bruce Knowlden said.
But not everyone was disappointed to see winter return. Jared Waterman was walking in Halifax's Point Pleasant Park with his infant son Max and his two dogs.
"I love it. It's probably the last good snowfall of the year, but I like to get every bit I can," Waterman said.
Davey Archer was driving his cab as the heavy, wet snow blanketed Fredericton.
Just a couple weeks after tempertures hit the high -20s, Archer said drivers seemed to have forgotten their winter driving skills.
"It was definitely slow-going. A lot of people were sliding around until the plows came out," he said.
There were several fender-benders in the city, according to Fredericton police, but no serious collisions.
"With the wet snow, once the vehicle drives over top of it, it makes it even more slippery. It almost turns it to ice," said Sgt. Matt Myers.
Drivers became accumstomed to dry pavement recently and neglected to slow down, Myers said.
Roads were cleared in Fredericton by late afternoon.