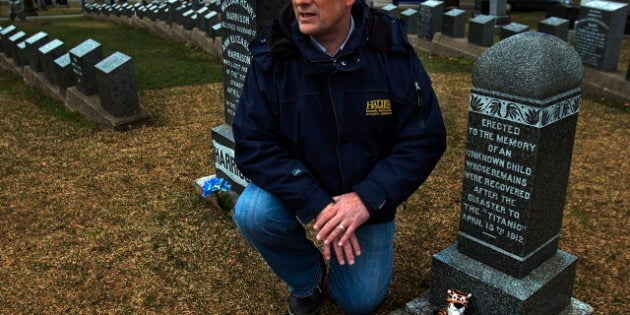 HALIFAX - Little Sidney Leslie Goodwin was laid to rest in Halifax's Fairview Lawn Cemetery nearly a century before anyone knew who he was.
The toddler's body was plucked from the North Atlantic by crew members aboard the Mackay-Bennett, one of two cable ships tasked with recovering Titanic's dead after the ship sank on April 15, 1912.
"When they brought in this small child, tiny child, with no life-jacket, they were very much moved," says Alan Ruffman, a Halifax author and researcher who ultimately helped find the child's identity.
"They resolved among themselves that if no one claimed this body, they would see that it got a decent burial."
Days later, the boy's remains were buried at the end of a row of Titanic victims, beneath a grey tombstone dedicated to an "unknown child."
It would be 90 years before he was finally given a name.
In 2002, DNA technology and dental analysis concluded the exhumed remains were those of a 13-month-old Finnish boy named Eino Viljami Panula.
Two years later, a family from Ontario donated a pair of mottled brown shoes to a Halifax museum, claiming they belonged to the boy.
But the shoes were too large for such a young child.
Scientists went back to work using a more advanced form of DNA decoding. Last May, it was announced that the toddler was in fact 19-month-old Sidney Leslie Goodwin, a third-class English passenger whose family perished in the sinking.