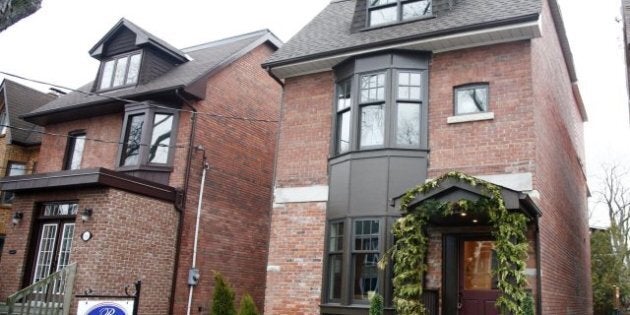 High-income buyers are a driving force behind Toronto's booming housing market, fuelling demand for an extremely limited supply of properties in desirable areas, says one real estate broker.
According to Paul Maranger, a senior vice-president at Sotheby's International Realty, this year has seen a surge in activity in the luxury real estate market in Toronto, as buyers increasingly chase a "Manhattan type of lifestyle."
"Toronto at the luxury level is not looking for value. They're looking for convenience," he said on Thursday. "Many of our clients who work in the financial district, they're working incredible hours at the office, and they are willing to pay a substantial premium to not have to do any extra work."
Maranger was one of several real-estate experts made available to reporters on a conference call to discuss the BMO Spring Housing Report.
Compared to the same period last year, Maranger says sales of "luxury" single-family homes ($2 million or more) in Toronto have so far increased by more than one-third, from 95 to 128.
Demand has been particularly strong along the subway lines, says Maranger, who cited the recent sale of a home in the Summerhill neighbourhood for more than $300,000 over the asking price as evidence of this trend.
"For a city the size of Toronto, we are grossly under-serviced from a subway perspective," he said. "What we'll see as a result of that, and what we're seeing now, is a disproportionate demand, particularly along the Yonge subway corridor. Buyers are willing to pay a substantial premium to be on that line, and certainly on the [Bloor-Danforth] line."
This increase in activity at the upper-end is rippling through the real-estate market, he says, pushing up prices of single-family dwellings across the city.
"There certainly is a Domino effect in the marketplace," he said, noting that demand for detached homes just under the luxury level has grown feverish, with bidding wars and multiple offers becoming increasingly common.
"To get into the marketplace now [...] the entry level price point is about half a million dollars, which is a substantial amount of money," he added.
Demand for single-family homes at the high-end combined with what Maranger describes as the tightest market he has seen in 15 years, has contributed to a boom in condo developments.
The recent increase in condo construction -- and dampening demand in the formerly white hot Vancouver market -- have prompted some to question the fundamentals of the Toronto market. But Maranger predicts activity at the high end of the market will remain strong.
"We have an incredibly strong base of high-income households who work predominantly in the financial district, and in financial law, education and health care," he said. "From a mid-to long-term perspective, Toronto is going to hold itself in very good stead in the luxury market."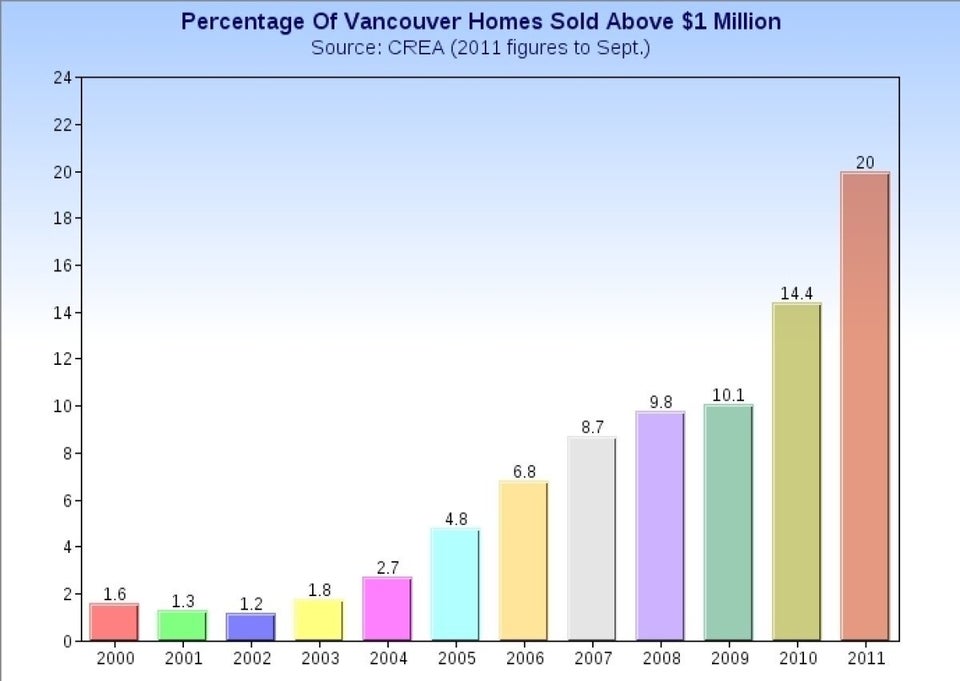 Homes Sold Above $1 Million In 3 Canadian Markets