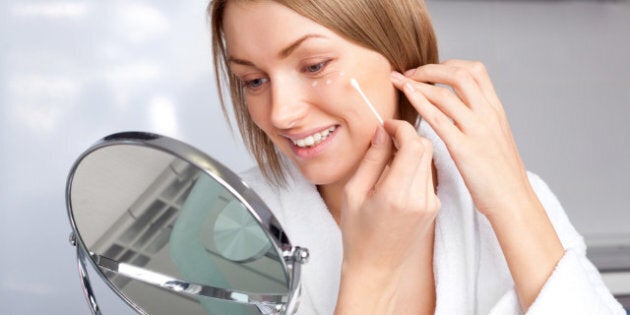 Even with our best efforts to get enough sleep, eat well and practice good skin care, occasionally flaws and imperfections still make an unwelcome appearance. From dark under-eye circles to that giant pimple that always seems to appear on the most inopportune days, we've got the expert down-low on how to conceal them.
Full story continues below slideshow.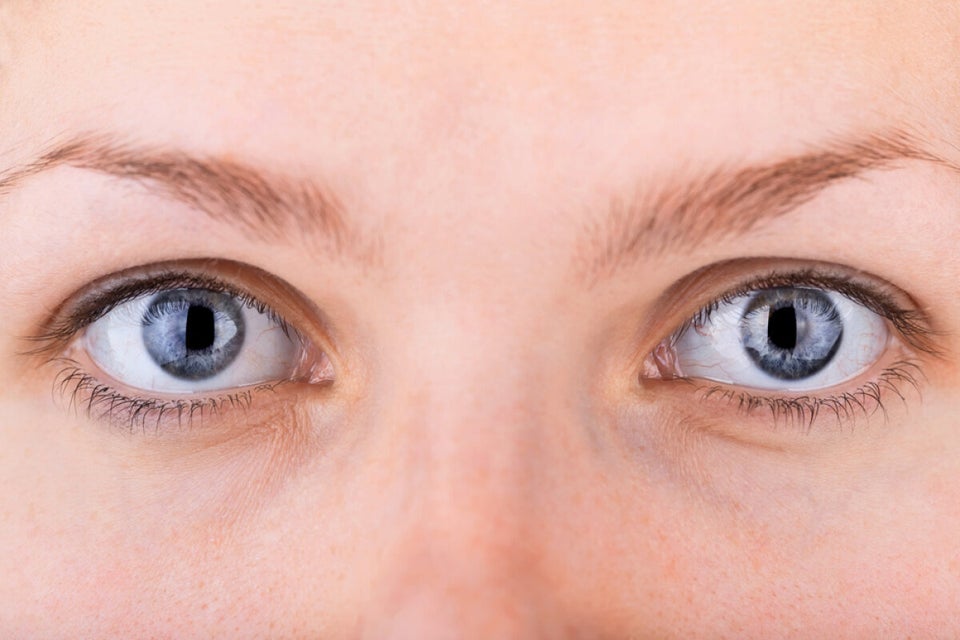 Conceal Your Dark Under-Eye Circles And Blemishes In 7 Simple Steps-from-mt-220632
Choose the best under-eye concealer for you
When choosing the format of under-eye concealer, Andrea Claire, a celebrity makeup artist based in Singapore, says much of it comes down to how dark your circles are. "Do you look like a panda or is it a slight dusting of darkness?" she says. If you have extreme dark circles, she suggests seeing a dermatologist who can prescribe an intense treatment cream. If it's less severe, when picking your shade to camouflage your under-eye circles, she recommends looking at the undertone of the darkness. The makeup artist on staff can help you find the right shade to cancel out your particular undertone. Most people tend to have a bluish tinge, however, and for this, Claire suggests a orange-based concealer.
That said, some people might not need a concealer at all, but rather a highlighter for a little brightening underneath the eyes, says Claire. Have a good look in the mirror and experiment with one or the other and then both to see what gives you the most flawless skin.
Prep the area before concealing
Before you even reach for your concealer, you need to prep the area you're about to mask. If it's the under-eye area, you'll want to start with your eye cream. "An eye cream with silicone in it will help with makeup application to glide smoothly on top with little to no creasing," says Claire. Be sure to allow a few minutes for your creams to absorb ("If you apply makeup too quickly it will cause it to not 'stick'," she says). If it's a particularly nasty pimple you're covering up (perhaps with some dry, flaky skin surrounding it), she suggests exfoliate it gently first and dab a little tea tree oil on it.
Apply concealer after your foundation
"Concealing before your foundation is old school," says Claire, noting that concealer formulations were once thicker and needed extra help blending with foundation. "Now, with the gorgeous second-skin hyper-pigmented formulations out there, apply your foundation first and conceal only where and if needed."
Don't rush your application
For the circles under your eyes, you'll want to start by dotting four to five dots of concealer underneath the eye starting from the inner corner out to the outer corner, "keep in mind where the darkness is—is it just under the eye or does it follow your socket bone?" says Claire. Then, tap to blend with your ring finger or a concealer brush.
Keep more than one type of concealer in your makeup case
Your under-eye concealer is not a multipurpose product. "You could use the same one around the sides of the nose if you have darkness there, but generally other areas will require a different colour or texture," says Claire, adding that oily blemishes may need a slightly drier texture than your under-eye product so it lasts on the skin.
Match your concealer to your foundation
You may be tempted to go with a lighter shade (thinking that the lighter colour on your darker flawed areas will balance out to the proper shade) but it's best to go with one that blends seamlessly with your skin tone. "Lighter colours will highlight and I am sure you don't want to make your zit a beacon," says Claire.
Check your makeup in good lighting
Many of us err on "more is better" when it comes to concealer, but piling on the product will only make your imperfections stand out more. Plus, most women are doing their makeup with bad lighting, says Claire. "You need daylight coming at you, not over you—overhead lighting creates shadows," she says. She suggests doing a quick onceover of your makeup outside in the natural lighting using a compact mirror if doing your makeup in a better lighting is not an option.