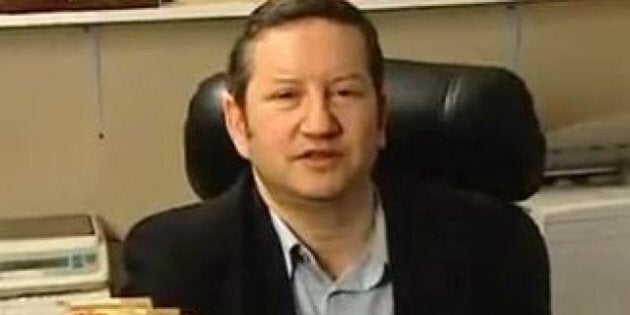 A Toronto jeweller well known for his television ads offering to buy used gold was left with 10 stitches and a black eye after being pistol whipped in his store.
Harold Gerstel, owner and public face of his store Harold the Jewellery Buyer, was beaten with the butt of a hand gun on Friday by a man he says had come to his store to sell some rings.
Gerstel said the attack happened inside his office because the man had "built up a measure of trust" through previous dealings with him.
'He started banging me on the head'
Gerstel said the friendly negotiations suddenly turned violent when the man pulled a gun and began to bludgeon him with it.
"He started banging me on the head," Gerstel said. "He grabbed a few rings that he had brought in and ran out without saying anything."
Police later arrested a 29-year-old man and charged him with robbery and firearms offences. Police also seized a nine-millimetre handgun from the man's apartment.
Gerstel said he had the man's picture and contact information on file.
Robberies are 'part of the business'
Gerstel was left dazed by the attack but was back at work on Sunday.
"It's part of the business," he said. "Almost everybody who's been in the jewelry business has been robbed a few times. I'm not intimidated. I'm not going to back down from these cowardly crooks."
Gerstel, however, also admits he was lucky to escape serious injury.
"I wasn't aware until later when I was in the hospital what a close call I had," he said. "It could have been much worse."
It's not the first time Gerstel's store, located at Bathurst Street and Lawrence Avenue, has made news.
In 2010, one of his employees was arrested for allegedly ordering an attack on a rival gold-buyer. Those charges were later dropped.
Later that year, a suspected arson attack gutted his store.
No arrests have been made in that case.
On Tuesday Gerstel was offering a $50,000 reward for information that would lead to an arrest in the arson case.