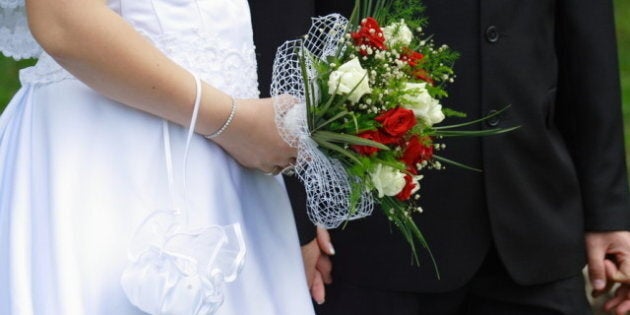 A U.S. insurance company is promoting "marriage insurance" as a way of financially protecting couples who don't stay married, while rewarding those who do.
SafeGuard Guaranty Corp., based in North Carolina, wants to market its unique insurance policy in Canada as well as in the United States.
While the policy proposes coverage in the event of a divorce, SafeGuard founder and CEO John Logan says it would offer a bigger payout for long-lasting marriages.
"You could look at it as a forced savings plan that's not affected by anything in the economy," he told CBC News.
"We're heavily promoting people to stay married by financially incenting them to work through their problems."
Couples who buy SafeGuard's policy when they get married could receive a payout of $100,000 if they stay together after 25 years.
"It becomes a win-win situation. In other words, you don't have to get divorced to get paid," he said.
"If you stay married for 25 years, we'll write you a big cheque that's much bigger than what you would ever get in terms of divorce coverage."
SafeGuard developed its divorce and marriage insurance policy in 2010, but it's currently not available. The company is seeking a new underwriter, according to its website.
The Office of the Superintendent of Financial Institutions Canada, the federal regulator for banking, loan and insurance companies, says SafeGuard would be subject to approval before it can offer marriage insurance in this country.
The company would also have to set up a Canadian subsidiary or branch, according to officials.
SEE: Unexpected marriage advice from HuffPost readers: