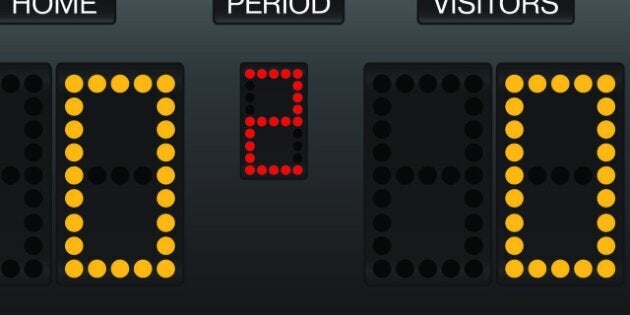 While hockey players are scoring on the ice during this year's NHL Playoffs, Canadians sitting at home can expect to be shut out in the romance department, according to a survey published by Match.com.
Of the 1068 Canadians polled, 20 per cent of single Canadians said they would ditch the typical dinner and a movie for the good ol' hockey game. The survey also revealed the dating slump differs by gender: 17 per cent of males and 10 per cent of females admit they date less during the titillating time when 16 NHL teams vie for Lord Stanley's Cup.
But while the love for Canada's national sport is great, it's not all equal.
Amongst provinces with NHL clubs, Quebec took the lead with the largest percentage of the population admitting to dating less during the playoffs, at 17 per cent. British Columbia, Alberta, Ontario and Manitoba followed suit with 16, 15, 14, and 11 per cent respectively.
SEE: What Twitter's advice is when it comes to the first date. Story continues below.
But no province came even close to Newfoundland, with a quarter of their population admitting they dated less during the playoffs. But while dating may die down, it doesn't mean hook-ups aren't a possibility, according to Dale Curd, a specialist in male behaviour.
The Toronto-based counsellor also added that sports bars help foster hook ups. "When you tie that in with the fact that a bar is a socially safer environment than the vulnerability, or the intimacy, of a one-on-one date."