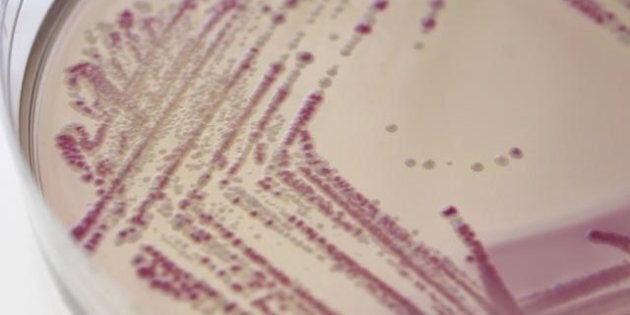 Health officials in New Brunswick are still trying to determine the cause of an E. coli outbreak in the province.
Eleven cases have been confirmed while an additional 16 are being investigated, said Dr. Denis Allard, the province's deputy chief medical officer for health. Twenty-three people are showing symptoms in the Miramichi area. Another two are from Bathurst, and two others are from Saint John.
It's unclear whether the Saint John cases are linked to the Miramichi outbreak, Allard said Saturday.
In the 11 confirmed cases, the sick are infected with a strand called E. coli O157:H7 – the same type of the bacteria that killed seven people in Walkerton, Ont. The strand is known to multiply quickly, and wreaks havoc in the human intestine once it's ingested.
The main symptom for this strain of E. coli is bloody diarrhea, but it can also cause vomiting and stomach cramps. Unlike other illnesses, there is no fever.
Public concerned
Allard said there is no clear evidence yet that points to a source for the outbreak, but they do have some leads.
Fourteen people have been hospitalized since the outbreak began, and eight remained in hospital as of Saturday morning.
In Miramichi, residents like Larry Lynch are worried that the source is still unknown.
"In a place like Miramichi where there's not a great big selection of grocery stores or sources of food, it's possible that it could, if it's coming from one place, that it could be a problem," he said.
Others, like Ethel Sonier, are wondering if they've been affected.
"Yes, I am concerned as I have small children who have recently been ill," she said. "It makes me wonder if perhaps that's why they've been ill."
New Brunswick normally reports about a dozen cases of E. coli each year.
Health officials say the best defence is properly washing and cooking food – especially meat.
The department is advising anyone who is experiencing bloody diarrhea to see their health-care provider.