CP
WINDSOR, Ont. - They could name her "Timbit."
Staff at a Tim Hortons in Windsor, Ont., are used to serving double-doubles — but delivering a baby was an entirely different experience.
Shireen Anderson says she didn't realize she was having contractions when she needed to go to the bathroom at the coffee shop Tuesday morning.
She soon realized the baby was coming and started screaming for help.
"When I was in the bathroom, I was screaming for help and I'm like 'Nobody can hear me, I can't do this by myself,'" said Anderson, who admits she was starting to freak out.
"I decided to go and notify somebody," she said. "I'm glad they didn't leave me to do it myself and somebody was there."
Restaurant staff began gathering towels and one of them, Judy Glenn, helped calm Anderson in the washroom while a 911 dispatcher gave instructions over the phone.
"She was calming me down and telling me everything was going to be OK," Anderson recalled.
"They were on the phone with the EMS giving them step-by-step directions. Of course I wasn't listening too much because I was in excruciating pain at the time."
Minutes later, EMS arrived to take mom and baby to hospital. The baby girl — Anderson's second child — was named Azauria.
"The lady's OK. The baby's OK," said Aaron Hayes, the restaurant manager.
"Didn't have time to wait for EMS. We decided to take care of the situation right away."
Hayes, a father himself, said Glenn also has children of her own so she had some idea of what to expect. Still, he gave her the rest of the day off.
(CKLW, CHYR, The Canadian Press)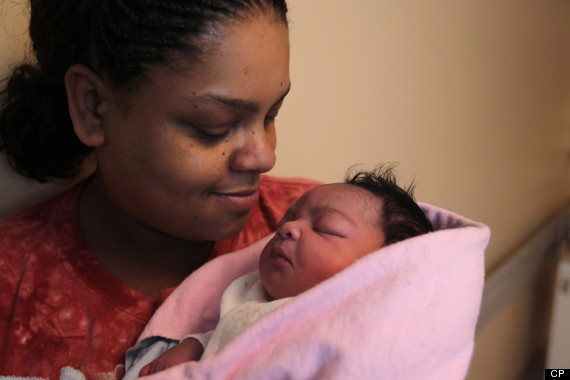 Also on HuffPost
Babies Born In Strange Situations