Looking for a new way to keep cool this summer? Why not reach for the "Super Cool Bra" by Japanese underwear company Triumph Japan.
At an event yesterday, models showed off the brand's new bra, which features cups filled with a gel that can be frozen (don't worry, gals, the cups remain soft and supple even after they've been stored in a freezer). A traditional Japanese wind chime dangles between the cups -- which is supposed to give wearers added refreshment. The bra even appears to house two small fish tanks (though we're not sure if they're real or fake).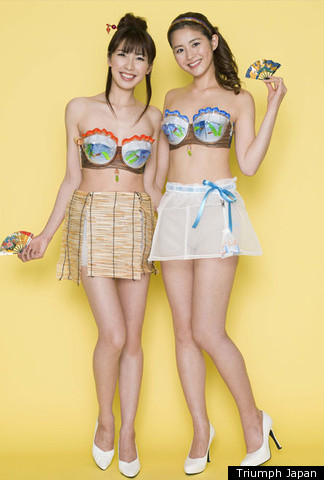 According to one report by the Hindu Times, the company conceived of this product in response to the need to save energy during the summer months.
And while we completely understand -- and agree with -- the need to conserve, we have to wonder if there's an easier way to keep cool as the temperature rises. And we're not so sure how this bra would look under a T-shirt. Would you wear it?
Here are some "more practical" fashion must-haves for summer.
A To Z Fashion Must-Haves For Summer