The news Wednesday that Portugal is repealing four of its national holidays to spur greater economic growth has gotten people thinking about what the balance should be between free time and the need to keep the economy going.
And apparently Canada leans towards keeping the economy going -- more so than any other developed country.
PHOTOS: THE 10 COUNTRIES WITH THE MOST HOLIDAYS
PHOTOS: THE 10 COUNTRIES WITH THE LEAST HOLIDAYS
According to a study from Mercer Consulting, released late last year, Canada has fewer government-mandated holidays than any developed country, including even the United States.
Canada has 19 mandated days off, including calendar holidays and minimum vacation requirements, and excluding some provincial holidays.
By comparison, the United States has about 25 days, the survey found. That compares to 36 days in the United Kingdom, 30 in Australia, and 29 in Germany.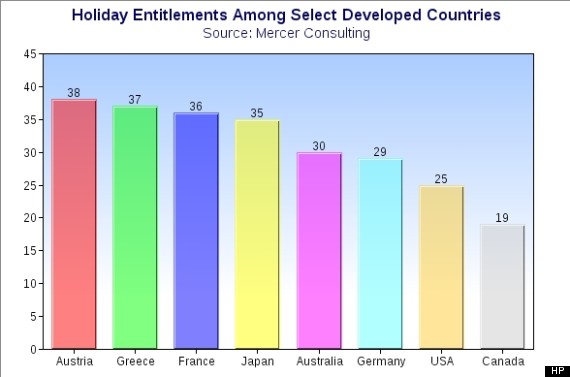 (The U.S. number was calculated differently. Because the U.S. is the only developed country not to mandate any paid vacation time, Mercer calculated the number using the typical minimum given by companies.)
While Canada may be worst off among developed nations, employees still get considerably more time off than in the developing countries of Asia, the survey found. China offers a minimum 10 days off annually, while Thailand and the Phillippines have the least, with six and five days off, respectively.
At the other end of the spectrum were European countries, offering the most generous holidays. Austria tops the list, with 38 days, followed by Greece at 37 ... perhaps an indicator that too much holiday time may not be a good idea?
THE 10 COUNTRIES WITH THE MOST HOLIDAYS
The 10 Countries With The Most Holidays
THE 10 COUNTRIES WITH THE LEAST HOLIDAYS
The 10 Countries With The Least Holidays