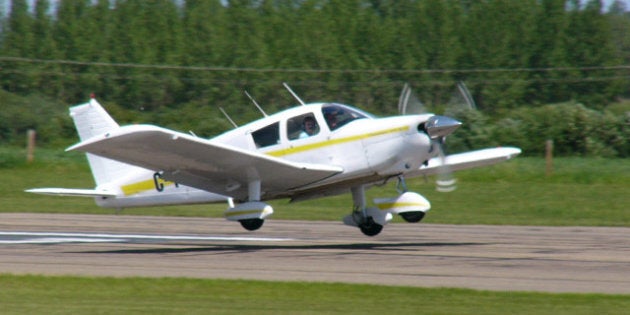 An Alberta family is grieving the loss of a father and son who were among five victims when a pair of small planes collided over Saskatchewan on Saturday.
The Transportation Safety Board is now investigating the tragic crash. There were no survivors.
CBC News has learned Eric Donovan, 38, a grain truck driver, and his son Wade, 11, of Mossleigh, Alta., were flying with pilot Denny Loree, a farmer in his 50s from Nanton, Alta., to St. Brieux, Sask.
They left from an airstrip near Mossleigh, which is a small community roughly 100 kilometres southeast of Calgary.
Ian Donovan, the recently-elected Wildrose Party MLA for Little Bow, said his cousin Eric needed to replace a wheel for his air seeder, a machine used to plant seed crop in large fields, and wanted to get to St. Brieux quickly to pick up the part.
"It's an 800-kilometre trip, so when he broke this axle Friday night, and he sent me a picture on my phone of it and then he goes, "Jeez,' he says, 'You know, Denny' — our neighbour Denny Loree had a new plane and he's been flying for years and Denny's an awesome pilot — he goes, 'Ah, I'm gonna give Denny a call, see if he'll help me out.'
"Denny wasn't even done seeding but that's the kind of neighbour he was."
Donovan said Loree was a seasoned pilot.
"He had his night landing; he'd fly in the mountains; he'd fly out to Penticton and stuff," he said. "He was a very well-respected and well-trained pilot. He had a flight path and a flight program put together. Sounds like they were about three miles from where they were gonna land."
Eric Donovan leaves behind a wife and three other children.
RCMP said it appears the two planes— a Lake Buccaneer amphibious and a Piper PA-28 Cherokee — collided Saturday morning near St. Brieux, about 175 kilometres northeast of Saskatoon.
A man and woman, whose names have not yet been made public, were aboard the Buccaneer that was en route to La Ronge from Regina, police said.
Officers from the RCMP's Wakaw detachment said they were called at 8:50 a.m. CST Saturday to investigate a report of a single plane crash but later discovered the wreckage of two aircraft.
"A plane was found submerged in a slough by first responders during a ground search," RCMP said. "Further investigation revealed that this aircraft collided mid-air with another aircraft. A second aircraft was located in the vicinity."
'A real shock to the community'
Jackie Mark and her mother were having a morning coffee and looking out their window when they saw a plane fall from the sky. They did not see a collision, just a single plane falling and then the sound of a roar.
They drove toward the spot where they thought the plane went down but could see no smoke. About a kilometre from their home they found a piece of wreckage and called 911.
"It was a real shock to the community, and all provincewide, because this is something — two airplanes colliding is basically unheard of," said Paul Leray, who was mayor of the town of St. Brieux for 15 years.
Tom Ray, who has 37 years of experience in the skies and manages the Regina Flying Club, described a midair crash as an extremely rare occurrence in aviation.
Ray confirmed the pilot of the Buccaneer was a member of the Regina club.
He said the planes were in uncontrolled airspace. There is an open radio frequency for communication between aircraft and pilots regularly broadcast their position so other traffic can know their location, travel direction and altitude, he said.
Aircraft travelling in opposite directions are required to travel at different altitudes, Ray said, but he said those rules don't apply to aircraft flying below 3,000 feet. It is unknown what altitude either plane was travelling at the time.
The Transportation Safety Board has assigned two investigators to the incident, and they arrived on scene Sunday.