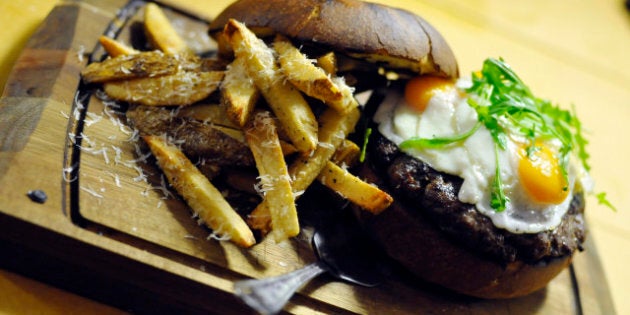 Reader's Digest has chosen Canada's best gourmet burgers "that are sure to put your backyard grill on the map," with the mouth-watering Deux Chevaux from the Windsor, Ont., eatery Motor Burger listed first in the rundown.
Recipes for the Deux Chevaux as well as the four other honoured gourmet burgers are in the June print edition of the periodical.
In September 2011, Reader's Digest's online food blog, Open Kitchen, rated the Windsor burger joint's Motor Nachos "the best nacho platter ever."
Co-owner Jay Soulliere is the creator of Deux Chevaux, which means two horses and is a play on Windsor's auto industry and horsepower. It is named after a two-cylinder French economy car and a nod to Soulliere's French-Canadian heritage.
The burger is made of fresh, house-ground AAA beef. It's garnished with Dijon mustard, baby spinach, gruyere cheese, double smoked bacon and caramelized red onions.
Soulliere says it's an honour to be recognized -- especially with a restaurant that is Windsor to the core. All the food is named to honour the auto industry -- domestic and foreign.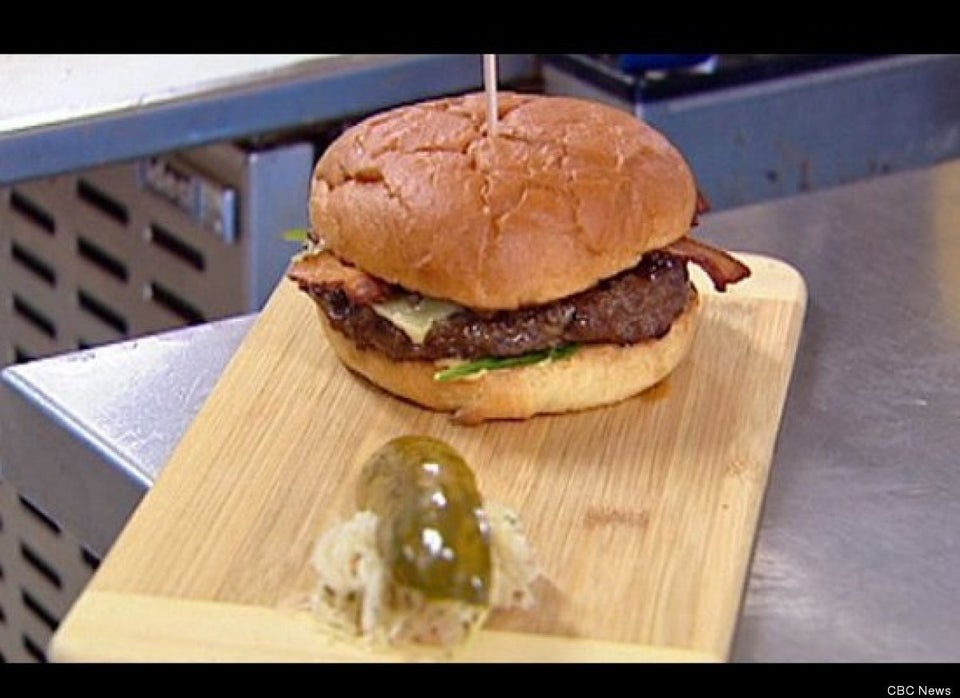 Other names on the menu include:
A Lamborghini lamb burger.
A spicy chicken burger named after the Pontiac Firebird.
A fish platter named after Chrysler's famous Barracuda muscle car.
"The deal with this one was to make it really embrace our local community," Soulliere said about Deux Chevaux. "We were going through some hard times for the last 10 years or so. It's been wonderfully embraced by the community."
Culinary tourism could be next for Windsor
Soulliere and his business partner, Gino Gesuale, transformed their original upscale restaurant, NOI, into Motor Burger in 2009, not long after the global recession hit and Windsor's auto industry suffered a massive blow.
The two overhauled the menu and the decor themselves.
The burger joint also plans to open its own brew pub June 1, and serve Motor-Craft Ales. Motor Burger will be the only pub in the city brewing its own beer after Charley's Brew Pub closed last month.
Soulliere has been in the hospitality business for 18 years. He said it's hard to make a go of it.
The national recognition might be a boost to culinary tourism in Windsor, which received some notoriety in 2011 when Hollywood star George Clooney dined at Italian eatery Mezzo, also on Erie Street.
Earlier this year, in his state of the city address, Mayor Eddie Francis announced a new focus on culinary tourism. Soulliere was all for it.
"When you can get some municipal dollars thrown at it, I think it's a great opportunity," Soulliere said.
Tourism Windsor Essex Pelee Island CEO Gordon Orr said his organization will definitely be getting involved.
"We'll work with the Ontario Culinary Tourism Alliance to help market it and prepare a tool kit to bring us to the next step of how we can make our destination that much more of an attraction," Orr said.