 Protesters have taken to the streets of Montreal again in defiance of new legislation meant to crack down on student-stoked demonstrations that have rocked the province for months.
Just before midnight on Sunday, about 5,000 people were gathered in the streets in the heart of the city's Latin Quarter, alternating between cacophonous cheering and chanting.
"Devrait pas nous fâcher," they yelled — "You shouldn't get us mad."
For the 27th night in a row in the city, marchers gathered near the University of Quebec in Montreal and then headed to the heart of downtown.
Police declared the demonstration illegal under the province's new student-crisis law, adopted Friday, as soon as it began around 9 p.m.
The law makes it illegal to hold a rally of more than 50 people without consulting at least eight hours ahead of time with police about its route and timing.
Montreal police said on Twitter that "illegal acts" were committed from the start. They alleged that some people threw things at police on bicycles, while others wore face masks, flouting a recently passed municipal bylaw that bans them during protests.
Constables ordered the demonstrators off the streets and onto sidewalks, but the commands were largely ignored.
Police said they arrested "a group" of people on Park Avenue on the eastern edge of the McGill University student neighbourhood. Preliminary reports said dozens of people were taken into custody.
Two journalists were swept up and arrested as ranks of riot police surrounded a group of protesters near the intersection of St. Laurent Boulevard and Ontario Street. One of the reporters was wearing a ski mask to protect against police chemical irritants, and was lightly injured in the fray.
Both were held for 20 minutes and told by a police officer that he "didn't give a f—k" they were journalists, before being let go, according to La Presse.
Provincial police were called in for the second night in a row, as were officers on horseback. In various parts of downtown, constables fired tear gas and muzzle blasts at crowds.
What began months ago as a student strike against the Liberal provincial government's plan to hike tuition fees by 70 per cent over the next five years has ballooned into a broader social movement supported by several of Quebec's major labour, environmental and political groups.
The movement picked up some celebrity backing in the last few days, with documentary filmmaker Michael Moore and Montreal band Arcade Fire lending their support.
Student organizers estimate that 150,000 college and university students are still on strike.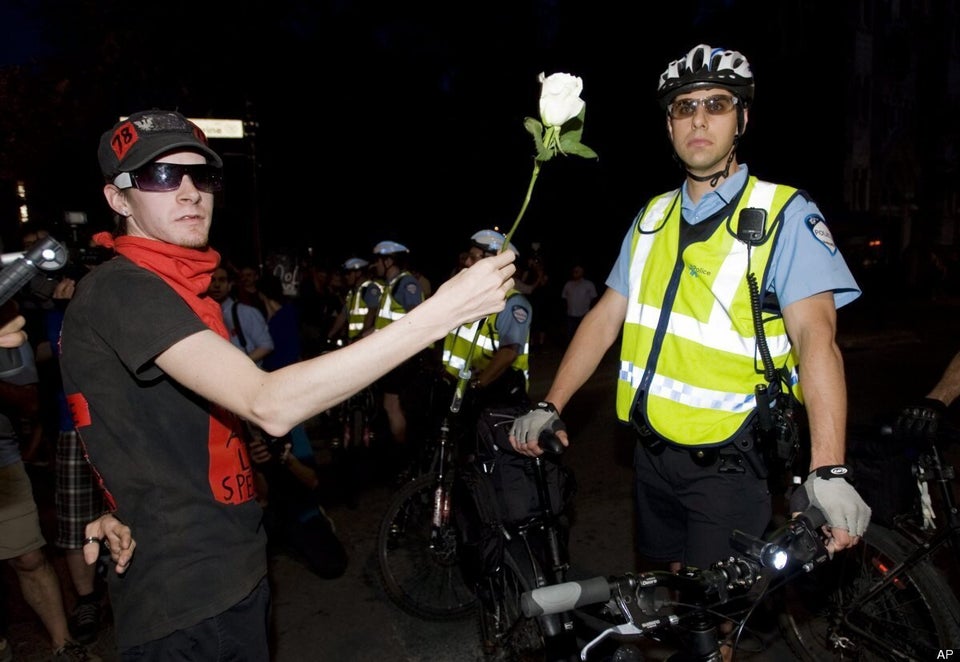 MONTREAL PROTEST -- MAY 20