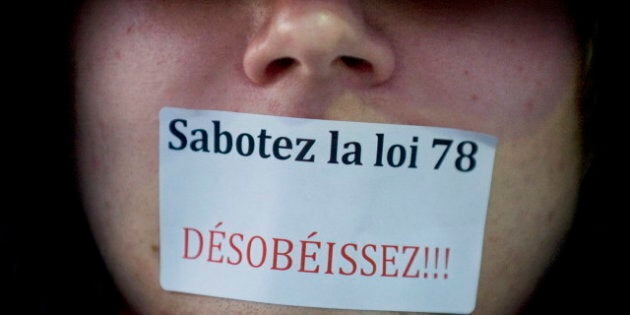 Quebec student group CLASSE says it is ready to defy the province's controversial protest law, regardless of legal consequences.
The association said Monday it refuses to comply with Bill 78, the government's legal response to Quebec's student crisis sparked three months ago over planned tuition increases.
If students face legal action, they are ready to run the risk, said CLASSE spokesman Gabriel Nadeau-Dubois.
"For us, fundamental freedoms cannot be hijacked by emergency legislation," Nadeau-Dubois told CBC's French-language service. "Our priority is to fight this law, especially if there's a chance it will be thrown out by a higher court."
CLASSE promised more protests throughout the summer, and said it has retained lawyers to prepare a legal challenge against Bill 78.
The Coalition large de l'association pour une solidarité syndicale étudiante (CLASSE) represents about 170,000 student groups from Quebec CÉGEP colleges and universities.
The student group's response comes as Montreal authorities are being criticized for their handling of chaotic weekend protests, and merchants threaten their own legal action over violent clashes in the aftermath of Bill 78's inception.
Nightly downtown protests are escalating in scope and damage, with Sunday's gathering netting 300 arrests and a dozen injuries.
Video clips of protest confrontations made their way around the internet overnight, sparking accusations of abusive policing.
Montreal Mayor Gérald Tremblay defended his police force, and reiterated his call for new talks between student groups and the Liberal government.
"The city is on fire, people are gratuitously lighting things on fire, then they go hide in the [bar] patios. Police are doing a remarkable job in difficult situations, that are becoming more complex," he said Monday.
Sunday's protests marked the 27th night in a row that demonstrators have taken to Montreal street in a growing social movement.
What started three months ago as a widespread class boycott to fight planned tuition hikes has now ballooned into an anti-government movement, fuelled by the ruling Liberal Party's hardline protest legislation adopted on Friday to settle the student crisis.
Bill 78 suspends the winter semester for striking students, and imposes strict limits on their protests, with restrictions guiding location, timing, and organization.
Authorities must be given a precise itinerary and eight hours' notice for any protest involving 50 people or more, at the risk of heavy fines running into the thousands of dollars.
Merchant group sees red after weekend protest
A St-Denis Street bar and store merchants in the Latin Quarter are weighing legal action after Saturday night's protest that devolved into streetside bonfires and pepper spray incidents.
L'Absynthe bar owner Mark Blanchard said he got caught in the protest crossfire, when police attacked him while he was trying to protect his clients.
"I turned my back to protect the girls to come in, I got hit by the cops, sprayed," he said Monday. "I'm on my terrace, at my business, and then they just wrecked everything."
Saturday's protest damage cost $3,000, Blanchard said.
He plans to sue the City of Montreal, and will meet with his neighbouring merchants to discuss a class-action lawsuit.
Legal challenge in the works
Quebec's Juripop Legal Clinic said it plans to contest parts of Bill 78 in Superior Court this week.
It says more than 170,000 Quebecers have responded to its call to fight the legislation in court.
"We think this bill, in many matters, is unconstitutional," said executive director Julien Pelletier. "It goes against many fundamental liberties, like freedom of speech, and freedom of association, and we cannot accept that in a state that is ruled by the rule of law."
Juripop's legal challenge will start with a demand that specific aspects of the legislation be amended immediately.
Pelletier said a wider challenge will be ready by June.
Protest videos spark debate
Two video clips filmed over the weekend are making the internet rounds, where people are raising questions about police behaviour during Montreal's protests.
One video shows a police car moving with a person lying on the hood.
Police spokesman Ian Lafarenière said the person tried to block the patrol car while others pelted the vehicle with rocks.
The second video shows a police officer repeatedly using pepper spray on someone in the street. The clip doesn't show what happened before the pepper spray was used.
Spokesman Ian Lafrenière said earlier Monday he hadn't seen the clip, but told CBC's French-language service that police aren't "infallible."
"There are surely cases where police could be reprimanded," he said, noting the Montreal police force is handling a record number of complaints in recent times.
"It's a situation that few police services have experienced — right now we're coping in the sense that no one has been seriously hurt."
"Many police officers are being aggravated" by a minority of protesters, Lafrenière said, adding the majority of protesters want to stand up for their message in a peaceful way.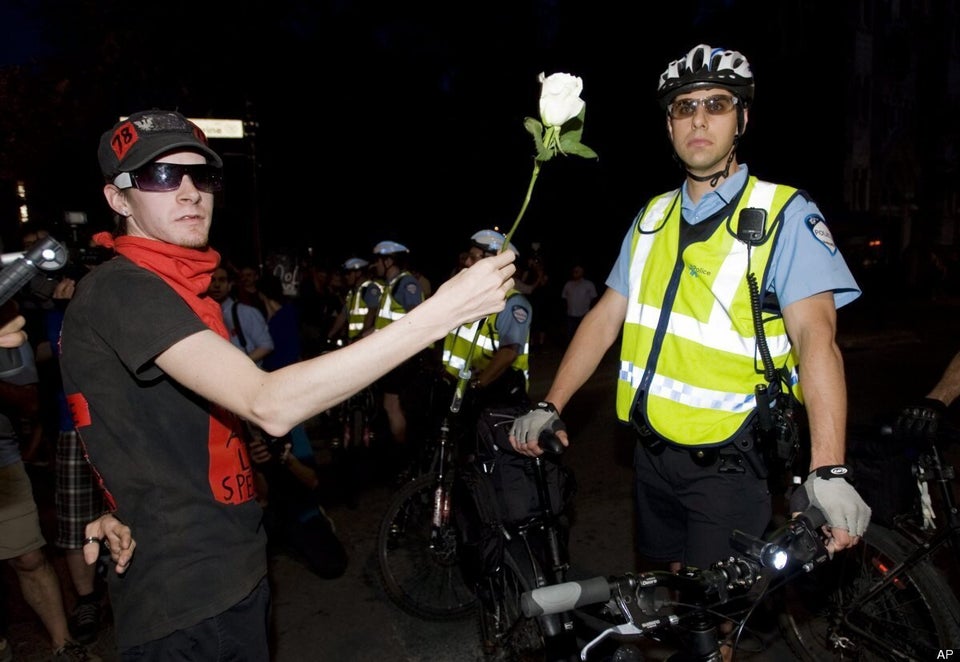 MONTREAL PROTEST -- MAY 20