It's uncommon to see Camilla, Duchess of Cornwall, flash much bling when she's out and about. And, sartorially speaking, this year's Royal Visit to Canada with Prince Charles has been a study in subtlety -- we've seen Camilla don lots of dark tones, suits and the occasional fabulous hat (not to mention headphones on the Prince) .
But, on Tuesday afternoon, some visitors to Toronto's Distillery District caught a glimpse of the Duchess' shinier side when she exited from a luncheon hosted for the Royal couple by the Government of Ontario.
HuffPost reader @MichiW shared this close-up photo of Camilla and we were immediately struck by the amount of dazzle on the Duchess. In addition to her sizeable solitaire, she's sporting some heavy metal in the form of a thick-link bracelet. And we suspect the Royals are endowed with a natural flair for broach-wearing once they become part of the monarchy -- Camilla's cameo maple-leaf broach is ornate and on-trend. (And it's certainly less controversial than an earlier adornment that was rumoured to be the late Princess Diana's.)
Have a look at Camilla's bling below. What do you think? Appropriate, too safe or too much?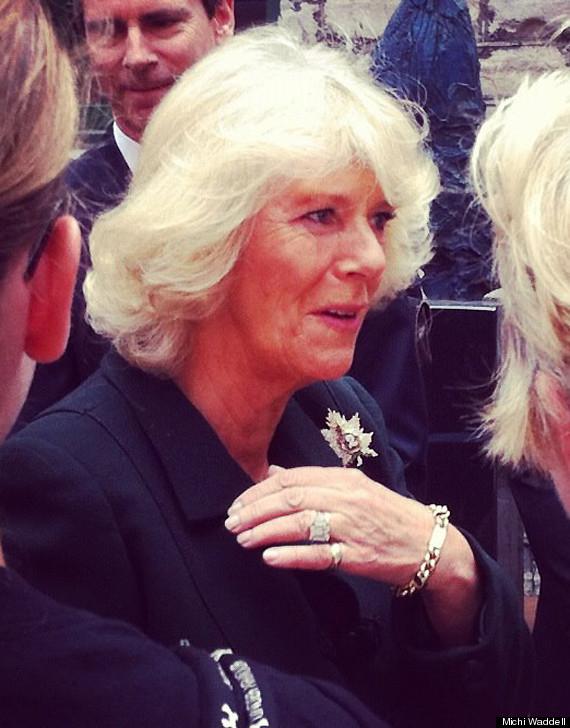 LOOK: The Royal Visit In Pictures:
Also on HuffPost
Photo gallery
ROYAL VISIT 2012
See Gallery