Shutterstock
Each week, The Huffington Post Canada's Living team will try out something that has sparked our curiosity, and as long as we live to tell the tale, we'll let you know all about it.
Test Drive Subject: One-hour Socacize fitness class.
What It Is: A one hour fitness class (also a 2-hour bootcamp) designed to help you burn up to 1,000 calories per workout. Infused with soca music and dance moves from the Carribbean, Socacize is all about moving those body parts you didn't know you could move. The class is broken down to three sections: a cardio workout, 'wine' and tone, and an ab workout.
Since burning 1,000 calories is a pretty major undertaking, we thought it best not to do it alone. Editors Arti Patel and Lisa Yeung from the HuffPost Living team set out to the OIP Dance Centre on Richmond St. in Toronto to put their muscles to the test. How low could they go? They were about to find out.
Putting It To Use:
LY: Full disclosure: My family is actually from Trinidad, where soca music was born. I just visited there for Carnival this year, and love soca, so I figured Socacize would be a snap. So, so wrong. The warm-up is good for the first few minutes, but then instructor and founder Ayanna Lee-Rivears starts kicking it up a notch. Ok, now I'm sweating. Then she starts swiveling her hips, or 'wining' as the Trinis call it. I'm not very good at this. I blame my Canadian upbringing. Then she starts squatting down low while wining. This is nearly impossible. Then she lifts a leg up while wining and encourages us to pulse and rotate our behinds. I pretty much fall over. I'm going to let Arti finish explaing the rest because I'm still exhausted from the class a week later.
AP: I'm not even close to being fit. I like to work out at least once a week and usually walk a lot in between. Before going to the class, I started watching 'Socacize' videos on YouTube to get a sense of what it would be like. It kind of worked. As soon as the workout started -- it just kept going. There was no slowing down and I could feel a cramp building up below my chest in the first 10 minutes. At 20 minutes in, we were told to take a break, and that's when we also found out we'd only gotten through the warm-up.
At first, I did feel tired, but as soon as the music continued, I got more energized. My favourite part was the wine and tone, just because of the intensity. Just like any fitness course, our instructor gave us countdowns for each set. During this particular section, imagine squatting, holding it, and then being asked to move your butt in circular motions. Yes, this did happen and unfortunately, I couldn't deliver.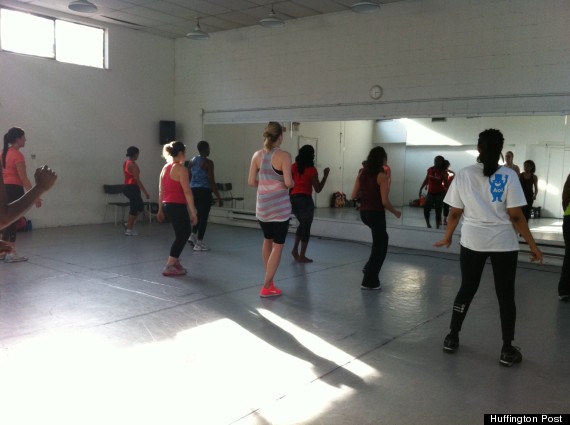 Our Thoughts:
LY: I think it might be best to relay my thought process throughout the day:
Before the class: "I love soca!"
During the class: "Someone kill me... How do I gyrate my bum like that? I can't even access that muscle... Palance! I LOVE this song!.. I'm so tired... My face is so red.. Major Lazer Pon De Floor! What, I have to dagger?! (Daggering is a style of dancing that simulates very energetic sexual movements). Ok, we're lying on the floor now, sweet. Oh no, not abs work!!!"
After the class: "I think my butt actually feels rounder! Zzzzzzzzzz"
The day after: "I want to go back!"
AP: Did I feel the burn? I felt it right after and the next day, but just like any workout aftermath, it was the best type of pain. My shoulders, neck and thighs felt both tense and relaxed. I could feel that I worked out my abs and butt, even if I couldn't keep up with all of the moves. I realized this was not necessarily for a beginner like me. I did have to work at my own pace, but, with a few more classes, I can see myself catching up.
Story Continues Below: Check out our videos and pictures:
Huffington Post Canada At Socacize
Understanding Socacize:
Ayanna Lee-Rivears, instructor and founder of Socacize, says if you're not familiar with soca music, it won't be long until you feel the groove. "People usually love it right off the bat, and even if they don't get all the moves, I tell them to go at their own pace," she says. She also recommends that beginners watch videos online and even pick up a few lines of lyrics before starting the class.
Socacize can burn up to 1,000 calories per workout, depending on the intensity. It can help reduce cardiovascular diseases and can be a stress reliever, says Lee-Rivears. She also recommends Socacize for people who feel drained after a busy workday to not only sweat, but burn calories to reduce cholesterol. "After the first few rounds, it doesn't feel like a workout -- it feels like you're just dancing." Which in a lot of ways, you are.
Tips:
AP: If you've never heard the music before, watch some videos online. Honestly, it felt more like a giant mirror dance party and we all know that goes best when you actually know what you're singing. Oh and of course, the workout is great. My butt, however, has a long way to go.
LY: Bring a yoga mat for the ab work. I agree with Arti -- we both got pumped up when we heard our favourite songs and knew how to do the dances to them. Check out the latest soca hits and be prepared for the music -- it's LOUD, just like it would be if you were dancing by a big truck during Carnival. But you can handle it.
Have a suggestion for a Test Drive? Tried something you loved or hated? Let us know on Twitter at @HuffPostCaLiv, or in the comments below.
Check out these other products we've put to the test: