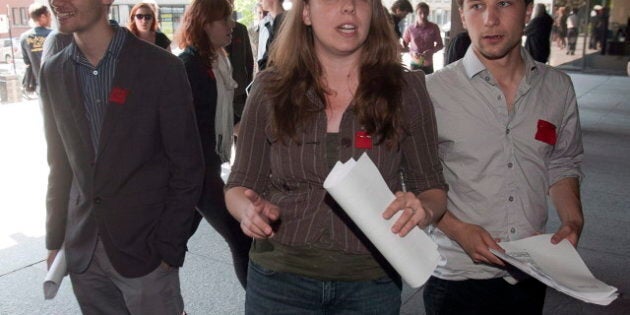 MONTREAL - An attempt to find a solution to the Quebec student crisis has fallen apart, opening up a vast range of potential implications that could be felt from the street to the ballot box.
After four days of negotiation, the provincial government and student groups announced Thursday that their talks had gone nowhere.
There had been speculation that if this latest attempt at negotiation failed the provincial government might call a snap election and ask Quebec voters to help settle a dispute that has made international news.
Premier Jean Charest said that day will indeed come — but he downplayed its imminence. The government is into the fourth year of its mandate and must head to the polls by late 2013.
"Ultimately there will be an election within 18 months," Charest told reporters. "It will happen in a democratic context that will allow us to state our case on these issues."
It would be Charest's fifth election as a provincial politician, if he ran again. He is already positioning the tuition hikes as a central issue of any future vote.
And he suggested that the voters of Quebec might not take their cue from the red-square-wearing protesters who have been in the streets every day for months, even inspiring fellow demonstrators outside the province and country to join their case.
"It's up to the silent majority to express itself," Charest said, before repeating: "There will be an election within 18 months."
One of his principal opponents, Francois Legault of the Coalition For Quebec's Future, suggested the premier should calm tensions by announcing plans to hold an election in the fall.
The 38th night of street protests saw several thousand people participate in the nightly ritual along the streets of Montreal. The demonstrations were largely peaceful, although three people were arrested. In Quebec City, police said one person was arrested for throwing projectiles at officers.
Frederic Pepin, who supported the controversial tuition-fee hikes, said he joined the Montreal casserole protest because he thinks the government made a terrible decision by not working harder to strike a deal with the student groups.
"Personally, I'm very angry because I believe the government closed the door on discussions," the industrial engineer said, adding that he believed Charest should call an election to let voters decide on tuition increases.
In the meantime, both the government and student groups said they were willing to speak again if the other side was ready to make an offer.
The students said the government had offered nothing except for a $35 discount on tuition hikes, and was unwilling to rescind a controversial law that sets limits on protests.
That first proposal would have cost students an extra $1,533 over seven years. But Education Minister Michelle Courchesne said a subsequent government offer would have to cut the tuition increase to $100 in the first year before returning to $254 in the following six years for a total increase of $1,624.
The government also proposed a public forum to discuss the quality and future of Quebec universities, including how they're managed and financed.
The minister said the students wanted to reduce education tax credits and even suggested abolishing the province's registered education savings plan to help offset the cost of eliminating the tuition hike. Cutting education tax credits would have helped university students but not those in technical or professional training, she said.
"There was a limit about what we could accept on a tax reduction and we couldn't ask that it be done for the sole benefit of university students."
Ultimately, Courchesne said talks reached an impasse because the students rejected all increases of tuition fees.
"For them it was the freeze, the moratorium or nothing."
She later said in an interview with Radio-Canada that the government could have trimmed the tuition increase to $200 but the students weren't open to any increase.
Students said they proposed a tuition freeze for two years and accused the government of being more concerned with political optics than with finding a solution. However, they said they're willing to go back to the negotiating table whenever the government wants.
"We're still here. We're always ready to negotiate," said one of the four main student leaders, Martine Desjardins.
What's next: More street protests. The student leaders announced plans for a major weekend protest, more pot-banging marches, and said they would use high-profile international summer festivals starting with next week's Formula One car race to raise awareness of their cause.
Some protesters, supported by the online activist group Anonymous, have even announced plans to disrupt Montreal's Grand Prix; they appear to have already targeted its customers online. The city also hosts international jazz, comedy and francophonie festivals that drive the summer economy.
Charest denounced the hardline student group CLASSE for threatening the Grand Prix during negotiations.
"A government doesn't give into threats," he said. "I think Quebecers will be in my view quite severe on that kind of behaviour."
CLASSE co-spokesman Gabriel Nadeau-Dubois responded by saying the group would use the race as a forum to vent their concerns about the student dispute, not to threaten the event itself.
The festive spirit of demonstrations Thursday prompted bar patrons Thursday night on Crescent Street — which holds annual Grand Prix celebrations — to pump their fists and clap in support of the marchers. Some protesters even waved checkered flags and wore racing helmets.
But the head of the Quebec Employers Council called for calm as Montreal approaches the summer tourist season. He said members of the business community are concerned that demonstrations will reduce traffic to restaurants and increase security costs.
Yves-Thomas Dorval said the harm to revenue, employment and the reputation of Montreal and Quebec risks growing if the demonstrations don't stop, and could take years to rebuild.
Quebec's student protests have lasted more than 100 days, caused social unrest, and made international news. The introduction of a controversial emergency law has triggered larger protests, featuring older and more diverse crowds, that have spread outside Quebec into other Canadian cities and even abroad.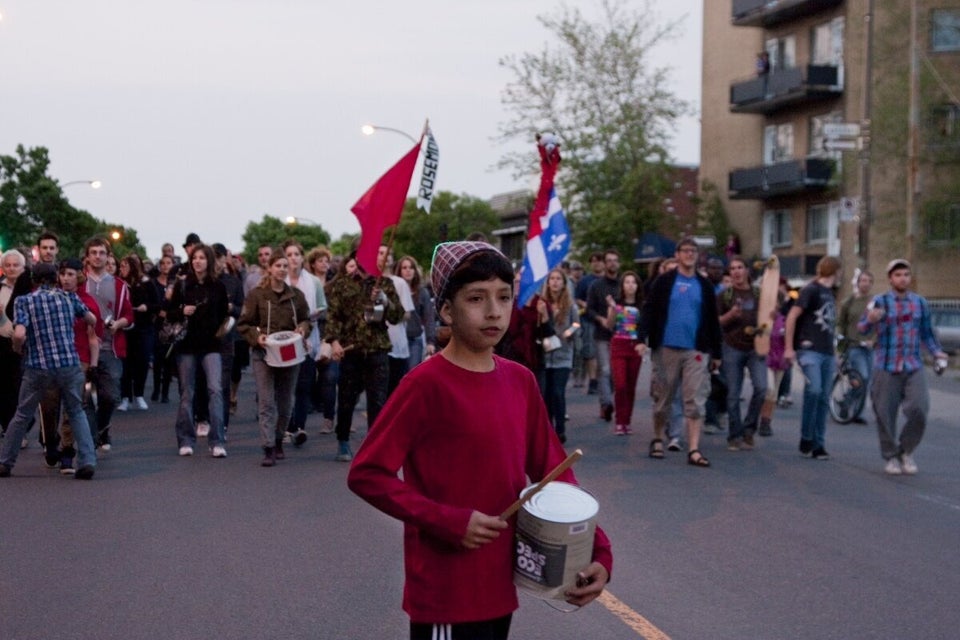 Casseroles, Pots And Pans Protests, May 29