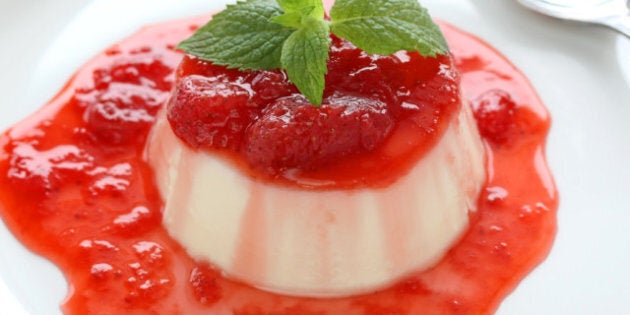 The fresh taste of summer in the dead of winter — how great is that? Simply prepare this easy strawberry sauce, then come the cold season you can thaw and customize it with the variations that are included.
Of course it's perfect for serving over ice cream, yogurt or a simple cake. There is even a savoury version that's ideal with pork or chicken.
500 ml (2 cups) sliced locally grown strawberries
45 ml (3 tbsp) granulated sugar
10 ml (2 tsp) lemon juice
In a food processor, puree berries, sugar, water and lemon juice until smooth. Turn into a medium saucepan. Simmer over medium heat, stirring occasionally, until sugar is completely dissolved and sauce is slightly translucent, about 3 minutes. Let cool; freeze in an airtight container.
Here are some variations using thawed sauce:
Spice: Stir in 2 ml (1/2 tsp) cinnamon and 1 ml (1/4 tsp) each nutmeg and aniseed. Makes 250 ml (1 cup).
Rhubarb Berry: In a medium saucepan, combine sauce with 75 ml (1/3 cup) very finely chopped rhubarb; simmer, stirring, just until rhubarb is softened. Stir in 5 ml (1 tsp) vanilla and sugar to taste. Makes 300 ml (1 1/4 cups).
Savoury Compote: Stir in 20 ml (4 tsp) balsamic vinegar, 1 smashed garlic clove, 15 ml (1 tbsp) finely grated ginger root and 1 ml (1/4 tsp) each salt and hot pepper flakes. Remove garlic. Best served warm or at room temperature over chicken or pork. Makes 250 ml (1 cup).
Orange Rosewater: Stir in 10 ml (2 tsp) each rosewater and finely grated orange rind. Makes 250 ml (1 cup).
Source: Foodland Ontario.