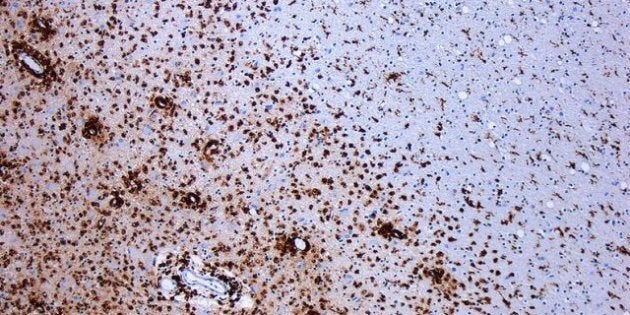 An observational study of people in Newfoundland and Labrador who had a controversial treatment for multiple sclerosis found there was no measurable benefit to the Zamboni procedure, according to the neurologist who led the research.
"I cannot recommend this treatment to MS patients," said Dr. William Pryse-Phillips, a neurologist and the lead researcher of the study.
The province launched the study of what is known as the Zamboni procedure, or liberation therapy, nearly two years ago after people from this province travelled abroad to undergo the experimental procedure.
It's based on a theory that MS is linked to blocked veins in the neck, and that opening them up helps relieve symptoms of the debilitating disease.
For a year, researchers in Newfoundland followed 30 people who have had the procedure and 10 others, the control group, who have not had the procedure.
Mark Lane, who lives with MS and paid $4,000 to have procedure done in Poland almost two years ago, was at the announcement about the study's findings in St. John's on Thursday.
"I'm disappointed by these findings. We all had hope," said Lane, 36, who was not one of the study participants.
"I know it's not a cure, but I still believe, despite this, that there is a link … and I'm getting [the procedure] again if I start to deteriorate."
The province spent more than $400,000 for the study after intense lobbying from people with the disease.
The procedure is not covered by Newfoundland and Labrador' publicly funded health insurance plan. Health Minister Susan Sullivan said Thursday that there are no plans to begin funding the procedure.
Less than a month ago, the U.S. Food and Drug Administration issued a warning about the vein procedure for people with multiple sclerosis.
The regulator warned health-care professionals and patients that injuries and death have been associated with use of the procedure for what is known as chronic cerebro-spinal venous insufficiency (CCSVI).
Two Canadians have died after having the experimental vein treatment for multiple sclerosis.