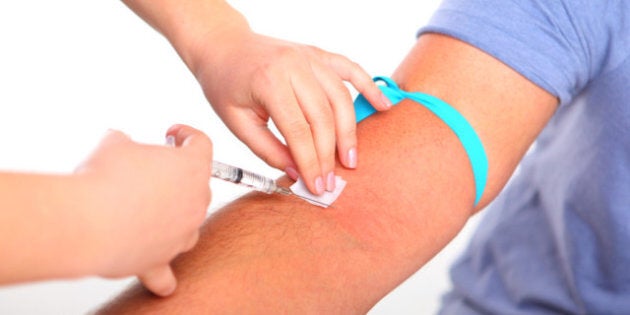 WINNIPEG - Dozens of students and staff at a First Nations high school are being tested for HIV and hepatitis after undergoing a faulty diabetes screening.
A University of Manitoba professor talked to students at Southeast Collegiate on May 4 about diabetes and used a glucometer to test blood-sugar levels on about 80 people.
A university spokesman said the professor changed the needle used on each person, but failed to realize that the part that holds the needle is not supposed to be used on more than one person.
"The lancet, the needle-like poker which punctures the skin, was in fact changed after every use, and the skin was cleaned with alcohol," John Danakas said Thursday.
"It's the device which holds the lancet that was reused, and you're not supposed to reuse that. Although the device never comes into contact with the person's skin ... there's still a very, very small, I think it's one in several million, possibility that there could be an infection."
The university later clarified the chances are deemed to be less than one in a million.
Danakas would not identify the professor, but said he was not authorized to perform the diabetes test and has been disciplined.
Staff and students are now undergoing tests to see if they have contracted HIV or hepatitis B or C, and must undergo a second round of tests in six months.
"As soon as the university found out about it, we alerted the school," Danakas said.
The case has angered some aboriginal leaders.
"While the risk of a student contracting an infection is described by the University of Manitoba as exceptionally unlikely ... the risk is not zero," Chief Michael Yellowback of the Manto Sipi Cree Nation, said in a written statement. Eight children from the reserve who attend the Winnipeg school were part of the diabetes test.
The group that represents First Nations communities across northern Manitoba said it was alarmed that impromptu diabetes tests were done without parental consent.
"At the heart of the matter, prior written parental consent should have been required by the school before permitting the students to participate in any medical testing," said Grand Chief David Harper of the Manitoba Keewatinowi Okimakanak.
Southeast Collegiate, which opened in 1995, offers First Nations youth from remote communities a chance to attend school Winnipeg while maintaining their cultural traditions.