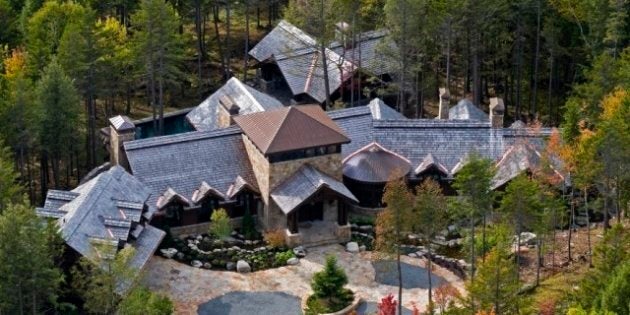 It's not often you come across a home with three kitchens, but this is what's on offer in the ritzy Montreal-area ski resort of Mont Tremblant.
Sotheby's has put on the market a three-year-old property large enough to be mistaken for a hotel. On top of the three kitchens -- spread out across the main house, guest house and pool house -- the lodge features six bedrooms, nine bathrooms, five fireplaces and even two separate laundry rooms.
At 10,000 square feet, the realtor describes it as "the first home of its stature" in Mont Tremblant. The pool house alone could just about house a family: it features a living room, dining room, BBQ and fireplace (on top of that kitchen, of course).
The property's owner, described by the real estate agency only as a "former Montreal businessman now in Miami," certainly has a thing for stuffed animals, and the property's Tudor-style interior is decked out with antlers.
But forget about this being some oversized throwback to the colonial era: The house has a built-in integrated system for controlling stereos, TVs, heating and even the security cameras around the property.
All yours for $7.85 million. If you can't afford it, ask if they'd just sell the pool house...

802 Chemin des Skieurs, Mont-Tremblant