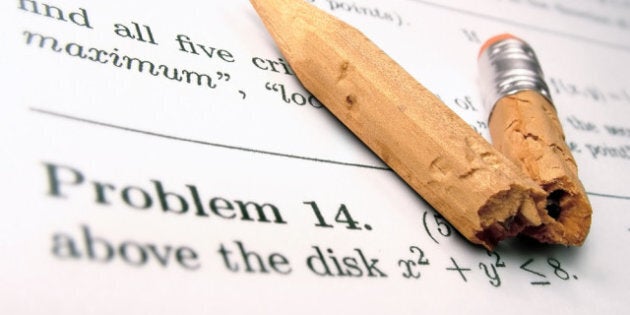 A student has started a petition to get suspended physics and science teacher Lynden Dorval reinstated at his Edmonton high school.
Dorval was suspended indefinitely last month for defying the so-called "no-zero" marking policy at Edmonton's Ross Sheppard High School.
The controversy resonated with Jacob Garber, a Grade 11 student at Ross Sheppard, who never had Dorval as a teacher and only met him for the first time on Monday.
"I support him because it is the right thing to do," Garber said. "If we water down our standards and give kids these behaviour codes for not getting their work done on time, or not at all, it sends the wrong message, not being held accountable for their work.
"And so when you go to the workforce, or to post-secondary, it's not like that at all. It affects everybody in the school system."
Garber wondered what he could do to help. He decided a petition would be the best tactic, because it struck him as "a good way to show that the students support Mr. Dorval."
Garber has collected about 100 signatures over two days but the petition isn't the only way kids at Ross Sheppard are expressing their frustration. He says some students have created pins and T-shirts protesting the no-zero policy.
Garber hopes to get 500 signatures by the end of June which he plans to present to the principal and the school board.
He wants to prove to trustees and superintendent Edgar Schmidt "that it isn't just the parents and the teachers. It's the students as well."
Although Dorval has received widespread support from the public, officials with Edmonton Public Schools have so far stood behind the policy.
But at least one school trustee wants the district to take another look. Michael Janz is expected to introduce a motion calling for a review at Tuesday's board meeting.