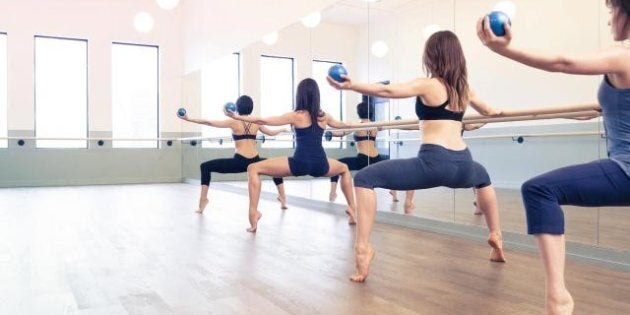 Each week, The Huffington Post Canada's Living team will try out something that has sparked our curiosity, and as long as we live to tell the tale, we'll let you know all about it.
What It Is: Combining the use of ballet barres, resistance bands and weighted balls, BarreWorks is a group fitness course that focuses on muscle sculpting, cardio, core conditioning and forcing our bodies to stay balanced.
Inspired by barre fitness in New York and Los Angeles, this Toronto-based studio was this week's challenge for associate editor Arti Patel, Style editor Sarah Kelsey and Style intern Meredith Gillies.
SK: I used to be what I'd call "fit" -- I was a marathon runner. But one fall down a flight of stairs and a knee tear later and my limbs really became more flab. I went to BarreWorks, three months post-tumble, with the hopes of bringing back my abs and obliterating my love handles. Oh, and getting my lungs back into shape.
So when I ended up halfway through my first BarreWorks class out of breath (was it from all the laughing at myself or the exercise?), I can't say I was surprised. Your ass is whooped the second class begins -- but in that good "I'm going to feel the burn and look good in, like, three classes flat" way. The class is intense, but ridiculously fun. The instructor keeps you moving, with small weights in hand, for a full 60 minutes. And you do everything from squats and plies to planks and push-ups. You even do burpees, which was something this editor a) could not do and b) felt tricked into doing.
AP: Oh, those burpees were painful. And even three days after, I still felt the burn. I wouldn't consider myself a fit person but I do enjoy going to the gym when I can. I was able to work through most of the hour, but did struggle with a few moves (especially with push-ups and holding my balance in a plie). Our instructor was super keen on pushing us until we got the exact move, which was both painful and helpful.
Throughout the workout, we combined cardio and traditional ballet moves like plies and standing on our toes, while using weighted balls, resistance bands and the barre for support. I did often find the class speedy, but after talking to the instructor, I was told it takes at least three classes to get into the flow of things. We were also stationed a bit far from the instructor, I suggest beginners stay a little closer.
MG: Can we just talk about the fact that they made us do a plank into a push up? My arms and wannabe abs were not having it.
I shall set the record straight, right here, right now. I am not fit. I will not pretend to be fit. I actually didn't step into a gym for all of 2011 so I was terrified of going to BarreWorks. I was a ballet dancer for 13 years but quit for fitness in high school. But after being swindled into doing burpees and lunging like it was my job, I have to say that it felt good to have my behind kicked. Except for those plank push-ups, those were just mean. After the push-up things we got to stretch out all the muscles I forgot I had.
This was a nice cool down from the epic workout that had just happened. I was dripping in sweat and ready to take a seat and streeeeetch.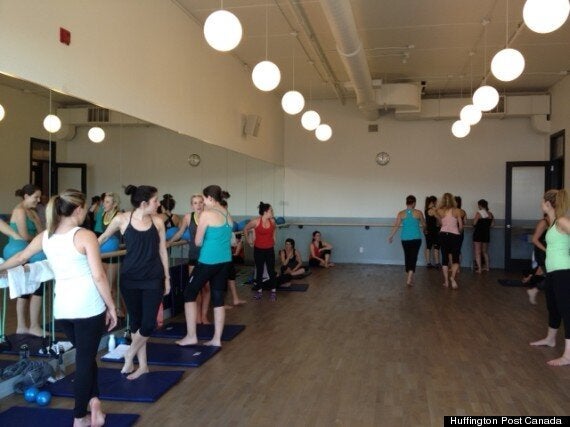 SK: This class is, to put it bluntly, my crack. When I'm not doing it, I want to be. And when I'm in studio, I giggle my whole way through it. My body is getting fitter faster than it ever has, and the workout has been great post-injury (look ma, no pain!).
MG: As far as doing fitness goes, BarreWorks rules. It kind of bamboozles you into an extreme sweat. I say bamboozle because you're having so much fun you don't even realize you're doing bicep curls or squats. It masks all the things I hate about working out with a fresh spin on getting fit. I need to be tricked into doing fitness and BarreWorks is perfect for that.
AP: I'm already going back -- and you should too. I was a bit intimidated going into a dance fitness class, thinking everyone was already more advanced than I was. But once I got there, the class didn't force me to go at one pace and the general feeling in the room was that most people just loved working out -- and didn't have to be perfect at every move.
Bring water and a towel -- you'll need it. We also recommend sitting closer to the instructor and facing the mirror. You not only get a better sense of what the instructor is doing, you don't have to turn around every time there's a new move. Also, spread out. We found ourselves bumping into each other when we went for a leap, for example. And lastly, take a five minute break if you need it. Don't be pressured to follow the group and work at your own speed -- we sure did.
Have a suggestion for a Test Drive? Tried something you loved or hated? Let us know on Twitter at @HuffPostCaLiv, or in the comments below.
Check out these other products we've put to the test: