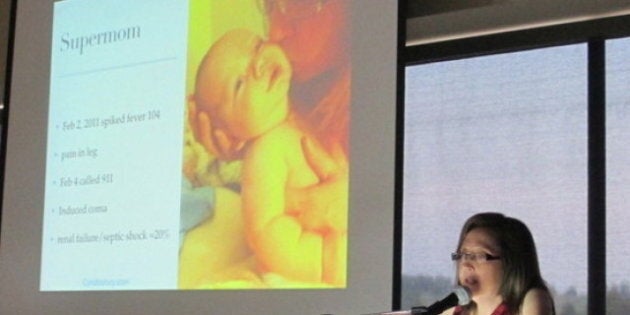 ALLISTON, Ont. - Imagine brushing your teeth, jumping into bed to sleep as usual, then waking up the next morning without arms or legs.
That's what happened to Cyndi Desjardins, a 44-year-old mother of two young children who lost her limbs to flesh-eating disease last year.
"It was the darkest moment of my life, but I realized I could come to terms with this" and recapture life with her husband and kids, Desjardins told the annual meeting of Stevenson Memorial Hospital in Alliston, Ont., Tuesday night.
Less than 12 months after returning home from hospital and rehabilitation, Desjardins has become a motivational public speaker, fundraiser, writer and what she terms a 'Supermom'.
"I have no boundaries, no walls to have to jump over."
In early February 2011, Desjardins, who lives in Holland Landing north of Toronto, had a fever and a severe pain in her leg. The problems worsened and she went to hospital two days later where she was put into an induced coma.
She woke up after more than a month, and found her arms and lower legs had been amputated to stop the spread of flesh-eating disease.
Being helpless in a hospital bed, she said, was an "opportunity" to think and plan how she could find ways to be a normal mom to her kids, Cienna, then six and Liam, still an infant. She discovered that nothing works for a quad amputee: toilet, hair dryer, tooth brush.
"I learned to think differently. I learned how to approach different tasks."
She has straps to open dresser drawers. She relearned how to swim and now does 500 metres twice a week. She got an iPad and rigged a stylus to one arm stump so she could write what is now Cyndi's Blog. She learned how to drive with prosthetic limbs and got her driver's licence back in January.
"There's always something you can find to adapt to this world," she said. "There's a device for everything, if you just research it."
Flesh-eating disease, a rare condition called necrotizing fasciitis, has helped her find a new purpose in her life, she said.
"I want to be celebrated for what I achieve."
Her advice to other people confronted with difficulties: Realize life is a special gift, do what you have to do now, look through the eyes of a child, and realize the power of the human spirit.
Flesh-eating disease is a bacterial infection that rapidly destroys tissue and can cause death within a day. Health Canada estimates there are 90 to 200 cases a year, 20 to 30 per cent of which are fatal.
WATCH: A video of Cyndi Desjardins' progress: