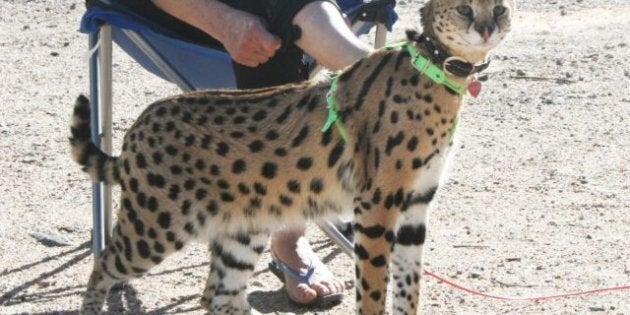 The owner of a serval cat that has been missing for three months in Langley, B.C., says she's convinced the animal is still somewhere in the neighbourhood.
The serval cat, a medium-sized spotted African wild cat, took off in the middle of a thunder and hail storm in mid-March.
There have been dozens of sightings of "Tigger" since in Langley and in Aldergrove, centered in the area of 256 Street and 40 Avenue.
Kelly Allen, Tigger's owner, said the cat is neutered and declawed, and is not dangerous — but is skittish around people.
Allen is encouraged that sightings keep rolling in from within a five-block radius. But the blocks are long, and the area is thickly-wooded.
"It looks like he's hunting. He's out hunting for frogs or bunnies or whatever in the ditch," she said.
Allen said she goes out and calls Tigger's name each night, and even bought his little sister in the hopes that family might lure him back.
Allen also tried baiting traps with the Calvin Klein fragrance Obsession for Men, which is said to be an irresistible scent to wild cats.
"The first night that we put cologne around the traps — I caught my first feral cat," Allen said.
But Tigger hasn't fallen for it.
Allen has put up posters in the area and posted messages in the pets section of Craigslist. The missing cat also has a Facebook fan page with hundreds of followers.